GEM Brings Self-Paced Learning to Refugees Across the Globe

Idea in brief:
How Global Education Movement (GEM) provides access to online degrees to refugee learners by working with effective local on-the-ground partners.
In 1996, a refugee camp was founded in Kiziba, Rwanda to house people fleeing conflict in the Democratic Republic of Congo (DRC.) That camp has become a permanent home for many of those refugees; more than 17,000 live there now. Many have been there since the camp was founded, and many more were born and raised there.
Kiziba is typical of the situation faced by refugees across the world; according to the United Nations High Commissioner for Refugees (UNHCR), there are currently 68.5 million people displaced worldwide, and the average amount of time for a long-term displacement is 26 years.
One of the best ways out of these camps is higher education, which can mean refugees become self-reliant, learn the language of the countries in which they now live, get jobs and become advocates for themselves and their communities. The UNHCR has identified high-quality, accredited higher education as a priority. Currently, just 1% of refugees have access to a college education.
Southern New Hampshire University (SNHU) is meeting that need for a high-quality, low-cost education with its Global Education Movement (GEM) initiative.
Global Education Movement: a new kind of higher education program
GEM is an international initiative of SNHU. Its mission: to provide a college education and a path to work for refugees and other vulnerable populations. GEM began in the summer of 2017, when SNHU received a 2-year proof-of-concept grant from anonymous donors.
Previously, SNHU had piloted GEM with Kepler, a nonprofit higher education program in Rwanda, built around Southern New Hampshire University's online degree program, College for America. The goal was to see if what was being done by Kepler could scale, moving beyond Rwanda to reach refugees in other countries.
Currently, GEM serves almost 1,000 students in five countries. While many of the campuses are set up in refugee camps, such as Kepler's original program in Kiziba; others, such as South Africa's, are set up in cities.
In each case, the program partners with a local organization already on the ground in those regions that can offer in-person support. Gabi Zolla, the chief operating officer of GEM, called these partnerships a critical part of GEM's success.
All partners are offered resources and training from SNHU. Most of the sites run a program similar to Kepler's, which has been successful for both its refugee and non-refugee students, in large part because of the way the staff on the ground has provided support for SNHU's online courses.
A U.S. degree can help displaced students significantly because American degrees are recognized internationally. It also means graduates can apply to work on advanced degrees with institutions in other countries.
The necessary scaffolding
GEM began with its pilot at Kepler, which was born out of Generation Rwanda, an organization dedicated to providing higher education to the orphaned survivors of the 1994 Rwandan genocide.
Founded in 2004, Generation Rwanda started by giving those students scholarships to local universities. Gradually, however, those students began requesting more support that wasn't offered by the universities, including career services, counseling and advising.
Even as those supports began to be added and Generation Rwanda was serving 25 students a year, some students still felt they were graduating from college without essential English-language and critical-thinking skills. To meet these needs, Generation Rwanda formalized Kepler as its own program and partnered with SNHU.
While College for America is core to Kepler's services in Rwanda, success depends on the scaffolding Kepler builds around students so they are prepared to succeed during their studies and after.
"We really want students to get the skills to have access to the degree, and be able to complete it mostly independently but with some support," said Lauren Milewski, director of curriculum for Kepler.
Developing independent learners
After students pass an admission test, they then commit to a "foundation year" before beginning their online studies. For students at Kepler, that means living in residential housing near the campus and taking 4 classes:
Methods of Thinking for Business, a business course designed to develop critical thinking.
Twenty-First Century Communications, which improves students' spoken and written English.
Technology Skills, which teaches students how to use programs such as Microsoft Office and Google Docs.
Professional Competency, focusing on soft skills such as time management.
These 4 classes are taught in a blended format; students access online materials and activities and come to class for discussions and projects led by a course facilitator.
"There's somebody there to help guide them but not lecturing in front of the class," said Milewski.
The learning model itself will be familiar to many, according to Aurore Umutesi, Kepler's campus director for core programs and student services. "We want them to be independent learners," she said, "and sometimes students are challenged by that because they come from a background where the teacher always has the answers."
The foundation year eases students into College for America, an online project- and competency-based degree program from SNHU. One advantage of this format is that students set their own pace, moving quickly through subjects they are familiar with and spending more time where they need it.
Working independently and online makes it doubly important that students develop their English- language skills, said Jean Pierre Mutambarungu, Kepler's academic campus director for College for America and careers.
"We need them to be at the level of understanding different accents," he explained. "So if they want to take a supplementary online course by themselves, they are able to understand people from different parts of the world."
Kepler facilitators frequently check in with students to make sure they're managing their time well.
"We actually talk to them," said Mutambarungu. "We want to know whether they are learning from what they are doing."
Supporting and localizing self-paced learning
Throughout their first year, GEM students are given benchmark assessments to test their new skills. Once the learning facilitators feel a student has mastered foundational competencies, Kepler begins using classroom time to onboard them to College for America and walk them through their first projects.
Each student is assigned an on campus advisor who meets with them weekly to talk about their projects and ensure they are on track to earn their degree. Part of an advisor's job, said Mutambarungu, is making sure that students are managing their time well.
While students are working through College for America's competency-based curriculum, they are also required to take what Kepler calls "modules," local courses designed to help students develop professional skills and apply what they are learning to a local context. These cover topics such as advanced technology or sales.
When students finish a College for America degree path, they go through a process called Panel Review. Students write a report about the work they've done with College for America and present it to a panel of course facilitators. Students who pass the review are then eligible for graduation.
"It allows us to see what students have learned and gives the students a way to think about how to apply the content from the College for America degree to their future career, which will likely be in Rwanda or at least Africa," said Milewski.
GEM: growing to meet the refugee challenge
GEM is more than halfway through its grant. Currently, it serves almost 1,000 students in Rwanda, Kenya, South Africa, Malawi and Lebanon. Except for Kepler's original students in Kigali, all the students have been forcibly displaced.
The program's long-term goal is to reach 50,000 refugee students with quality, low-cost degrees at more than 20 sites worldwide, in 11 countries. For now, Zolla and GEM focus on completing their goals for their current grant: testing ways to lower the cost of a degree, testing in a site outside of Africa and continuing to have successful student retention and graduation numbers.
One step toward lowering costs is The Rwanda Assessment Center (RAC) in Kigali, launched in September 2018. It reviews and grades College for America projects from all of GEM's sites.
"The right time to do something is now"
The assessment center also provides another career path for GEM's top graduates. For example, one employee is Landry Sugira, a former Kepler student who works for GEM as a reviewer and assessor.
In June 2017, after just 2 years in the self-paced program, Sugira graduated with a BA in Management, and a concentration in insurance services. It took him only 9 months to earn both his associate and bachelor's degrees from College for America. During that time, he worked as an assistant to the director of curriculum development during the day and spent his evenings and weekends working on College for America lessons and projects.
Although he is not a refugee himself — he studied at the Kepler home campus in Kigali — Sugira is sympathetic to the challenges refugees have as students. During his studies, Sugira interned as a teaching assistant in the Kiziba refugee camp, where he continued to work on his College for America degrees in the early mornings and at night. He stayed there after graduation, until he was hired to work for GEM.
"I based my thinking on, 'The right time to do something is now,'" said Sugira. "I could not stop working on projects even if I knew that I had 2 years or more. When I had time, I could immediately work on a project and do research to make sure I am learning something new every day."
Global Education Movement is one example of how SNHU partners with local organizations to expand access to higher education with high-quality, flexible online degrees. Are you interested in discussing how we can work with your organization's students or employees? Contact us here.
Explore more content like this article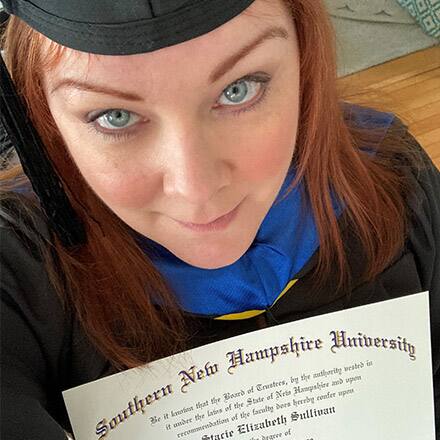 September 08, 2020
For years, Stacie Sullivan '19 felt stuck in her career, sensing her opportunities to advance were limited. After a series of challenging life events, Sullivan enrolled in the BS in Health Information Management program at SNHU.
July 01, 2020
Just a year after she decided to go back to school, Shereka Johnson-Bean '20 is preparing to submit the final project for her bachelor's degree.
June 12, 2020
Shannon Griffin's first job was as a crew member at a McDonald's restaurant. She's still working at McDonald's, but her role is a whole lot different thanks to her hard work and the degrees from SNHU.