Mom, Career Goals Motivate SNHU Grad to Finish Her Bachelor's Degree
Shereka Johnson-Bean '20 is looking forward to a week's vacation once she submits the final project for her bachelor's degree this summer – just a year after she decided to go back to school.
Johnson-Bean moved to the U.S. from Jamaica as an international student in 2014, but then, "Life got in the way," she said – and she had to put her education on hold until recently. In the interim, she became a naturalized citizen and established her career in business, most recently working as a clerk for the Department of Children and Families (DCF) in Massachusetts.
It was Johnson-Bean's mother who motivated her to return to school and complete her degree. Through SEIU Member Benefits, she discovered she could compliment her career with a self-paced, project-based degree program through Southern New Hampshire University's (SNHU) College for America.
While earning her BA in Management with a concentration in Public Administration, Johnson-Bean found she could directly apply what she was learning online to her career. "Since being at SNHU, I have literally incorporated several leadership theories that I have been exposed to while working on various projects," she said. "I have taken it a step further, where I now share these theories of leadership and public administration with my boss."
Johnson-Bean also graduated from an aspiring supervisors' program at work and is developing a proposal to improve working relationships among administrative staff she plans to submit to executives in the agency. With her heart set on management, she currently works closely with the DCF area director, provides administrative support to the office and supervises some of the other administrators.
She knew a business degree would help hone her leadership and problem-solving skills – two qualities that can help her get ahead. "I am intending to put them into practice, with hopes that my skills and knowledge will be realized and deemed an asset to the agency's leadership team," she said. Now she's considering a master's in public administration or social work to help her get there.
Although it was challenging at times to balance work, school and raising her now two-year-old daughter, she leaned into her mother, husband and best friend for support. "There were many times when I got so overwhelmed, I convinced myself that I was okay with my associate degree," Johnson-Bean said. "But they always remind me of my ambitions and tell me that I would never truly be content if I settled (for) less, and they are correct."
Now that she is wrapping up her coursework, she encourages anyone considering college to go for it. "Nothing can provide the comforts of life like equipping yourself with the educational qualifications that market you for the most rewarding jobs," Johnson-Bean said.
Her best tip for college success is to consider your motivations. "If your life is anything like mine, you will need to first identify why you are enrolling, so when you get to those hard days, and you think its easier to just quit, you hold on to those things to keep you going," she said.
For Johnson-Bean, setting herself up for additional professional opportunities was a significant factor in her decision to return to school, but thanking her mother, who is now considering college herself, was the biggest reason. "All of my achievements are … to remind her that she did a great job raising and providing for me," she said.
Johnson-Bean is planning to host a virtual graduation party with her family and friends in Jamaica and the U.S. once she receives her diploma. Like many others in the Class of 2020, she won't let the pandemic stop her from celebrating her accomplishments.
Rebecca LeBoeuf '18 is a staff writer at Southern New Hampshire University. Connect with her on LinkedIn.
Explore more content like this article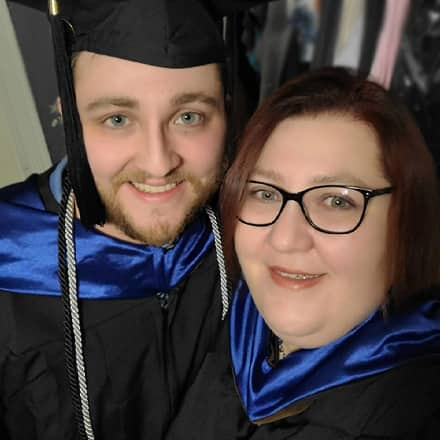 April 09, 2021
Tara and George Conrad – mother and son – began their degrees at the same time. Now they're celebrating their journey and accomplishments as graduates.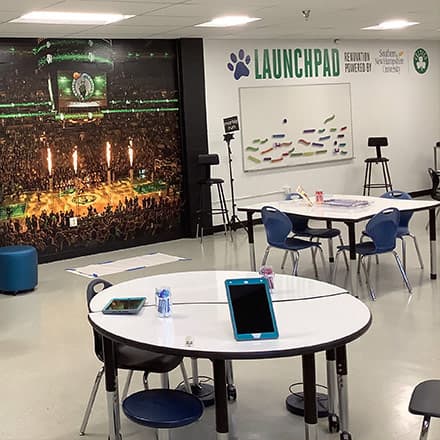 April 02, 2021
The Boston Celtics and Southern New Hampshire University recently unveiled their 14th tech lab, this time, the "Wildcat LaunchPad" at Webster Elementary School in Manchester, New Hampshire.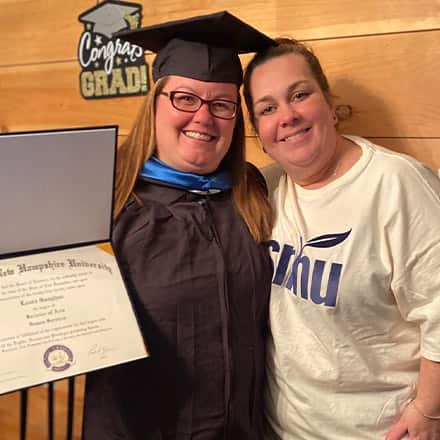 March 09, 2021
As a mom of seven, Laura Gaughan usually knows when her family is up to something. But on a windy March evening, nearly a year into the pandemic, she had no idea that a surprise graduation party was underway.