What is an Associate of Science Good For?
Understanding the numbers
When reviewing job growth and salary information, it's important to remember that actual numbers can vary due to many different factors — like years of experience in the role, industry of employment, geographic location, worker skill and economic conditions. Cited projections do not guarantee actual salary or job growth.
If you're thinking about going to college but don't know where to start, an associate degree could be the right option. Generally taking only two years to complete, an associate degree provides foundational academic knowledge and technical expertise for a variety of career fields without the time and financial investment of a four-year degree.
Community colleges often come to mind when people consider earning an associate degree, though more and more four-year schools offer associate degree options. Associate degrees generally serve two main purposes:
They are a way to earn the foundational credits needed to advance to a bachelor's degree.
They provide preparation for the workforce in career fields that do not require a higher level of education.
What Can You Do With an Associate Degree?
If you're wondering what kind of jobs you can get with an associate degree, the answer is more varied than you might think. In fact, the U.S. Bureau of Labor Statistics (BLS) lists as many as 99 job fields that require some post-secondary education but don't need a four-year degree.
According to the BLS, some jobs that only require an associate degree are:
Architectural drafter
Automotive services technician
Bookkeeper
Computer network support specialist
Dental hygienist
Firefighter
Hairstylist and cosmetologist
Heating, air conditioning, and refrigeration mechanic and installer
Human resources assistant
Licensed practical nurse
Medical assistant, including nursing assistant, medical assistant and dental assistant
Paralegal and legal assistant
Photographer
Teacher assistant and preschool teacher
Web developer
What Are the Advantages of an Associate Degree?
One of the biggest advantages to earning an associate degree is the amount of time it takes to complete the degree. In half the time it takes to earn a bachelor's degree, you can have a credential that can help boost earnings and lead to a rewarding career.
With more career opportunities comes greater earning potential – and the less time it takes to earn a degree, the less money the degree typically costs. Many associate degrees are also flexible so that students can work while attending school.
An associate degree is an excellent jumping-off point toward building a career. For example, you could earn an associate degree in dental hygiene and build a rewarding career in a dental office. If you decide to further your education by applying your associate degree to a four-year degree via transfer credits, you could work toward becoming a practice manager or even continue on to becoming a dentist.
Likewise, an associate degree in paralegal studies could lead to a rewarding career as a paralegal. Or, the associate degree could lead to an interest in pursuing a bachelor's degree in a similar or different area.
What's the Difference Between an AA and AS?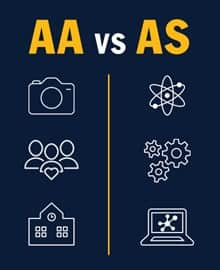 While both an associate of arts (AA) degree and an associate of science (AS) degree provide foundational academic preparation, coursework for the former focuses more on the liberal arts while coursework for the latter focuses more on science and technology.
If your career focus and personal interests are in the social sciences, education, liberal arts or humanities, you may wish to seek an associate of arts degree. If science, architecture, engineering, computer science or technology are your focus, an associate of science may be the degree for you.
These subject areas are not set in stone, however. Whether a degree is classified as an AA or AS can depend on the institution and the program itself. It's always worth exploring different types of associate degrees at schools that interest you to see if pursuing an AA or AS is the better choice.
Why Pursue an Associate Degree in Science?
An associate degree in science can prepare you for a career in the growing and exciting fields of cybersecurity, data analytics and information technology. Perhaps you want to start your career as an accountant or business professional. An associate degree in science can also lead to a career in the applied arts, such as marketing.
What Does an Associate of Science Focus On?
Associate of Science degrees focus on the skills and knowledge you will need to get ahead in the workplace. With an AS in Business Administration, for example, you may learn record-keeping, supply chain basics and customer service.
With an As in Criminal Justice, you can learn how to examine laws and regulations as well as manage conflict. And with an As in Information Technology, you may learn how to use industry-relevant technologies to design computer networks and utilize cloud computing.
Is it Worth it to Pursue an Associate of Science?
If you're wondering why you should earn an associate degree when you could just work towards a bachelor's degree instead, there are two words for you: transfer credits. Because so much of the work done at the associate degree level is foundational, the work you do earning that degree will likely transfer well into a bachelor's degree program in a similar field.
So, if you're not sure if the time and money investment in earning a four-year degree in accounting is worth it, try on the degree field by earning an associate degree. You can always continue on to a bachelor's degree later if you wish.
Having an associate degree in hand demonstrates to employers that you are serious about your education. It makes you more competitive in the job market. Most of all, earning an associate degree is a great way to try out an academic field in a meaningful way without the up-front commitment of four-year degree.
Read more about why an associate of science degree might be the right choice for you.
Marie Morganelli, PhD, is a freelance content writer and editor.
Explore more content like this article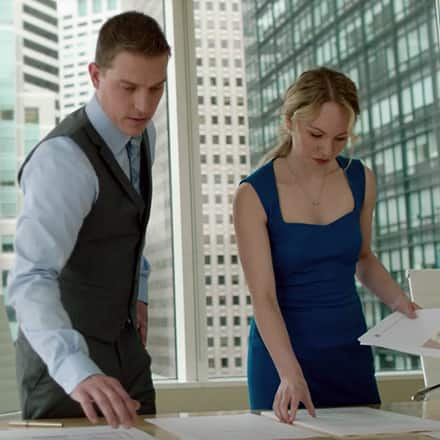 A master's degree comes after a bachelor's degree and is typically a two-year academic program that allows you to specialize in a subject area of your choice. Some common types of master's degrees you can choose from include: Master of Arts, Master of Science and Master of Business Administration.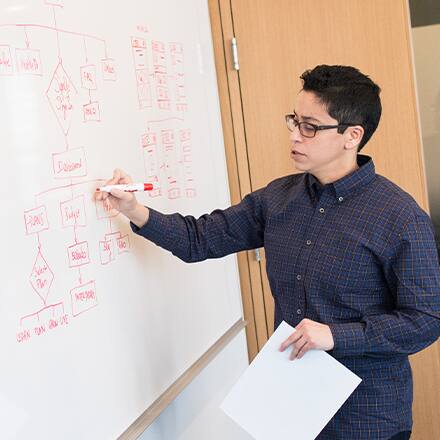 Everyone has a different style of learning. Through understanding the styles of study and note-taking that suit you best and knowing about different strategies for activating your learning, you can maximize your learning experience with formal education, and in all areas of life.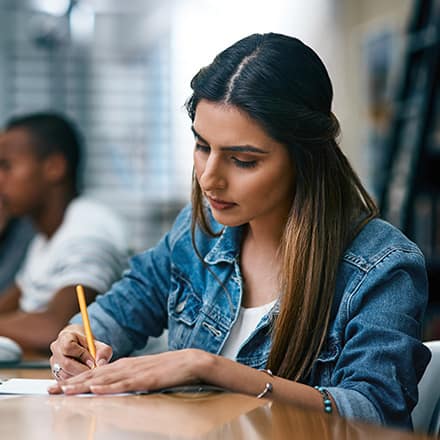 If you're thinking about earning a degree, you'll need to consider how to pay for college. For many, that can involve student loans. A student loan is money you can borrow from the U.S. Department of Education or a private organization to pay for college and repay later with interest.
About Southern New Hampshire University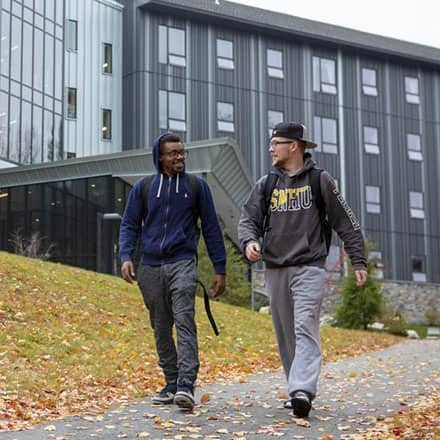 SNHU is a nonprofit, accredited university with a mission to make high-quality education more accessible and affordable for everyone.
Founded in 1932, and online since 1995, we've helped countless students reach their goals with flexible, career-focused programs. Our 300-acre campus in Manchester, NH is home to over 3,000 students, and we serve over 135,000 students online. Visit our about SNHU page to learn more about our mission, accreditations, leadership team, national recognitions and awards.