How to Get a Bachelor's Degree Faster
Can you speed up your bachelor's degree? You sure can. From transferring past credits to testing out of courses to getting credit for skills and knowledge you already know, these are 10 of the fastest ways to earn a bachelor's degree.
You have career goals now. You want to reach them now. And you don't have 4 years to get a bachelor's degree.
(Spoiler alert: It doesn't have to take 4 years.)
It's possible to get a bachelor's degree in 2 years — or maybe even half that time.
Here are 10 ways you can speed up your bachelor's degree.
Transfer
Credits
Take
Exams
Military
Experience
Sophia
Learning
Certifications
to Credit
Law
Enforcement
Accelerated
Programs
General
Studies
Shorter
Terms
Full Time
Student
---
Transfer any credits you have. As many as you can.
Because transfer credits are ones that you've already earned.
If you've been to college before, you probably have some credits sitting around.
And if you do, there's something you should know.
Don't. Retake. Classes. You've. Already. Taken.
Already taken a biology class? It can probably count as a science course at your new school. Planning to move on from your associate degree in business to a bachelor's? The classes you passed at your previous college could apply to your new program.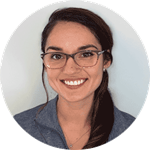 "We highly recommend that students provide all prior transcripts where they may have earned college credits," said Amanda Jennings, an admission team lead at Southern New Hampshire University. We want to ensure we can help a student save as much time and money as possible with their prior college experience," Jennings said. "So even if 1 course is eligible to transfer in, that will save them time and money in the long run."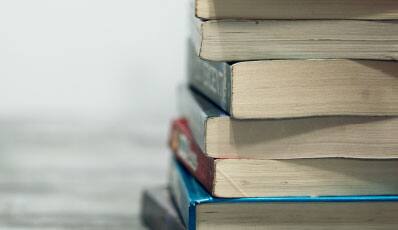 What you'll want to do is:
Send in all your transcripts
Have each college review credits you've already earned
Compare your transfer evaluations
And that's it!
---
Take an exam that can help you earn credit. There are dozens out there.
You know stuff, right?
Maybe you're more fluent in Spanish than your program requires in credits. Or you're a history buff who might know more than a high school textbook.
We all know that just because you didn't take a specific class on the topic doesn't mean you haven't learned the material elsewhere.
So here's how to earn credits through exams:
Determine what organization you want to take the tests with — like College-Level Examination Preparation (CLEP) or DANTES Subject Standardized Tests (DSST) — and find an exam center near you.
Choose an exam that your college will accept for credit.
Pay the test fee. Oftentimes they're less than $100 — a fraction of the cost of a class.
Get at least the minimum score on the exam.
Have the score sent to your college to request the credits.
Saving time and money? Testing out of courses for credit can really be that easy.
---
Your military experience is admirable — and acceptable for college credit.
Oh, yes: The skills you developed as a service member could be worth a few credits, too.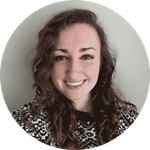 "Students who have or are currently serving in the military can receive college credit for their military experience," said Brielle Amazeen, a transfer credit specialist at SNHU. "The American Council on Education (ACE) evaluates their military experience and recommends courses to transfer."
Through your military experience, the U.S. Department of Veterans Affairs notes that you could get credit from your:
Military Occupational Specialty (MOS) training
Army Advanced Individual Training (AIT)
Military jobs
Completed courses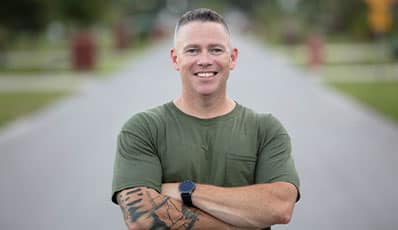 And be sure to look for colleges deemed Military Friendly®. (They're the ones that know the ins and outs of your financial aid and tuition benefits, as well as your schedule and career needs.)
---
Save time — now. One of the most popular methods of earning fast credit is through Sophia Learning.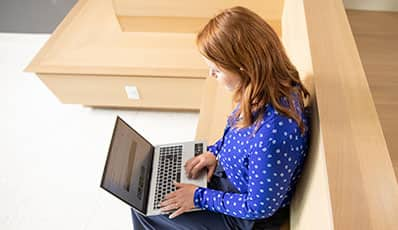 What's Sophia Learning?
Sophia is an organization that offers really low-cost courses that are transferrable to a number of colleges around the country.
So, what kind of courses can you take with Sophia? For the most part, it's general education courses. (Gen eds are those courses you likely have to take no matter what bachelor's degree you choose — like English Composition or U.S. History.)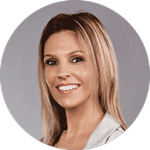 "I was able to cut almost two years off my academic program by using Sophia Learning," said Sammantha Hoyt '21. "I was able to take most of my general education courses through this program and feel motivated with my program and concentration classes, which allowed me to avoid feeling burned out early on."
Some schools also have transfer agreements for dozens of courses — and at 3 credits each, that could save you thousands!
---
Certifications can count as credit, too.
Certifications have exploded in popularity. So if you've earned one, it shows that you've put in the work.
(Not to mention you've already invested in the program costs.)
And that's why there's no reason to go through either of those steps again.
Some colleges are now taking a look at the content within the certification courses and exams to see how they match up with a class that they offer.
And if it's a match, they're awarding credit.
Credit-bearing certifications may include those from:
Amazon Web Services
Cisco
CompTIA
Google
Microsoft
Society for Human Resource Management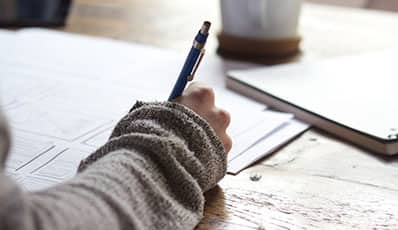 So if you've earned a certification to move ahead in the office — or because it's your goal to open doors at a specific office — know that it's worth a little more than you may have originally thought.
---
Yes, even your law-enforcement courses could be worth credit toward your degree.
Surprised? Shouldn't be. You've built up a lot of skills that are worth something in the workforce and in college.
Find out if your college has agreements with well-known institutions, like Federal Law Enforcement Training Centers or the FBI National Academy.
"It's case by case in what they've been trained in," said Dr. Jeff Czarnec, associate dean of criminal justice and social sciences at Southern New Hampshire University. "If they have report writing and they have a communications class, we may be able to put them together for communication course credit," for example.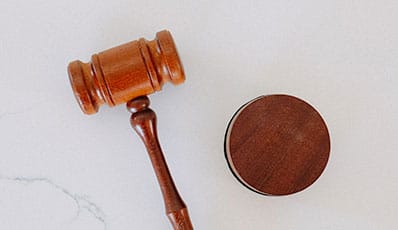 What you've learned could get you credit in academic areas like:
Communication
Criminal justice
Health
Law
Political science
If you've taken law-enforcement courses, try submitting your transcripts for evaluation to get credit!
---
Accelerated programs are just what they sound like: Degrees you can finish FAST.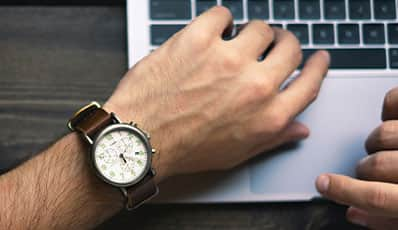 That's what you wanted, right?
Some accelerated degrees cover course material in a shorter period of time.
It's a great option if you can make the time and have the self-discipline to graduate faster.
Other accelerated programs are geared toward those who want to earn both a bachelor's and a master's — and put a few classes toward both degrees.
So while you may not finish your bachelor's degree quicker, you'll complete your overall education in a more timely manner. It's a decision that may involve some planning ahead.
---
Or get a general studies degree — the ultimate accelerated program.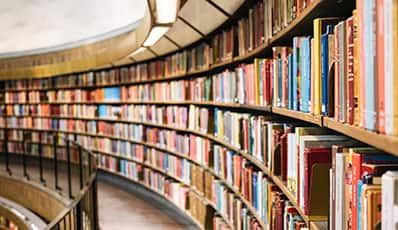 Have a lot of college credits built up over the years?
Not sure what kind of program fits best with all those credits?
Just want a bachelor's degree ASAP?
A bachelor's degree in general studies could be your best fit.
"This program will allow you to utilize as much transfer credit as possible, even if the courses taken are very different from one another," Amazeen said.
And that's because these programs typically accept a large number of free electives – maybe even about half your program!
"It offers 60 credits worth of free elective space, which allows students who may have tried out a few different program paths but maybe never landed on the right program to maximize their prior college credits," Jennings said about the SNHU version of the program. "We typically recommend this program for students who believe they have more than 60 transferrable credits and are not set on a specific area of focus or degree."
---
Find a college with shorter term lengths.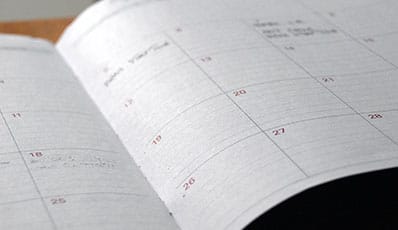 The shorter the term, the more terms you have. And the more terms you have, the faster you can move through them.
At SNHU, for example, "each undergraduate term is 8 weeks long, and students can take 1 or 2 classes in each term," Jennings said.
It just feels good knowing that every couple months, you're knocking out a few more classes in your program – and that much closer to your goal.
---
Double up! Switch from part time to full time.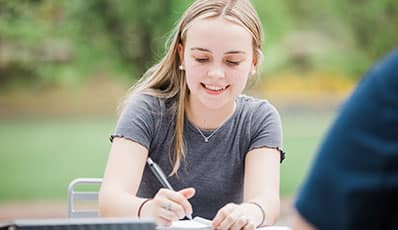 Can you speed up your bachelor's degree? You can if you take more classes per term.
Say your college considers 1 class per term part time. Would upping it to 2 be doable for you?
"I've found that many students have appreciated starting with one course in their first term to ease in and get a feel for the coursework before jumping to two courses when they are ready," Jennings said in regards to SNHU's term structure: One class is considered part time, while 2 is full time.
Jennings stressed that while you can complete a degree faster by taking more courses at a time, it's also important to understand how much time you can realistically dedicate to your studies every week. (Because successfully completing your courses is just as important!) Work with your advisor to find the right combination of courses to take in a term so you don't feel overwhelmed.
Even consider doubling up once in a while or every other term. Because each time you're able to make that happen, you put yourself months closer to crossing the finish line.
So, what's next for you?
Now you know you can get a get a bachelor's degree. So which methods can you take advantage of?
Speak with an admission counselor at each school you're considering to find out how you can bring in more credits – and take as few classes as possible to graduate.
Deidre Ashe '18G is a copywriter in higher education. Connect with her on LinkedIn.
Explore more content like this article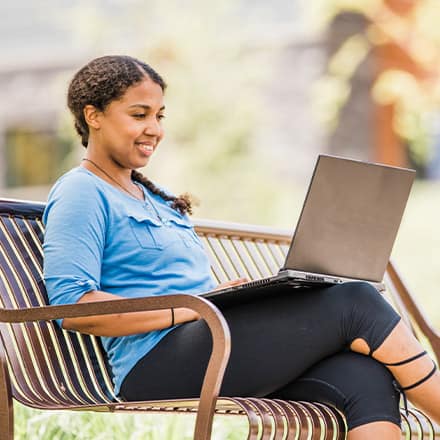 An undergraduate degree marks the first step on your higher education path. It describes two kinds of degrees: associate and bachelor's degrees. By earning an undergraduate degree, you can better prepare yourself for a career or position yourself to attend graduate school.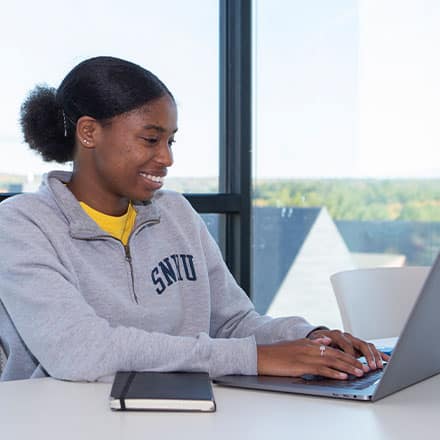 While looking over a course list, you may have wondered why certain courses are required when they're seemingly unrelated to the degree program. These general education requirements can reshape your outlook on learning, teach you soft skills and introduce you to a variety of disciplines and people.
It's important to understand some of the basics of an undergraduate program when choosing a degree to pursue, like why or how a Bachelor of Arts may differ from a Bachelor of Science degree. Typically, each undergraduate program falls under one of these two categories.
About Southern New Hampshire University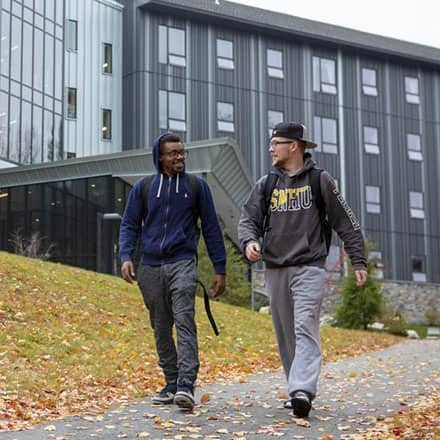 SNHU is a nonprofit, accredited university with a mission to make high-quality education more accessible and affordable for everyone.
Founded in 1932, and online since 1995, we've helped countless students reach their goals with flexible, career-focused programs. Our 300-acre campus in Manchester, NH is home to over 3,000 students, and we serve over 135,000 students online. Visit our about SNHU page to learn more about our mission, accreditations, leadership team, national recognitions and awards.