National Nurses Week: A Q&A with Former Military Nurse Dr. Debra Murray
Dr. Debra Murray spent 16 years in the U.S. Navy serving in a variety of nursing roles from San Diego to Guam. During her military duty she earned her bachelor's, master's and doctorate and found a passion for education and working with other nurses and nurse practitioners. Now she's associate dean for graduate nursing programs at Southern New Hampshire University (SNHU). Recently, we had the opportunity to ask her about her career, the importance of education and more.
First, please tell us about your professional background as a nurse.
I was fortunate to serve as a Navy Nurse Corps officer for the first 16 years of my career. The Navy provided me with exceptional education and training. Through various programs offered by the Navy, I completed my Bachelor of Science in Nursing (Navy ROTC) at Pennsylvania State University, Master in Human Relations with University of Oklahoma through distance learning (Tuition Assistance), Master of Science in Nursing at the University of Virginia (Duty Under Instruction scholarship), and Doctorate of Nursing Practice at the University of Virginia (GI Bill®). Serving at military teaching hospitals and overseas duty stations afforded me the opportunity to learn new skills and attend grand rounds, which led to my passion for life-long learning.
When I moved to a small military clinic, I was able to work with nurse practitioners (NP), and I knew I had found my calling. I was mentored by several NPs, supporting me through the process to join their ranks. After completing my military service, I joined a small pediatric practice where I was able work alongside my first clinical preceptor.
Why did you originally decide to go into nursing? What keeps you excited about the field?
As a high school student, I fought all indications that I should become a nurse. I was headed to Syracuse University to major in Aerospace Engineering with an Air Force ROTC scholarship. Some great mentors were able to convince me that the career aptitude tests were correct: I was destined for a healthcare career. And the passion for math was a plus for nursing. The Navy matched my scholarship, and put me on the path for the nursing profession.
Nursing remains exciting with opportunities expanding every day. As a nurse practitioner, I was excited when Virginia granted NPs the opportunity for independent practice, acknowledging the NP's full scope of practice. The variety of practice settings for nurses keeps our profession relevant and exciting.
What kind of work were you involved with when you were in the military?
The motto at my first Navy command was "Bloom where you are planted." And I was repotted often! As a new nurse at Naval Medical Center San Diego, I was assigned to a surgical subspecialty unit. As the demand for outpatient surgeries rose, I was trained to provide sedation and long-term IV access for the procedures. This training would be crucial for my future duty stations.
As I was preparing to move to Naval Hospital Guam, I was required to cross-train in labor and delivery as the Kurdish refugees were sheltering on the island. There was an increased demand for maternity services. Eight days after arriving on Guam, a Korean Airline airplane crashed into the side of a mountain on the island. There were 35 survivors of the accident, many requiring long-term IV access. I was the only nurse on the island trained in long-term IV access, and there was a high demand for this skill. I lived in Navy housing on the hospital compound, and I was often called in the middle of the night to troubleshoot IV access devices for surgical patients. When my patients would have to be medically evacuated (MEDEVAC) to Hawaii's Tripler Army Medical Center, I would accompany them on the flight to provide care.
My next duty station was a small clinic at Marine Corps Base Quantico. This was when I found my calling as a nurse practitioner. Every day with the Marines was exciting! I had the opportunity to plan the medical services for four Marine Corps Marathons, accompany the officer candidates into the field for training as their medical support, and provide health promotion services at local commands, including the U.S. Senate and Marine Corps Silent Drill Platoon (8th and I). I even earned a new nickname, "Doc," as the Marines affectionately call all healthcare providers. I left Quantico to complete my NP program at the University of Virginia.
My final duty station at Naval Medical Center Portsmouth (NMCP) was my first assignment as a pediatric nurse practitioner. NMCP is a robust, busy teaching hospital, delivering more infants than any other military hospital. My role quickly evolved into working in the newborn nursery, eventually helping to train the pediatric medical residents during their rotation in the newborn nursery.
How has that experience informed the rest of your career as a nurse and now as an educator?
The military provided me with a breadth of experiences. But more importantly, I was fortunate to meet life-long mentors and friends who are now located all over the world. Military nurses are provided opportunities for leadership and training early in their careers. With the frequent moves and duty station changes, you quickly learn to see change as an opportunity. And that lesson translates well into any field.
What led you to academics and, in particular, to SNHU?
You had to know that there was a military nurse connection here! When I was stationed at NMCP, a retired Army nurse who had transitioned to academics commented on my passion for teaching medical residents and students. She encouraged me to become an adjunct nursing faculty member. Within 6 months, I was hired as a full-time undergraduate faculty member. Other opportunities in academic leadership took me to positions in graduate education, community college administration and online teaching. Never turn down an opportunity for training.
My journey to SNHU was a strange twist of fate. A colleague, who was known to send me academic job openings, forwarded me the posting on the same day that I learned my program was slated for closure. I instantly felt connected to the SNHU mission, and every interview was like I was talking with old friends. I have not looked back.
What do you find rewarding in your position as a dean in the nursing program?
I love that my position allows me to help our learners reach their goals. Hearing the success stories from our graduates, completing recommendations for students to start doctoral programs, and removing barriers for students are a few of the things that I find rewarding.
Given all of the roles you've had in nursing, can you talk a little bit about the role that your education has played in your career?
Early in my education, a mentor told me to always maximize the credits I took each semester, adding a second major or a minor as a back-up plan. This was great advice, as I added marketable skills through these extra courses.
And of course I need to acknowledge the additional training opportunities that did not translate to a degree, but did translate to additional skills for nursing practice and teaching. Take advantage of every opportunity.
Why is continuing education so important for nurses?
Nursing is continually changing and evolving, so nurses must stay ahead of the curve. New treatments, new medications, new procedures and new technology are the reality of healthcare. We must stay current with our profession. The value of this training is evident as many states now require evidence of continuing education in order to renew your nursing license.
What advice do you have for students interested in pursuing a career in nursing?
For middle school students, I encourage them to take the most challenging math and sciences classes that they can. For high school students, I recommend taking the most challenging math and science classes, as well as looking for opportunities like CPR/First Aid classes, athletic trainer positions, or hospital/care center volunteering. Spend time with people in the profession. Make sure this is the right choice.
There are many paths to your dream. With limited seats at most university pre-licensure nursing programs, it may make sense to start at the associate degree level to obtain the Registered Nurse license. You can then return to complete the BSN online while working. I have many friends who started in healthcare as medical assistants, working while going to school for an LPN license, then transitioning to an RN program. The possibilities are endless.
Why is education important to society, as well as to you personally?
I see education as an opportunity, a gift to us. Education pushes us beyond our perceived limits, uniting us in the discovery of new knowledge, ideas, and technology. The learning process is beautiful. When you witness someone making a connection for the first time, it is simply magical. As a society, we need to value that process of learning and discovery. We have lost a bit of that focus in pursuit of a perfect GPA. The lesson of failure is undervalued. In the words of Thomas Edison: "I have not failed. I've just found 10,000 ways that won't work."
GI Bill® is a registered trademark of the U.S. Department of Veterans Affairs (VA). More information about education benefits offered by VA is available at the official U.S. government Web site at https://www.benefits.va.gov/gibill.
Joe Cote is a staff writer at Southern New Hampshire University. Follow him on Twitter @JoeCo2323.
Explore more content like this article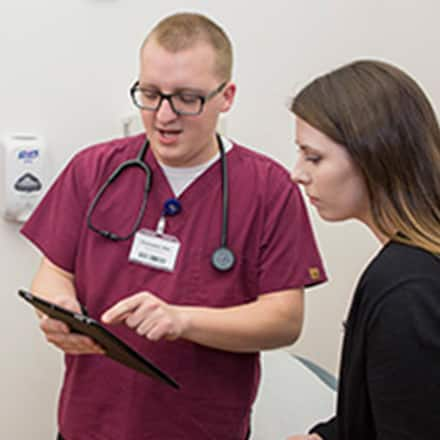 October 14, 2021
So many career paths can leave new and seasoned nurses alike wondering which specialty is right for them. To help, we've compiled a list of the 16 types of nurses employers are looking to hire, including information on salary, growth potential and required nursing degrees.
October 05, 2021
Both the nursing profession and some employers are calling on registered nurses (RNs) to obtain a Bachelor of Science in Nursing (BSN) to improve safety and help prepare for future healthcare challenges.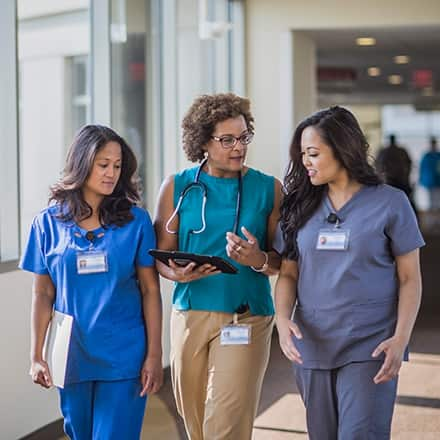 September 30, 2021
While nursing has always been a respected career, many people don't know that there are actually several different levels of nursing degrees and many different specialties available.