Types of IT Jobs
Information technology is a broad discipline that uses hardware, software and networks to support business goals and strategies. It's a good major because it prepares you for a rapidly growing field and careers that include: Computer Support, Network Administration, Information Security and Project Management.

Understanding the numbers
When reviewing job growth and salary information, it's important to remember that actual numbers can vary due to many different factors — like years of experience in the role, industry of employment, geographic location, worker skill and economic conditions. Cited projections do not guarantee actual salary or job growth.
If technology excites you and you'd like to work in a fast-paced environment, information technology (IT) may be a good major for you.
IT contributes to so many aspects of daily life — from the network of printers you tap into at work to a nearby river controlled by a dam
"Everything that you touch, everything that you wear, everything that you interact with, anything that you order online, it's all IT," said Ben Steinbach, a career advisor at Southern New Hampshire University (SNHU).
What is Information Technology and What Does it Do?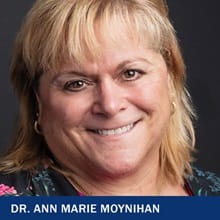 Information technology is a broad discipline that uses hardware, software and networks to help organizations succeed in the digital era.
Dr. Ann Marie Moynihan, an associate dean of computer science programs at SNHU, likes to think of IT as a vehicle for completing tasks — from simple to complex.
"Going from point A to point B may be as simple as using a technological device to create a single document containing information to be shared with others," she said. "... Supporting the informational needs of an entire organization may involve complexity and ultimately require the utilization of many different systems to provide information in support of desired outcomes."
Not only do IT professionals serve a crucial role in an organization's operations, but, according to Moynihan, they can also be a helpful resource for decision-making.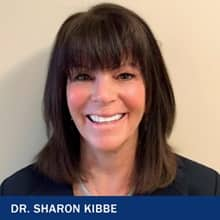 With a future-forward focus, IT is fast-moving. When you're working in the field, you might find it difficult to imagine what's possible, said Dr. Sharon Kibbe, a senior associate dean of STEM programs at SNHU.
"The technology has advanced to be a lot more capable than it once was, so we have the capacity to do more with … a smaller amount of space," she said.
For example, modern smartphones have more than a million times more memory of the Apollo-era spacecraft that landed on the moon.
What you may not expect about IT is that it branches out beyond that and into most other fields. If you want to create a marketing strategy or run a small business, an IT background will be useful.
Types of Information Technology
Steinbach likes to break information technology down into four general types, or "layers," that all interact with each other. These are some of the different focuses IT professionals have, including back-end, front-end, user interface and networking.
Front-End
The front-end refers to the technology you can see at surface level, such as a website. If you work on the front-end, you're focused on creating a good user experience.
Back-End
The back-end of software or a website is crucial, although users will never see it. Back-end IT professionals connect the front-end of a site to databases and servers, and they monitor performance.
User Interface
When you interact with the front-end, you are exploring the user interface. If you're using a program on a phone or computer, for example, the user interface includes buttons you can press and menus to help you navigate the software. IT professionals aim to create an intuitive, user-friendly experience.
Networking
While this layer doesn't apply to all IT products, networking happens when you connect two or more devices. Networking is an area that's seen tremendous growth in the past few years, especially in the realm of cloud computing. If you have a smart home device such as an Amazon Alexa, you can control your lights or lock your door from wherever you are — by voice, smartphone or smartwatch.
Is Information Technology a Good Major
It sets you up for success in your choice of specialization, and as a student pursuing a bachelor's degree in IT, you'll learn the foundations of the field, and hone in on a specific area by selecting a concentration.
IT isn't a field that's going away, either. Another 682,800 new IT jobs are projected to be added by 2031, growing by 15%, according to the U.S. Bureau of Labor Statistics (BLS).*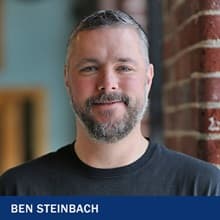 Most IT careers require at least a bachelor's degree because it shows employers you know the subject, according to Steinbach. But, he'll also tell you that employers seek out enthusiastic candidates who have gone above and beyond.
"It's not only the classes," he said. Employers also want to see that you've done professional networking, built skills, and put a portfolio of work together.
If you major in IT, you may have class projects you can include in your portfolio. For example, if you're instructed to create a complete system installation proposal for a company, that will make a great portfolio piece if you're pursuing a career in systems design.
Some careers may only require an associate degree in IT, but earning a bachelor's degree will lead to more opportunities, and a master's degree will help you advance.
IT Careers and Salary
As technology is ever-changing, new IT jobs are constantly coming into fruition. While on the job, you'll continue to learn and acquire new skills, opening yourself up to opportunities that may not have existed a few years ago. Certifications are another way to explore new areas or expand your knowledge on a particular specialization.
Here are some IT career paths you can explore with a degree in IT and their median salary as reported by BLS.
Computer Support Specialists Salary
2021 Median Salary, According to BLS: $57,910*
BLS Projected Job Growth: 6%*
If you've ever encountered a problem with your computer, you probably visited or called an IT Help Desk. Computer support specialists troubleshoot issues people experience with their devices.
Working at a Help Desk is an excellent entry-level job for IT professionals looking to break into the industry, according to Steinbach.
"It's typically in areas like that that someone will take you under their wing or you'll be learning new stuff and developing skills as you grow," he said.
Network Administrators Salary
2021 Median Salary, According to BLS: $80,600*
BLS Projected Job Growth: 3%*
Networks essentially allow for computers to communicate with one another, and as a network administrator, you are responsible for a network's upkeep and operation. You'll work at the intersection between hardware and software, and continuously repair, optimize and upgrade networks so they are performing at their best.
Information Security Analysts Salary
2021 Median Salary, According to BLS: $102,600*
BLS Projected Job Growth: 35%*
As the number of cyber attacks increases each year, information security (also known as cybersecurity) is a critical component for organizations. LinkedIn reports in 2022 that a malware attack can cost an organization over $2.5 million and the annual cost of cybercrime globally is an estimated $3 trillion a year.
Information security analysts protect an organization's sensitive information from cybercriminals. From investigating security breaches to looking for vulnerabilities through penetration testing, this is a field that's growing fast.
IT Project Managers Salary
2021 Median Salary, According to BLS: $159,010*
BLS Projected Job Growth: 16%*
If you have particularly strong communication and organizational skills, a career in information technology project management might be for you. IT project managers work with multiple teams across their department to oversee a project from start to finish.
They're responsible for enforcing the budget, schedule and scope, as well as clearly communicating with stakeholders, supervisors, co-workers and subordinates, according to O*NET OnLine.
The Future of Information Technology
Information technology is a rapidly growing field, and staying current on industry updates is important, because IT is here to stay.
"It's going to be with us every step of the way until the end of human civilization, pretty much," said Steinbach .
In today's evolving industry, professionals must consistently enhance their skill sets, particularly in digital domains like coding, data analysis, and machine learning. Pursuing a degree in Information Technology can prepare you with the necessary knowledge to stay updated and excel in your career.
Discover more about SNHU's bachelor's in information technology: Find out what courses you'll take, skills you'll learn and how to request information about the program.
*Cited job growth projections may not reflect local and/or short-term economic or job conditions and do not guarantee actual job growth. Actual salaries and/or earning potential may be the result of a combination of factors including, but not limited to: years of experience, industry of employment, geographic location, and worker skill.
Rebecca LeBoeuf '18 '22G is a writer at Southern New Hampshire University. Connect with her on LinkedIn.
Explore more content like this article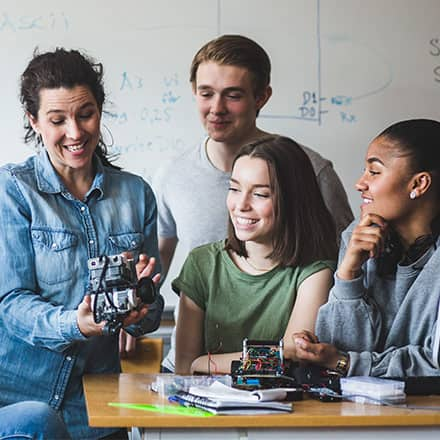 Let's start with a basic question: Exactly what does STEM mean? It's a term many are familiar with, but don't necessarily understand. STEM is a common abbreviation for four closely connected areas of study: science, technology, engineering and mathematics.
From Grace Hopper, an early pioneer in computer programming, to Katherine Johnson's contributions as a space scientist, women have been proving their value to the STEM fields for years and years. While there isn't one straight pathway into STEM, there are some general strategies that will help.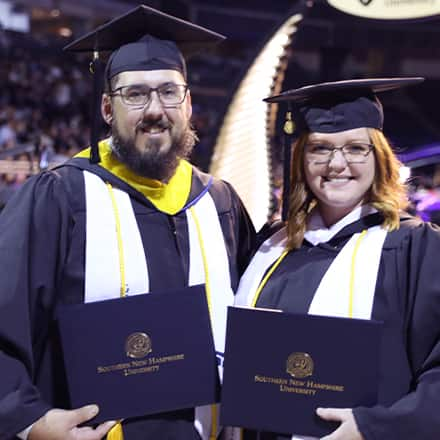 Michael and Taria Richards, both first-generation college graduates, earned their bachelor's degrees together from Southern New Hampshire University. Despite unconventional journeys, they've secured new jobs and are determined to set an example for their children.
About Southern New Hampshire University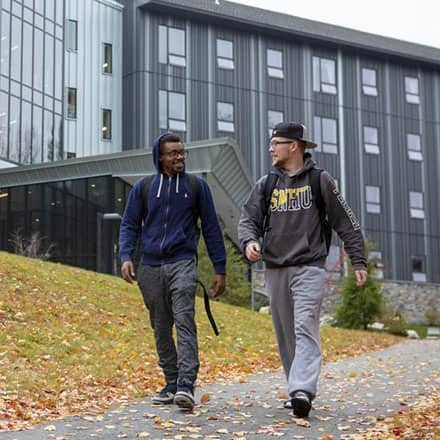 SNHU is a nonprofit, accredited university with a mission to make high-quality education more accessible and affordable for everyone.
Founded in 1932, and online since 1995, we've helped countless students reach their goals with flexible, career-focused programs. Our 300-acre campus in Manchester, NH is home to over 3,000 students, and we serve over 135,000 students online. Visit our about SNHU page to learn more about our mission, accreditations, leadership team, national recognitions and awards.