Earn your AS in Data Analytics:
$330/credit (60 total credits)
Transfer up to 45 credits toward your associate degree
Apply all 60 credits toward BS in Data Analytics program
Learn high-demand skills employers seek
Get transfer credits for what you already know
Participate in events like the Teradata competition
Associate in Data Analytics Online Overview
Get your foot in the door of a fast-growing field with the online Associate of Science (AS) in Data Analytics degree program from Southern New Hampshire University.
Big Data is a huge part of business today. But how do you break into the field? SNHU's data analytics associate degree program can provide the foundational knowledge you need to help launch or continue your career.
This 60-credit program is perfect for those looking to understand the basics of data analytics. It can also provide a seamless pathway to a bachelor's – as all 60 credits may be transferred to our BS in Data Analytics program.
Credits can also be applied to one of our many STEM degrees. Choose from a variety of full programs and concentration areas such as business management, cybersecurity, project management and software development.
Plus, if you have some college experience already, we'll accept up to 45 credits toward your associate program – saving you time and tuition.
Learn how to:
Solve organizational problems through data and communicate your findings to technical and non-technical audiences
Apply data analytics standards and policies to meet the security, storage and privacy standards of organizations
Use quantitative and qualitative data analytics methods to respond to business challenges
Career Outlook
With an increasing number of executive leaders turning to data to better manage their organizations, there are several different directions a professional with data analytics skills can go.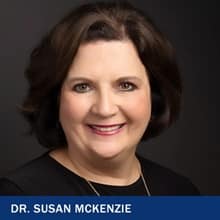 "The AS in Data Analytics allows students to gain a solid understanding of the methods for diagnosing organizational problems, gathering requirements and collecting data," said Dr. Susan McKenzie, associate dean of STEM programs at SNHU.
These skills, McKenzie notes, are valuable for many different roles in many different environments.
"By understanding current use of data analytics in different industries, you'll be prepared to communicate to all parts of an organization," McKenzie said. "These skills aid in how data analysis impacts organizational decision making."
While many employers say they require a minimum of a bachelor's degree for a data analytics job, an associate degree can position you for many entry-level roles jobs in data – especially if, at the same time, you're also pursuing a bachelor's degree in data analytics. You may find junior roles for jobs like:
Business analyst
Business intelligence analyst
Data analyst
Data technician
Operations analyst
That said, if you're looking to position yourself for a higher-level role, the AS in Data Analytics can provide a strong pathway to a bachelor's degree in a variety of STEM areas.
If you'd like to continue on and earn an advanced degree, you can take advantage of our master's degrees in data analytics online, in addition to many other online master's programs.
An advanced degree in data analytics can help prepare you for a number of different roles and industries. The U.S. Bureau of Labor Statistics, for example, notes that the top industries for operations research analysts in 20211 were:
Professional, scientific and technical services
Finance and insurance
Management of companies and enterprises

Federal government
Manufacturing
Start Your Journey Toward an Online Data Analytics Degree
Why SNHU for Your Associate in Data Analytics
Flexible
With no set class meeting times, you can learn on your schedule and access online course materials 24/7.
Affordable
As part of our mission to make higher education more accessible, we're committed to keeping our tuition rates low. In fact, we offer some of the lowest online tuition rates in the nation.
Prior coursework could also help you save time and money. SNHU's transfer policy allows you to transfer up to 90 credits toward your bachelor's degree and 45 credits for an associate degree from your previous institutions—that means you could save up to 75% off the cost of tuition. You could also save time and money by getting college credit for previous work experience, or by taking advantage of military discounts and employer tuition assistance if available to you.
Respected
Founded in 1932, Southern New Hampshire University is a private, nonprofit institution with over 160,000 graduates across the country. SNHU is accredited by the New England Commission of Higher Education (NECHE), a regional accreditor, which advocates for institutional improvement and public assurance of quality.
Recently, SNHU has been nationally recognized for leading the way toward more innovative, affordable and achievable education:
U.S. News & World Report named SNHU the 2021 Most Innovative University in the North and one of the nation's "Best Regional Universities"
Awarded the 21st Century Distance Learning Award for Excellence in Online Technology by The United States Distance Learning Association (USDLA)
A $1 million grant from Google.org to explore soft skills assessments for high-need youth
Network
At Southern New Hampshire University, you'll have access to a powerful network of more than 300,000 students, alumni and staff that can help support you long after graduation. Our instructors offer relevant, real-world expertise to help you understand and navigate the field. Plus, with our growing, nationwide alumni network, you'll have the potential to tap into a number of internship and career opportunities.
93.6% of online students would recommend SNHU (according to a 2022 survey with 17,000+ respondents). Discover why SNHU may be right for you.
Expanding access to quality higher education means removing the barriers that may stand between you and your degree. That's why you can apply at any time and get a decision within days of submitting all required materials:
Completed free undergraduate application
Prior transcripts, which we can retrieve at no cost to you
Test scores are not required as part of your application
Acceptance decisions are made on a rolling basis throughout the year for our 6 (8-week) undergraduate terms.
If you're ready to apply, follow these simple steps to get the process going:
If you have questions or need help filling out your application, call 1.888.387.0861 or email enroll@snhu.edu.
Courses & Curriculum
"In the data analytics associate program, you'll gain an understanding of the various technical areas of data analysis as well as the industries in which it is used," said Dr. Susan McKenzie, associate dean of STEM programs.
You'll explore critical IT and data analytics concepts with courses that cover:
The role of data analytics in organizations
Gathering requirements and collecting data
Data policy and decision making
Emerging technologies and Big Data
Data validation and how to get the right data
In addition, all major courses and general education requirements are transferable to the BS in Data Analytics program – giving you a seamless pathway to achieve your educational goals.
Curriculum Requirements & Resources
General education courses: All online associate degree students are required to take general education classes, if not obtained in prior coursework. Through these foundation, exploration and integration courses, students learn to think critically, creatively and collaboratively, giving you the edge employers are looking for.
Technology resources: We provide cloud-based virtual environments in some courses to give you access to the technology you need for your degree – and your career. Learn more about our virtual environments.
Earn math credits for what you already know: Save time and tuition with our Pathways to Math Success assessments. Depending on your scores, you could earn up to 12 math credits – the equivalent of 4 courses – toward your degree for less than $50 per assessment. For additional information, or to register for a Pathways to Math Success assessment, contact your admission counselor or academic advisor today.
Earn Credits for What You Already Know
Earn transfer credits for IT certifications and credentials: If you've earned IT certifications through organizations like Cisco, CompTIA, (ISC)2, Oracle or Thinkful, you may be eligible to receive credit toward your degree program. Or If you're seeking certification, some IT and computer science courses can help you prepare for specific exams.
Earn credits for work and life experience: Did you know certain work and life experience - like industry-recognized certifications, law enforcement training and math knowledge - could save you time and money at SNHU? Learn how you could get credit for work or life experience.
Minimum Hardware Required Specifications
| Component Type | PC (Windows OS) | Apple (Mac OS) |
| --- | --- | --- |
| Operating System | Currently supported operating system from Microsoft. | Currently supported operating system from Apple. |
| Memory (RAM) | 8GB or higher | 8GB or higher |
| Hard Drive | 100GB or higher | 100GB or higher |
| Antivirus Software | Required for campus students. Strongly recommended for online students. | Required for campus students. Strongly recommended for online students. |
| SNHU Purchase Programs | | |
| Internet/ Bandwidth | 5 Mbps Download, 1 Mbps Upload and less than 100 ms Latency | 5 Mbps Download, 1 Mbps Upload and less than 100 ms Latency |
Notes:
Laptop or desktop?  Whichever you choose depends on your personal preference and work style, though laptops tend to offer more flexibility.
Note:  Chromebooks (Chrome OS) and iPads (iOS) do not meet the minimum requirements for coursework at SNHU. These offer limited functionality and do not work with some course technologies. They are not acceptable as the only device you use for coursework. While these devices are convenient and may be used for some course functions, they cannot be your primary device. SNHU does, however, have an affordable laptop option that it recommends: Dell Latitude 3301 with Windows 10.
Office 365 Pro Plus is available free of charge to all SNHU students and faculty. The Office suite will remain free while you are a student at SNHU. Upon graduation you may convert to a paid subscription if you wish. Terms subject to change at Microsoft's discretion. Review system requirements for Microsoft 365 plans for business, education and government.
Antivirus software: Check with your ISP as they may offer antivirus software free of charge to subscribers.
List of Courses
Courses May Include
AS in Data Analytics
DAT 205
Role of Data Analysis in Organizations
Students will analyze the role of data analysis and data analysts within organizations. Students will also gain an understanding of the various areas of data analysis as well as the industries in which it is used, and explore the types of professional roles that exist in the world of data.
DAD 220
Introduction to Structured Database Environments
Students will learn to create structured database environments that incorporate basic processing functionality and allow for data management, data manipulation, and data analysis. Students will also construct and analyze queries to address data requirements.
DAT 223
Gathering Requirements and Collecting Data
Students will examine methods for diagnosing organizational problems in order to determine the data requirements to solve them. In addition, students will learn how to gather data and supporting documentation necessary for effective data analysis.
DAT 250
Data Policy and Decision Making
Students will explore the emergence of data governance at both the legal/regulatory and organizational policy levels, with a focus on its implications for data analytics. Students will also learn how data analysts can act ethically when confronted with data privacy and security concerns.
IT 140
Introduction to Scripting
Students will learn the fundamentals of programming concepts including data types, variables, decision statements, loops, functions and file handling. By developing simple scripts, students will understand how to use common scripting language constructs including lists, literals, and regular expressions to build useful applications.
Total Credits: 60
Frequently Asked Questions
What's the difference between an associate and a bachelor's in data analytics?
The key difference between a bachelor's and associate degree in data analytics is the depth of the topics covered. Put simply, a bachelor's degree picks up where an associate degree leaves off.
With an associate degree in data analytics, you'll be better equipped to understand and share accurate information with stakeholders at a company.
A bachelor's will build upon those foundational skills.
"The BS in Data Analytics will expand your learning with technical abilities and professional skills," said Dr. Susan McKenzie, associate dean of STEM programs. You'll gain skills to help organizations leverage data through innovative practices and help inform decision-making. In addition, you'll learn about aspects of data science including data management and security. Upon graduation, you'll become skilled in interpreting business questions through a data lens, collecting and cleaning data, visualizing data and communicating analytical results and recommendations.
Typically, an associate in data analytics takes about 2 years to complete. A bachelor's takes 4 years. But here's what's great about earning your data analytics associate degree at SNHU: Once you finish, you can transfer all your credits toward your online bachelor's degree. That means, in 4 years, you can still earn your BS in Data Analytics, but also get an associate credential halfway through.
This is helpful not only as a way to show employers what you've learned, but also as a personal benchmark on the road toward reaching your goals.
What's the difference between data analytics and data science?
While it might be easy to confuse data analytics and data science, they are different. It helps to think about it in terms of what data analysts and data scientists actually do.
Simply put:
Data analysts gather and analyze data
Data scientists develop statistical models and apply scientific methods to make predictions
Take weather forecasts, for example. A data analyst would be in charge of collecting data such as humidity, temperature and barometric pressure. Then, that data would be handed off to a data scientist who would use it to predict a weather event, like a blizzard.
"They're looking at the data to identify patterns and to decide scientifically what the result is," said Dr. Susan McKenzie, associate dean of STEM programs. "The data analyst works on a subset of what the data scientist does."
Is a data analytics associate degree worth it?
Depending on your desired career track, a data analytics degree could help you build skills employers want to see.
Paulitia Sheldon, a data analytics instructor at Southern New Hampshire University, notes that a degree is important – not just for the credential, but as a way to establish a lifelong habit of exploration and learning.
"One thing I tell students is that these programs give you a terrific foundation of knowledge you need to succeed," Sheldon said. "However, as with most things, to differentiate, you have to commit to yourself that you will keep learning."
What can you do with an associate in data analytics?
There are a few different ways you can use an associate degree in data analytics. First, you can use it to pursue entry-level roles in data analysis or data management.
Your second option is to use your associate degree as a stepping-stone for further education. According to the U.S. Bureau of Labor Statistics, job growth and salary projections for data roles with a minimum entry-level of a bachelor's appear promising in the coming years.1 Operations research analysts, for example, reportedly earned a median salary of $82,360 in 2021, and these occupations are set to grow 23% through 2031 – far faster than the national projections for all occupations.1
An associate degree can be the start of a rewarding journey toward career advancement. Each step can represent a new level of opportunity, with a bachelor's and above paving the way for roles such as operations research analyst, mathematician or statistician and market research analyst.
Perhaps not surprisingly, there is also evidence to show a correlation between level of education and earning potential. In 2021, the BLS reported weekly median earnings of $809 for high school diploma holders across all occupations.1 By comparison, those with an associate degree earned a weekly median wage of $963.1 That number continues to climb with each level of education, with bachelor's degree recipients earning $1,334 and those with a master's degree earning $1,574.1
How do I get an associate in data analytics?
The first step is finding schools that offer an AS in Data Analytics program. Then, compare them. Ask yourself, "Is this school – and this program – right for me?"
At SNHU, we offer:
Low online tuition. As an accredited university built for people, not for profit, we are committed to making education more accessible by making it more affordable.
Transfer-friendly pathways. We want to make sure you're rewarded when you put in the work. That's why we accept up to 45 transfer credits toward your associate degree for previous college experience. Better yet, all of the credits you earn for your data analytics associate degree can be transferred to one of our bachelor's degrees in IT. That means, when you finish your associate degree, you're already halfway toward earning your bachelor's, too.
Expert faculty. We pride ourselves on offering an excellent online learning experience. That quality can be credited to the work of our SMEs and instructors who leverage years of expertise to help prepare you for real-world success.
Networking opportunities. Speaking of real-world success – we know the power of putting students in front of employers and industry experts. That's why we offer access to a number of annual events and competitions, including the Teradata University Data Challenge and the Grace Hopper Celebration.
Related Articles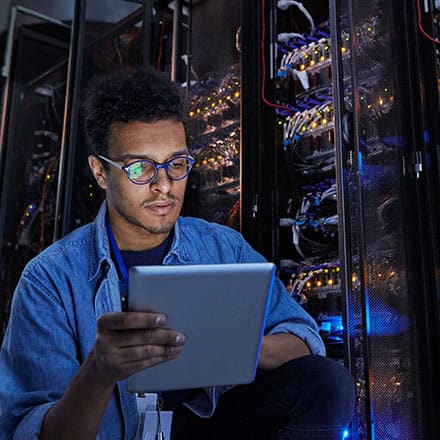 In recent years, headlines about cybersecurity have become increasingly commonplace. Keeping information safe is a growing concern for companies of all sizes as cyberattacks become more frequent. Now more than ever, cyber awareness is vital to staying protected.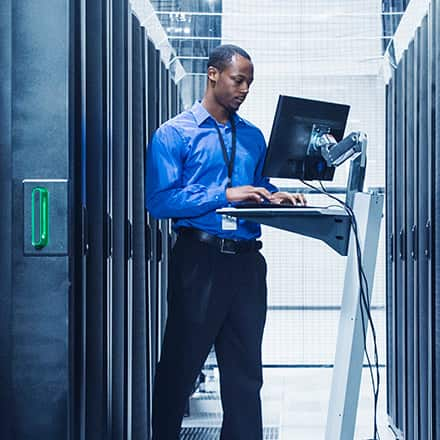 Despite being relatively new, the field of cybersecurity is here to stay. Earning a cybersecurity degree at any level positions you for a rewarding career maintaining data privacy, conducting risk assessments, designing strategic plans for security systems and much more.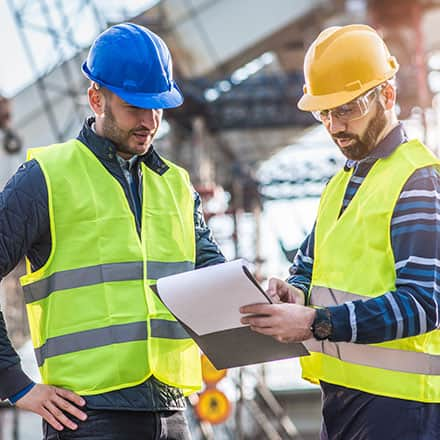 There are dozens and dozens of types of engineering, but when it comes down to the basics, engineering is about using specialized bases of knowledge to solve a problem. Since we encounter a wide variety of problems, we have a wide variety of engineering fields designed to solve them.
References
1 Bureau of Labor Statistics, U.S. Department of Labor, Occupational Outlook Handbook, on the internet, at:
https://www.bls.gov/OOH/math/operations-research-analysts.htm (viewed Nov. 21, 2022)
https://www.bls.gov/careeroutlook/2020/data-on-display/education-pays.htm (viewed Nov. 21, 2022)
Cited projections may not reflect local and/or short-term economic or job conditions and do not guarantee actual job growth.
2 According to a survey responses from over 9,200 SNHU online students conducted in the fall of 2019.