Alums Talk Sports Business Jobs at SNHU
Four Southern New Hampshire University alums who have found success in the sports world spoke to students and recent graduates of the sports management program last month, imparting their advice to students who will be looking for sports-related jobs soon.

The panel discussion was hosted by Dr. Doug Blais, a sport management professor at SNHU's Manchester campus. He highlighted some of the organizations SNHU students have interned at in the past, including Boston's major sports teams - the Red Sox, Patriots, Celtics, Bruins and Revolution. Students have also interned at promotional events such as the UFC, WWE and Major League Soccer matches, and at venues such as New Hampshire and Daytona motor speedways, among others. Beginning the discussion with the roster of organizations SNHU students have worked for was apt because if the panelists agreed on anything, it was that internships and relationship-building was a vital step toward breaking into the sports management industry.

Stephanie Arpaia '10, now the director of consulting for Excel Sports Management in New York City and former , said knowing people in the industry is important and the best way to begin that process is working in the industry. Without experience, that means internships are the way to go. "I would say internships are the key. Any internships you can get your hands on in any part of the business," she said. "By doing that you meet people and then you have names and emails and contacts when you are trying to get a job."

John Guppy '90, who founded Gilt Edge Soccer Marketing nearly a decade ago and was the former president and CEO of Major League Soccer's Chicago Fire, said he knew he wanted to find work connected to the 1994 World Cup when he graduated and went straight into a master's-level program. Through sheer persistence he proposed writing an analysis of U.S. soccer fans in advance of the tournament, something the U.S. Soccer Federation didn't have at the time. "I knew that was where my opportunity existed and the question was 'How (do) I get it?'" he said. "I do think our industry is a fraternity. If you're good, your career will open up in front of you. But getting in that door the first time is clearly ... one of the hardest parts of this industry."

Following the panel discussion, SNHU's director of partnership marketing Steve Thiel said part of his job is establishing relationships that open internship opportunities for SNHU students. "Getting an internship in the sports industry is the best way to build your network and ultimately be hired full-time. That's why all of the partnerships SNHU has created with sports organizations have the ability for students to apply to beneficial internship opportunities," he said. "If a student can build a portfolio of internship experiences, they'll become very valuable for a potential employer."

Dr. Mark Hecox '02, chairman of SNHU's sport management department, said developing a specialization or unique niche within the industry is an important way to set yourself apart from other applicants. Arpaia agreed and said while she doesn't shoot or edit much video now, her video experience as a broadcast journalism major served her well when she applied for an internship with the New Hampshire Fisher Cats while she was in school. "I was set apart from the other applicants because I had this skill that had value to the company," she said. "That's something I look for every day when I'm looking for interns or new hires. I'm looking for people who have some unique skill that can make what we do as a company better."
Hecox, formerly an executive at Reebok, said job applicants who had taken the time to research the company before applying and interviewing always stood out to him. The trick is demonstrating you have done that research in your communication with the company, he said. "I think what it does is it shows a level of commitment on your part," Hecox said. "Even if you don't think you have a differentiation point, believe it or not that alone can really be a mover ... that you took the time to do it and you're really interested in working in that place."

Summing up the discussion, Greg Gosselin '11, director of membership services for the Washington Capitals of the NHL, said with so much competition for many jobs in sports management, persistence is a key attribute to develop. "The first thing I would say is don't give up. It's a long road to meet the right people, to be in the right position, to be able to pick up and move to a new location," he said. "There's a ton of competition to get the job you want. Don't think you have to stop because you didn't get that one job."

Guppy said aspiring sports management professionals should channel their passion into hard work, much the same way an elite athlete works hard to develop their bodies and physical abilities. "I have not worked a day in my life," he said. "I genuinely feel that way and I think you can, too. Find that passion. Hone those skills. Look at life just like a professional athlete does. You're a professional business person, and good things will come."
Explore more content like this article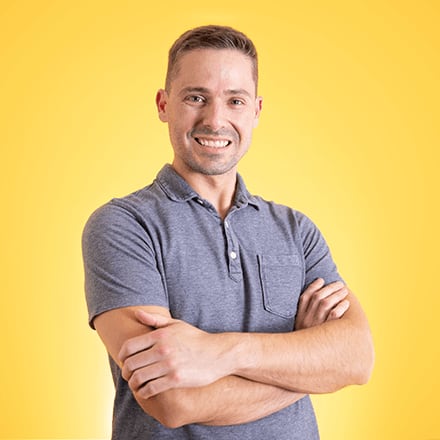 July 19, 2021
Blake Venable always knew he wanted to get his bachelor's degree, not only to achieve a personal goal, but to build on his already successful career. Working toward his degree in accounting, Venable is becoming more confident in himself and doing what he loves.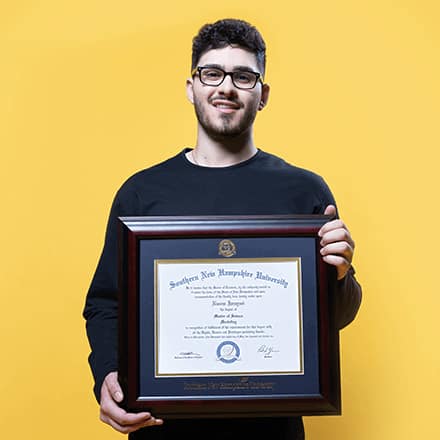 July 19, 2021
When Naeem Jaraysi '20G earned his bachelor's degree, he knew he wasn't done with school. He saw firsthand the importance and longevity of education and was determined to set himself up for a future of possibilities.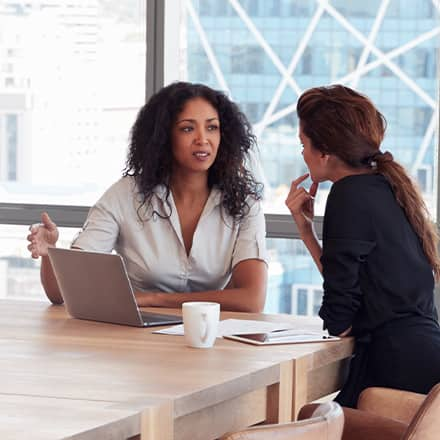 July 16, 2021
Human resources is an integral part of any organization, playing a key role in the strength and vitality of its workforce. While HR roles can vary, the overall goal of the field is the same: to support employee recruitment, retention, engagement and overall productivity.