Italy Native Marotta Surprised by SNHU Advisor at Commencement Weekend
When it came time to graduate with her MS in Justice Studies with a concentration in Cybersecurity, Angelica Marotta knew she wanted to come to N.H. to graduate with the Class of 2017. See what happens when her career advisor traveled halfway across the country to surprise Marotta at commencement!
For international student Angelica Marotta, graduating from Southern New Hampshire University came with an extra surprise. Amidst the clamor and applause filling SNHU Arena, the personal celebration went largely unnoticed by many but was a highlight of Marotta's graduation experience.
Marotta, who earned her master's in cyber security, traveled to SNHU's Manchester, N.H., campus from Pisa, Italy, with her parents for her graduation ceremony on May 13. It was her first time seeing the campus. Unbeknownst to her, it would also be the first time meeting an advisor who had become a vital part of her experience at the school.
Although Sonja Moffett had told Marotta she wasn't able to make it to New Hampshire for commencement, she had flown in for the weekend from her home in Michigan, where she works remotely as a SNHU Career advisor. She was waiting at the side of the arena's stage when Marotta received her degree. Holding a sign reading, "Congratulations Angelica Marotta, from Sonja," Moffett greeted Marotta with a big hug.
"It was a really fantastic surprise. I really didn't expect that," Marotta said. "I was excited. It was a dream for me to be here."
It was an emotional moment for both and one that Moffett said she was thrilled to be a part of.
"I was excited to do this because I wanted to see her reaction," Moffett said. "It was so fulfilling to see that bright smile and almost see her cry in that moment. It was incredible."
The pair has worked together to define Marotta's career path, identifying ways for her to expand her professional network and marketability in order to reach her goal to combine her work as a cyber security researcher with teaching. Until the ceremony, they had never met face-to-face.
Marotta began taking courses with SNHU, in part, to study cyber security and many of the other factors involved in the field, such as ethical and organizational considerations, through the lens of another culture. Studying as an international student sometimes presented unique challenges, she said, "but at the same time, it gives you the opportunity to immerse yourself in a completely different reality, culture, language. And I really enjoyed it."
Moffett said Marotta's drive pushed her to up her own game as a career advisor. She put in extra effort helping Marotta research various employers to reach out to and resources to explore, some of which required Italian-English translation work by the pair.
"One of the things that was important to me was to meet Angelica myself, face-to-face. She's really inspired me. I really liked her fortitude and her dedication to what she did as a student," Moffett said. "I know the barriers that she had, and she didn't let those stop her. We've worked together over this past year, and she's really pushed me professionally in what I do and learning."
Narrowing down what opportunities to pursue was part of the challenge, Moffett said. Because Marotta speaks four languages, there were potential options at colleges and universities around the globe. "So ... how do we approach this strategically reaching out to these employers so she could build up her relationships, market her value proposition and be able to get into an educational role that she so desires," Moffett said.
Marotta said her advice for other online students, particularly international students, is to focus on communicating clearly and often with your school. "My only suggestion is about communication because we underestimate communication in an online environment," she said. "I had the opportunity to Skype with Sonja many times, which is a very important thing for me because living abroad I had the opportunity to exchange my thoughts with her about career. She was amazing. She gave me lots of advice. It was a very amazing experience talking to her."
Marotta's master's in cyber security was one of nearly 15,000 graduate and undergraduate degrees SNHU awarded this year; more than 4,600 were awarded during four ceremonies in Manchester during commencement weekend.
Joe Cote is a staff writer at Southern New Hampshire University. Follow him on Twitter @JoeCo2323.
Explore more content like this article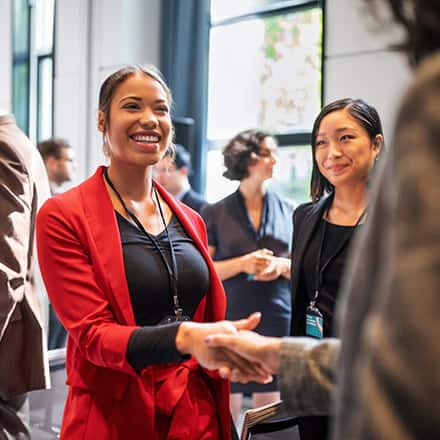 June 04, 2021
The day you receive your diploma from your university is a proud one, marking the culmination of your degree. But, your relationship with the university doesn't have to end there. Alumni are an integral part of a university community and are true advocates for student success.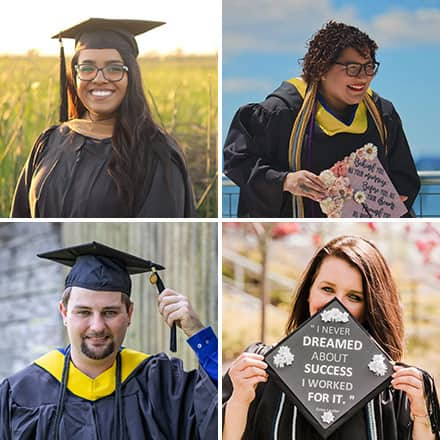 May 10, 2021
Determination has always been a key characteristic of SNHU graduates but never more so than within the 43,000 students who persisted throughout the pandemic in completing their degree programs.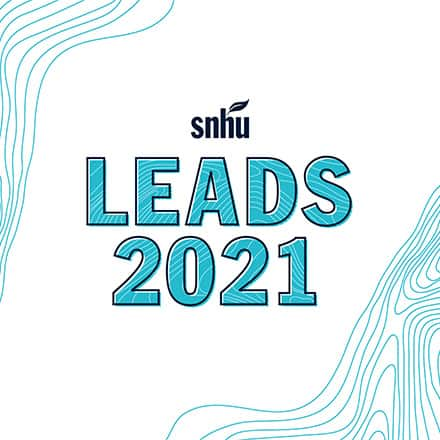 April 22, 2021
SNHU students, staff and alumni worldwide dropped by the 7th annual LEADS Conference earlier this month for personal and professional development that focused on academic achievement, leadership and career advancement.