Discover the Power of Productive Conflict - What HR Leaders Need to Know About Conflict Management Skills

Idea in brief:
With the right training in conflict management skills, workplace conflict can be "productive" rather than disruptive.
When "Stacey," an administrator for a large healthcare organization, started experiencing a series of frequent short-term absences brought about by poor health, her manager referred her to the occupational health department. As detailed in a case study for Personnel Today, an assessment didn't reveal any medical conditions.
Rather, Stacey's poor health and absenteeism stemmed from workplace stress and interpersonal conflict.
Interpersonal conflict in the workplace is one reason nearly two-thirds of professionals are reporting higher stress levels than five years ago, according to a 2018 survey by global consulting firm Korn Ferry. The true costs of conflict are difficult to measure. As with Stacey's case, it can lead to absenteeism and poor productivity. Left unchecked, conflict can contribute to high turnover rates and erode customer experience.
However, with the right skills, conflict in the workplace isn't always a bad thing. As Amy Gallo, author of the HBR Guide to Dealing with Conflict at Work wrote for Harvard Business Review, well-managed workplace disagreements have benefits. This includes improved coworker relationships and opportunities to learn and grow personally. They can also improve job satisfaction.
Nate Regier, author of Conflict Without Casualties: A Field Guide for Leading with Compassionate Accountability, agrees. He wrote, "A vast majority of leaders mistakenly assume conflict is the problem. They try to minimize the casualties by either avoiding conflict or controlling, mediating or managing it. While this may reduce their stress, it also compromises the positive, creative potential in conflict."
The difference in good or bad conflict? Training.
Training is the key to transforming disruptive, poorly handled conflict into something productive. Conflicts will still arise. But they will be less severe when employees have certain skills:
effective communication about expectations and roles
the ability to work together as a team
improved emotional intelligence and empathy
A 2008 study by training services provider CPP, Inc. found that training is the biggest driver for high-quality outcomes from workplace conflict. In the study, employees who had conflict management training said:
conflict led to a better understanding of others (56%)
conflict highlighted a better solution (42%)
conflict resulted in a major innovation (19%)
All that can have a powerful effect on the bottom line. A recent literature review found conflict management training was one of the most effective ways to improve retention for nurse managers.
Related reading: Practical Tips for Conflict Resolution in the Workplace
Conflict management skills for frontline workers
Technical training helps develop the hard skills employees need to do their jobs. But soft skills are important for improving relationships with colleagues and for better customer service.
A recent LinkedIn survey found that training for soft skills is a key focus among executives, managers and talent developers. "As technology accelerates, soft skills are in high demand to fuel people and business growth," note the survey's authors.
Conflict management skills for frontline workers include communication, creative problem solving, empathy, emotional intelligence and teamwork.
Conflict management skills for managers
Managers also need to develop the skills to help smooth out conflict in the workplace. Dealing with conflict requires emotional intelligence, problem solving, and communication.
But managers also need to be able to proactively head off conflict before it becomes an issue. This requires skills in recognizing shifts in behavior, quality of work, and group dynamics in order to spot problems.
Managers also must be good listeners, able to read between the lines and get to the core of the issue. Then, they can help employees find common ground to reconcile their conflict.
Developing conflict management skills
Specialized training courses can develop conflict management skills for both employees and managers. But they can also be developed organically as part of a broader curriculum related to the workplace.
For example, work-relevant liberal arts degrees can build these skills through projects designed to promote emotional intelligence, communication and other conflict management skills.
As Dr. Jerome Rekart, SNHU's associate vice president of learning science and workforce insight writes, practicing foundational skills in both the classroom and the workplace strengthens those skills greatly: "Thus, practiced skills don't disappear into the great cognitive void where concepts are 'learned' but can't seem to be recalled."
Read more: How SNHU Designs for Improved Employee Engagement and Workplace Productivity
Turn it from disruptive to productive
When a group of people come together in the workplace, there is bound to be conflict. Left unmanaged, conflict in the workplace can lead to absenteeism, high turnover, lower engagement and reduced productivity. It can disrupt the team dynamics and impact the way employees interact with customers.
But training in conflict management skills reduces the disruption. It also improves positive outcomes when there is conflict.
Combining workplace-relevant training with a liberal arts education helps develop these technical skills, as well as foundational interpersonal skills employees need for the workplace.
Contact the Workforce Partnerships team at Southern New Hampshire University to learn about the university's tailored learning solutions.
Explore more content like this article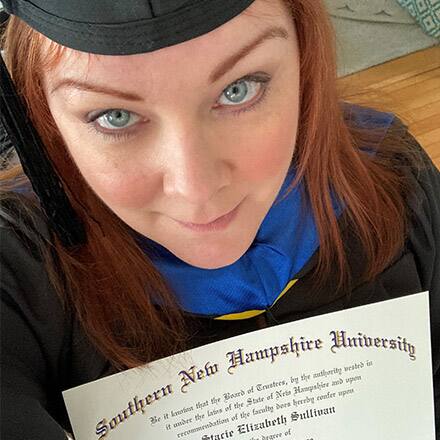 September 08, 2020
For years, Stacie Sullivan '19 felt stuck in her career, sensing her opportunities to advance were limited. After a series of challenging life events, Sullivan enrolled in the BS in Health Information Management program at SNHU.
July 01, 2020
Just a year after she decided to go back to school, Shereka Johnson-Bean '20 is preparing to submit the final project for her bachelor's degree.
June 12, 2020
Shannon Griffin's first job was as a crew member at a McDonald's restaurant. She's still working at McDonald's, but her role is a whole lot different thanks to her hard work and the degrees from SNHU.