Middling America: How to Solve the Nation's Biggest Skills Gap

Idea in brief:
The latest data on the U.S. job market reveals a troubling employment gap in "middle skills" jobs – those requiring more than a high school diploma but less than a four-year college degree. These jobs not only represent the fastest-growing segment of the workforce, but key industries count on them. The good news: Online education can help.
Middle-skills workers are having a moment. Based on data from Georgetown University's Center on Education and the Workforce, roughly 1/3 of new job openings fall into the so-called "middle skills" category – jobs requiring more than a high school diploma but less than a four-year college degree. What's more, the trend shows no signs of slowing down.
Electricians, dental hygienists, paralegals and police officers fit this profile. So do radiologists and registered nurses, just two healthcare occupations the U.S. Bureau of Labor Statistics projects will grow 13-15%, respectively, through 2026. The U.S. Department of Labor calls these "medium-preparation" jobs and lists them all, categorized by job outlook, on its O*NET website.
These are high-paying jobs in high demand – the fastest-growing segment of the job market in a compelling report from the Ball Foundation's Career Vision program. And yet America's workforce has a problem. While demand for middle-skills workers has grown, supply continues on a steady path of decline.
The growing shortage stems in part from two factors: the fast pace of technological change and the rate at which Baby Boomers are retiring, taking their expertise along with them.
But there's a third, less overt factor: a shift away from employer-subsidized training. Middle-skills jobs typically require an associate degree or some form of certification, licensing or apprenticeship. Most employers used to provide this kind of training. Today, more and more employees need to find their own apprenticeship or community college, vocational or technical school program.
Part 1: How Employers Can Bridge the Gap
America's middle-skills jobs gap is more than a business issue. It's an economic issue.
In a recent study, Harvard Business School, Accenture and Burning Glass Technologies analyzed the middle-skills job market data and made five key findings:
American industry needs middle skills to compete globally.
America's workforce needs middle skills to earn higher wages and improve their living standards.
Businesses need to drive middle-skills job growth, creating higher-wage jobs and a pathway for workers to higher lifetime career value.
Educators need to partner with employers to create a pipeline of ready-to-employ, middle-skilled people through internship and apprenticeship programs, internal training programs, and community partnerships.
Policymakers need to fuel the collaboration between business leaders and educators with up-to-date information and fresh metrics.
The study also confirmed what today's most progressive higher ed institutions already know – that a four-year college education is not the only path to a rewarding career. Nor is a traditional college campus education. In fact, for many communities, online education is not just the most viable solution. It's the only one.
Part 2: How Online Education Can Help
As the Babson Survey Research Group reported in its 2018 Survey of Online Learning, online education has given students across the country access to educational attainment Americans once only dreamed of. Nowhere is this truer than in rural areas, where a recent article in The Atlantic noted that prospective college students often face the added challenge of long distances, or "education deserts," between them and college campuses. A third of Montana residents, for instance, live at least an hour away from the closest college campus.
In rural communities, online degree programs like those offered by Southern New Hampshire University (SNHU) can help address workforce shortages. Programs tailored for healthcare, IT, accounting and other fields where demand is higher than workforce supply can be a boon to rural areas.
As frontline healthcare roles continue to grow at double the pace of all occupations, SNHU's online healthcare degrees can help fuel a variety of "middle skills" jobs – or put registered nurses on a pathway toward advancing their careers. Since nurses make up nearly half the healthcare workforce, upskilling them holds significant consequences, as detailed in a timely report from SNHU's Workforce Partnerships.
Part 3: How States Can Solve the Final Piece
There's one caveat in terms of online education that's perfectly illustrated by the plight of Native Americans, almost 30% of whom live in education deserts. This population, like many in rural areas, faces a bigger obstacle – infrastructure issues. The Atlantic article cites a report from the Center for American Progress that reveals "only about 63% of people in rural areas have broadband internet access in their homes," versus 75% in urban areas.
The middle skills gap affects economies and employers in every state. For that reason alone, the National Skills Coalition advises state policymakers to adopt new educational policies and make workforce investments, backing up its recommendations with a state-by-state library of middle skills fact sheets. NSC data can also help policymakers align investments with employer needs, including access to broadband internet.
In its report, "Rural Broadband and the Next Generation of American Jobs," NTCA, the Rural Broadband Association, notes that providers are playing vital roles in fueling the middle skills workforce, "leveraging their networks and working closely with educational institutions." The report concludes that "distance education can provide opportunities for students to continue their education at home, mitigating some needs to leave the community in order to pursue postsecondary education."
Solving the middle skills gap won't happen overnight or in a silo. But it can and will happen when employers, institutions and states work together. Contact us to learn more about competency-based education programs designed to help build the middle skills for your future workforce.
Explore more content like this article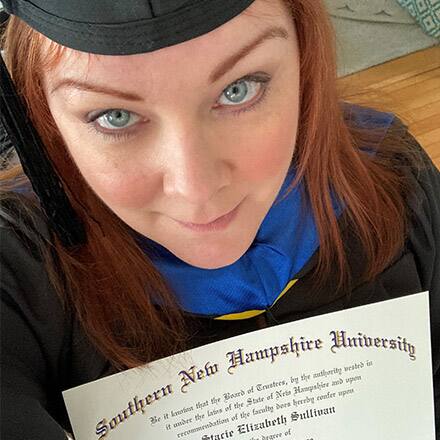 September 08, 2020
For years, Stacie Sullivan '19 felt stuck in her career, sensing her opportunities to advance were limited. After a series of challenging life events, Sullivan enrolled in the BS in Health Information Management program at SNHU.
July 01, 2020
Just a year after she decided to go back to school, Shereka Johnson-Bean '20 is preparing to submit the final project for her bachelor's degree.
June 12, 2020
Shannon Griffin's first job was as a crew member at a McDonald's restaurant. She's still working at McDonald's, but her role is a whole lot different thanks to her hard work and the degrees from SNHU.