How Nursing Programs Help Nursing Students Develop Non-Clinical Skills
So-called soft skills make a healthcare team work together effectively, and nurses are at the center of that team.
In recent years, healthcare employers have expressed greater demand for non-clinical skill sets in job postings for nursing positions. With that in mind, registered nurses should consider additional education and training as an effective way to develop essential soft skills for assuming non-clinical roles.
A Southern New Hampshire University Workforce Trend Report, The Healthcare Workforce: A Spotlight on Nurses, highlights the most sought-after skills by healthcare employers. Today's nurses work in roles involving case management, telemetry, discharge planning, patient/family education and instruction, and care planning. To effectively perform these roles, nurses will need to acquire advanced soft skills such as communication, teamwork, planning, critical thinking, writing, computer literacy and problem solving.
Though less tangible than technical skills, nursing faculty at SNHU pay close attention to developing a wide range of soft skills considered to be critical for both clinical and non-clinical practice.
Dr. Kimberly C. Gibbons, clinical faculty in graduate nursing at SNHU, said the first step for graduate level study is a course specifically "designed to facilitate the transition to the next level of education and nursing practice."
To train nurses for non-clinical roles, SNHU faculty focuses on developing three essential soft skills in the classroom: communication, teamwork and critical thinking.
Related reading: What Are Soft Skills and Why Are They Important in the Workplace?
Communication is the Foundation of Nursing
"Communication is the number-one skill for most professions that require relationships with other people," Gibbons said.
"It is the foundation under the house for nursing. It is not just about talking. It's about relating. It's about creating a shared experience."
At SNHU, students enter nursing programs with a variety of experiences in communication, educational backgrounds and workforce experience. They often come into the academic setting seeking additional education and training to meet the expectations of a non-clinical role.
As a result, said Elizabeth Christman, clinical faculty in undergraduate nursing at SNHU, most entering students have already cultivated many soft skills in a clinical setting.
The challenge for nursing faculty at SNHU is the need to level student expectations across these different experiences and teach students how to communicate effectively and professionally. Nurses need to communicate across many different relationships — with patients and their families, insurance companies, their colleagues and their management.
"Communication represents one of the most critical skills for a nurse," said Christman. "Things that are commonplace for a nurse are oftentimes very unfamiliar for patients and their families. We need to put them at ease by breaking down technical information into common terms."
This is an especially important practice for non-clinical tasks such as case management, discharge planning, family/patient education and care planning.
Communication is not just verbal, but also involves body language, Christman said. "Eye contact and offering a hand in support can go a long way."
For example, patients may experience high anxiety when undergoing telemetry monitoring. "They're seeing a lot of information on the monitor and hearing the beeping on the machine. It's important to take the time to explain it to the patient and empathize with them about their fears and concerns."
At SNHU, nursing faculty spend a significant amount of time teaching students how to relate to, communicate and interact with different types of people.
Gibbons said students need to learn to compartmentalize the roles of student, nurse, colleague and employee, and then communicate appropriately: "For example, sometimes it's important to be more relatable and humorous with patients and to go into academic mode when talking to a boss or management figure."
Teamwork is a Branch on the Tree of Communication
Teamwork is critical for non-clinical tasks such as case management, which involves coordination across a multi-disciplinary team to plan the care of a patient.
For Gibbons, "teamwork is a branch on the tree of communication. We communicate within teams. How that is translated by other people will impact how teams work together. So when we have a really good command on our communication, we can work with others effectively."
She emphasized that "nurses need to actively work to bring people into a team through communication, especially patients and their families."
"Because nurses have the most face-to-face time with patients,"" Christman said, "they are the center of a flow of communication between multiple specialists and about multiple therapies."
SNHU students develop coordination skills necessary for that work through reflective journaling, group assignments, discussion boards and one-on-one coaching with professors.
Critical Thinking Skills are an Essential Ingredient
A third essential skill for supporting non-clinical roles is critical thinking, which is necessary for conflict resolution and problem solving. Critical thinking, said Gibbons, often doesn't get attention outside of academic settings.
Teaching critical thinking requires diligence and a sincere care for students, she explained She develops personalized approaches for each student and works with them individually with a goal of "helping them set aside the end of the story and to take a situation apart, piece by piece."
By asking challenging questions, she helps students consider the perspectives of each person involved in a case and to understand the complexity of the situation.
The approach to teaching critical thinking skills has to be different for every student, since each has unique experiences and interests. For example, Gibbons recently organized an opportunity for a nursing student to shadow the chief financial officer of a healthcare organization. By observing the clinical environment through the lens of a CFO, the student was better able to grasp the economic factors influencing healthcare.
The Term 'Soft Skills' is Questionable. The Need Isn't.
"Soft skills" is a vague term at best, and highly contested at worst. As Julie Kennedy Oehlert, chief experience officer at Vidant Health in Greenville, North Carolina, said in an interview for HealthLeaders magazine, "When we talk about those skills, we somehow think they are less valuable because they are called soft . . . Those are things that we need in the healthcare environment today times ten."
Likewise, HR industry analyst Josh Bersin makes the case that it would be better if we characterized these as "power skills" that provide most of the real impact at work.
In an era of healthcare shortages, Gibbons said, "nurses will be expected to take on more non-clinical roles. They'll need softer tools in their toolbox beyond the usual hard technical skills."
The practice of soft skills in nursing may face additional pressures by advances in data science and the adoption of new technologies for healthcare. To this, Christman suggested, "as our jobs become more science focused and data driven, we need to remain purposeful to the heart and art of nursing — patient care. We are a powerful voice for our patients. We must never forget to speak up on their behalf."
Download the Healthcare Workforce Trend Report
Explore more content like this article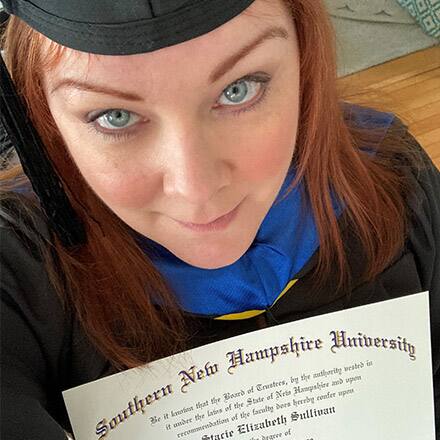 September 08, 2020
For years, Stacie Sullivan '19 felt stuck in her career, sensing her opportunities to advance were limited. After a series of challenging life events, Sullivan enrolled in the BS in Health Information Management program at SNHU.
July 01, 2020
Just a year after she decided to go back to school, Shereka Johnson-Bean '20 is preparing to submit the final project for her bachelor's degree.
June 12, 2020
Shannon Griffin's first job was as a crew member at a McDonald's restaurant. She's still working at McDonald's, but her role is a whole lot different thanks to her hard work and the degrees from SNHU.