Skills Gaps in the Healthcare Workforce? Here's How to Talk About Them
As the skills required for healthcare organizations evolve, employers need strategies for talking with their employees about closing skills gaps.
Healthcare is a dynamic field, with new research and technologies constantly changing the skills required for healthcare jobs. A new study from Southern New Hampshire University (SNHU) analyzing workforce trends in nursing found that healthcare employers are facing both a talent shortage and an educational attainment gap. The report highlights the need for employers to have frank discussions with their employees about skills gaps if they want to develop a strong pipeline of internal talent.
Conversations about skills gaps need to happen at the organizational level as well as on a one-on-one level with individual employees. SNHU's Director of Strategic Partnerships Eliza Goodspeed supports corporate, healthcare and other partner organizations to provide best-in-class accredited education to their employees.
"Our most successful partners communicate regularly to their employees or workforce," said Goodspeed. "These organizations often have a relationship with their employees that is engaging and employee centric."
She offered the following advice for organizations that want to improve communication about skills gaps with employees.
Target Your Communications
One of the biggest challenges in communicating with a large workforce is that if communications are too broad, they may not engage the intended audience.
Many organizations rely on posters, employee newsletters and general announcements to get the word out about learning and development opportunities. But individual employees may not make the connection without additional guidance.
Goodspeed recommended sharing information about learning opportunities during team meetings and placing those opportunities within a context that explains why they are important.
"Don't just say you're having a webinar on communication skills or time management," she said. "Give them a reason as to why you think it's valuable and will help empower them."
Discussing learning opportunities during one-on-one meetings and reviews is another good way to make sure employees understand what their educational options are from a professional development standpoint.
Frame Skills Gaps as Opportunities
In cases where an individual may need specific improvement to help close a skills gap, Goodspeed recommended making it very clear that you care about the success of the employee within the organization. Start by highlighting the things they are already doing well, and discuss career path options.
One way to have that conversation is to talk to employees directly about where they see themselves within the organization. Framing the conversation around future career paths highlights skills gaps as opportunities for growth rather than shortcomings.
Then, you can discuss the different opportunities that are available to help close those gaps.
"Employees want to know their organization and their managers are investing in them," Goodspeed said.
Highlight Support Options
"Going back to education can be quite nerve racking," Goodspeed said.
Time and money are two of the biggest barriers for employees taking advantage of educational opportunities. If an employee doesn't think they will have the time to take a course or pursue a degree — or that they'll be able to afford it — they may not seek out these opportunities in the first place.
When employees feel they have a strong advocate in their managers and support options from their employer, they will feel more confident in taking the plunge. Be sure managers and human resources are all aware of tuition assistance programs and other support systems that are available to employees.
Another important factor is to be sure that the educational institutions you are partnering with have a flexibility that fits your workforce's needs. Many healthcare workers have variable schedules. Fitting asynchronous online learning into their schedule will be much easier than going to a physical classroom every Tuesday at 7 PM.
Let Students Know They Are Not Alone
Community is another important form of student support, and discussions about skills gaps can be an opportunity to build that sense of community within your organization. When employees feel like they are not alone, they are more likely to succeed in their courses and degree programs.
Goodspeed recommended sharing student success stories through a quarterly newsletter or some other method: "It's a wonderful way to let students know they are not alone," she said. "Seeing others within your organization involved in the program creates a sense of camaraderie."
Highlighting student success stories is a powerful way to demonstrate possibilities to employees who may be on the fence about starting a new degree program, as well as helping current students stay motivated in their coursework.
Success stories also put your organization's commitment to educational attainment front and center.
Offer Options to Study More Than Healthcare Skills
Lastly, Goodspeed noted that organizations shouldn't limit employees only to healthcare education. When employees feel like they have the opportunity to try different options, they may find a passion in another area that could open up new career options within the healthcare field, such as organizational leadership.
"Education should really be fun," Goodspeed said. "Your employees should be enjoying what they're learning and feel like they can advance their career in different directions within their organization. It does not always have to be a standard pathway."
Choose an educational partner that offers multiple areas of study, and be sure to communicate the wide range of possibilities available to employees.
In the end, the healthcare organizations that are best able to attract and retain talent will be those who talk with employees about skills gaps on an individual and organizational level. They have structures in place to connect employees with educational partners that have a wide range of options and experience working with healthcare employees.
"Finding the right educational partner looks very different for every organization," said Goodspeed. "Especially when it comes to skill gaps, it's important to have a dialogue with your university partner to understand how you can best serve your employees."
Download the Healthcare Workforce Trends Report.
Explore more content like this article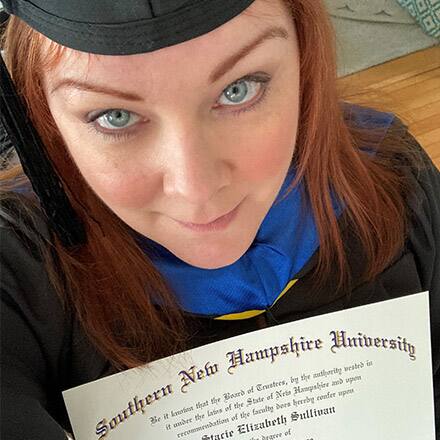 September 08, 2020
For years, Stacie Sullivan '19 felt stuck in her career, sensing her opportunities to advance were limited. After a series of challenging life events, Sullivan enrolled in the BS in Health Information Management program at SNHU.
July 01, 2020
Just a year after she decided to go back to school, Shereka Johnson-Bean '20 is preparing to submit the final project for her bachelor's degree.
June 12, 2020
Shannon Griffin's first job was as a crew member at a McDonald's restaurant. She's still working at McDonald's, but her role is a whole lot different thanks to her hard work and the degrees from SNHU.