What Can You Do With a Business Management Degree?
Whether you've dreamed of starting your own company or want to help businesses grow as a financial advisor, market research analyst or marketing manager, a business degree can give you the foundation to see yourself succeed in the business world.
In today's competitive economy, when many employees are entering the workforce with bachelor's degrees and master's degrees, a business degree or international business degree can help you stand out and prepare you for many career opportunities.
Is Business a Good Major?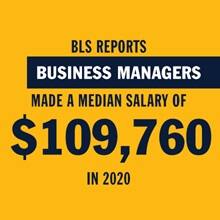 Employers are hungry for job candidates with business degrees. In the National Association of Colleges and Employers (NACE) 2019 Job Outlook Survey, 83.2% of those surveyed said they planned to hire business majors that year (NACE PDF source). Of the top 10 majors in demand by employers, five were types of business majors – including business management.
Is a Business Degree Worth It?
Business management salary is strong. In 2020, the median wage for management occupations was $109,760 and the field is expected to grow by 9% through 2030, according to the U.S. Bureau of Labor Statistics (BLS).
What Kind of Jobs Can You Get With a Business Management Degree?
Want to start your own career in business? Learn more about what you can do with a business degree and how to gain the knowledge and skills you need to succeed in one of these in-demand jobs:
What Can You Do With an International Business Management Degree Online?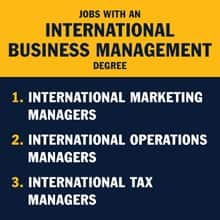 As technology continues to advance and more business moves online, it is easier than ever for companies to expand their products and services to the global market. With a degree in international business, you'll be on track to join a fast-growing sector of the business world.
In an international business degree program, you'll explore international market analysis, global business development, international finance and ethical standards for international operations. International business jobs, such as those listed below, are in high demand and expected to grow as companies continue to expand into global markets.
International Marketing Managers - International marketing managers help drive a business' international growth and build a company's brand around the world. International marketing managers earn a median salary of $81,521, according to Payscale data.
International Operations Managers - International operations managers are responsible for coordinating facilities operations in multiple countries and work with other high-level executives to plan long-term strategies for sales and growth. International operations managers earn a median salary of $79,025, according to Payscale.
International Tax Managers - International tax managers are important members of a global business' financial team, ensuring that a business is in compliance with international tax law. Tax managers prepare and file tax forms and analyze tax regulations to maximize corporate profits. International tax managers earn a median salary of $115,034, according to Payscale.
How to Get Started in a Business Career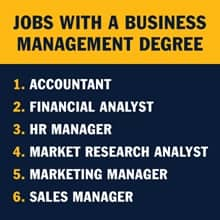 If you want to get started in a rewarding career in business, enrolling in a business degree or international business degree program is an important first step. While there are many job opportunities available for workers with a bachelor's degree in business, completing a master's degree in business can help you earn top management positions.
In a business degree program, you'll explore principles such as management, marketing and data analysis, and gain key skills like communication, problem-solving, collaboration and research. You'll also explore international business topics and explore the ethical, cultural and regulatory factors that impact businesses expanding to global markets.
Selecting a specialization for your studies in an area of particular interest can help hone your skills even further. Choose from more than a dozen concentrations including a:
With a business bachelor's degree or master's degree, you'll be well-prepared to enter the business world and find a rewarding career helping companies and organizations grow.
Discover the top business degrees in demand.
Danielle Gagnon is a freelance writer focused on higher education. Connect with her on LinkedIn.
Explore more content like this article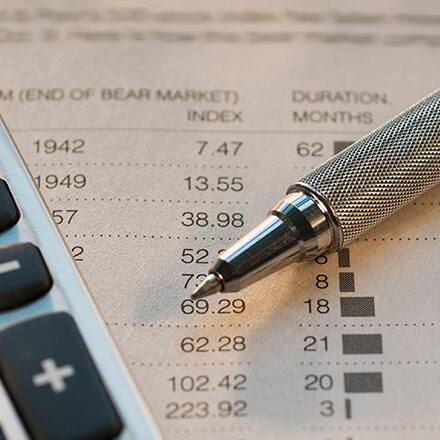 January 07, 2022
Forensic accounting is a fascinating branch of the profession. Its primary focus is collecting and leveraging data for litigation: "forensic" literally means "suitable for use in a court of law."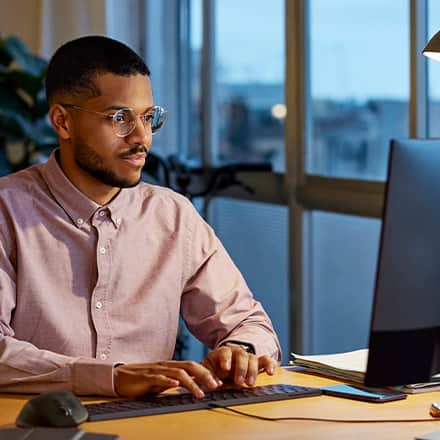 January 07, 2022
If you're hoping your MBA will help you advance your business career, you'll want to search for a program that combines theory and practical experience, offering you the business acumen and know-how needed to stand out among your colleagues and other job candidates.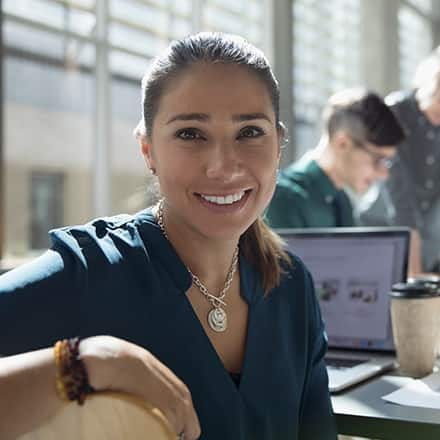 January 05, 2022
Thinking about earning a degree in accounting? Your learning could prepare you for more jobs than you'd think. There are many alternative careers for accountants across the finance and business world.