What Can I Do with an Accounting Degree Besides Accounting?
You can work in a number of roles with an accounting degree besides accounting. Some positions may include budget analyst, business and financial consultant, financial analyst, financial examiner, finance manager, management analyst or personal financial advisor.

Understanding the numbers
When reviewing job growth and salary information, it's important to remember that actual numbers can vary due to many different factors — like years of experience in the role, industry of employment, geographic location, worker skill and economic conditions. Cited projections do not guarantee actual salary or job growth.
If you're passionate about money management, budgeting and strategic financial planning, an accounting degree can provide the essential skills to kick-start a rewarding financial career.
While many accounting degree holders find work as certified accountants and analysts, similar professions are also available across many industries. The analytical and critical thinking skills gained in an accounting program can help prepare you for more careers than you might think.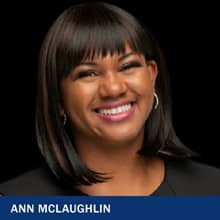 "Through the advancement of technology and changes in the accounting industry, there is a high demand for accountants with skills in business analysis and reporting, tax compliance and planning, information systems and controls, management and forensic accounting," said Ann McLaughlin, associate dean of business degree programs at Southern New Hampshire University (SNHU). "Accountants can attain these skills with an accounting education, industry experience and credentials, while becoming specialists."
What Will I Learn in an Accounting Degree Program?
By earning a bachelor's degree in accounting, you can build a strong foundation of business knowledge applicable to many different career paths.
In an accounting degree program, you'll learn how to:
Analyze and apply financial rules and regulations
Communicate your reports with internal and external stakeholders
Generate financial records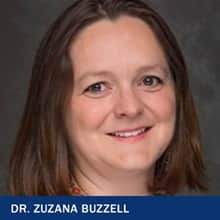 You can also gain valuable skills in and knowledge of business strategy, risk management, information systems, quantitative analysis and business ethics.
Taxation is another area of accounting you'll focus on in your pursuit of a bachelor's in accounting. You'll be able to utilize your taxation knowledge in the Volunteer Income Tax Assistance (VITA) program, which is offered as part of SNHU's bachelor's in accounting program.
Students who participate in the VITA program will be able to take the certification exams offered by the IRS, said Dr. Zuzana Buzzell, associate dean of business at SNHU. Following the completion of your certifications you'll also have the opportunity to volunteer and prepare income tax filings for underserved communities and for those who may need the additional support. The volunteer work you do can apply towards your program credits through experiential learning.
Crystal Horning '15 found that her online classes best prepared her for the field and the telework experience she would need to work as an auditor for the Defense Contract Audit Agency (DCAA).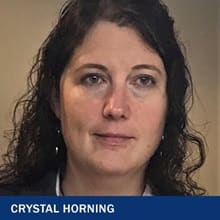 "Working on group assignments, interacting via email, chat and text with classmates helped give me an idea of how to handle working remotely on a regular basis," said Horning. "It helped me with organization, meeting deadlines, and ensuring everyone in the group is able to complete their sections by the deadlines."
An accounting degree can also help you explore the current business landscape and develop analytical, critical thinking and strong communication skills to prepare you for a variety of jobs for accounting majors. From financial planning and consulting to budget management and data analysis.
What To Do With an Accounting Degree
Advancing your education can prepare you to enter the fast-growing financial world. While many accountants pursue traditional roles, explore the jobs below to learn more about the alternative careers for accounting degree holders:
Auditor: Like accountants, auditors are tasked with reviewing financial documents for accuracy and compliance. You could work within an organization as an internal auditor or work externally with clients, according to the U.S. Bureau of Labor Statistics (BLS). You might even choose to specialize as an IT auditor, for instance. Auditors earned a median of $77,250 in 2021 with a projected growth potential of 6% by 2031, according to BLS.*


Budget Analyst: With a career in budget analysis, you can help organizations and businesses organize their finances, prepare budgets and monitor spending. In 2021, budget analysts earned a median of $79,940, and the position is projected to grow about 3% by 2031, according to BLS data.*


Business and Financial Consultant: A degree in accounting can give you the skills you need to work as a business and financial consultant, helping entrepreneurs and small business owners find financial success. As a business consultant, you can help other business owners manage start-up costs and investments, create a financial plan for their business and monitor day-to-day bookkeeping.


Financial Analyst: If you want to become a financial analyst, you can expect to work with individuals and organizations to make strategic decisions based on shareholder interests, stock viability, growth expectations, competition and more. Financial analysts earned a median of $95,570 in 2021, according to BLS data.* Working as a financial analyst can also offer job growth. BLS predicts analyst jobs will grow by 9% by 2031 (or roughly 31,000 new jobs) as big data and technological advances make higher quality analysis possible.*


Financial Examiner: With a career as a financial examiner, you'll help ensure compliance with laws governing financial institutions and lending practices, evaluating the health of financial institutions and protecting consumers from risky loans. Financial examiners earned a median of $81,410 in 2021, according to BLS.* Almost 13,000 new financial compliance jobs are projected to be created by 2031, with a 21% job growth as financial institutions work to comply with changing regulations, BLS reported.*


Finance Manager: With a finance manager job, you'll be responsible for the overall financial health of an organization, directing investment activities, reviewing financial performance and overseeing long-term financial planning. Finance managers earned a median of $131,710 in 2021, according to BLS data, and are in high demand, with a more than 17% job growth (or 108,100 jobs) expected by 2031.*


Management Analyst: Working as a management analyst, or a management consultant, you'll make recommendations on how an organization can improve its efficiency and work through operational issues. Management analysts earned a median annual salary of $93,000 in 2021, according to BLS.* The job growth for management analysts is faster than average at 11% through 2031, BLS reported.*


Personal Financial Advisor: As a personal financial planner you'll provide advice to individual clients on all their financial needs, whether short or long term. Personal financial advisors help make decisions regarding tax laws, investments, insurance and more. A personal financial planner's median salary was $94,170 in 2021, with an expected 15% job growth through 2031, according to BLS.*
---
---
Is an Accounting Degree Worth It?
Whether your goal is to become a financial accountant, managerial accountant or you're interested in alternative careers for accountants, you'll need at least a bachelor's degree to start your career in the financial world.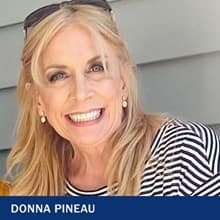 Donna Pineau '10 '14G earned both her bachelor's and master's in accounting and is now a senior auditor for DCAA. She credits her accounting degrees with helping her secure her dream job.
"It is only because I got my degree that I was able to secure my career with DCAA, and become financially stable," Pineau said. "Being a DCAA auditor is a very rewarding career."
While a bachelor's degree can offer you a point of entry in this field, a master's degree will help you advance even further. According to BLS, the 2021 median weekly earnings of those with a master's degree is $1,574.* This is 17.9% higher than those with only a bachelor's degree, who earned a median weekly salary of $1,334 in 2021, BLS reported.*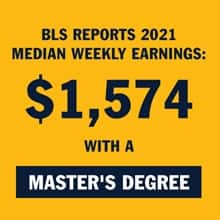 Wondering if a master's degree in accounting is worth it? If you're interested in a particular facet of accounting and finance and want to boost your overall expertise, going on to earn a master's degree in accounting will let you dive deeper into an area of specialization when you select a concentration in taxation, forensic accounting, or auditing.
It's important to make the most of your education by considering your professional and personal goals. Getting an internship, taking relevant electives – such as finance, financial planning and economics – and developing soft skills like communication, data analysis and problem-solving can help set an applicant apart when entering these high-demand financial careers.
Modern accountants create and analyze financial reports. They must effectively communicate financial information to diverse individuals and stakeholders," McLaughlin said. "Employers are seeking accountants with strong accounting, technology and research skills, ethical conduct, critical thinking and business communication skills."
Discover more about SNHU's bachelor's in accounting: Find out what courses you'll take, skills you'll learn and how to request information about the program.
*Cited job growth projections may not reflect local and/or short-term economic or job conditions and do not guarantee actual job growth. Actual salaries and/or earning potential may be the result of a combination of factors including, but not limited to: years of experience, industry of employment, geographic location, and worker skill.
Danielle Gagnon is a freelance writer focused on higher education. Connect with her on LinkedIn.
Explore more content like this article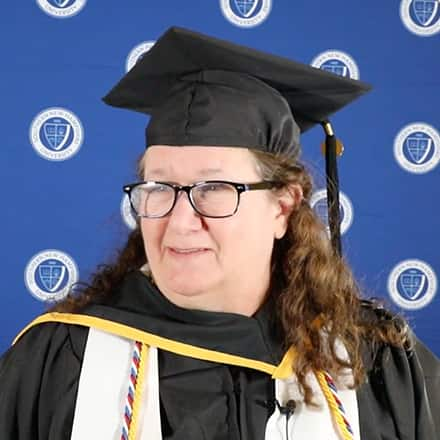 Pamela Judd earned an associate degree in business administration from SNHU while balancing work, kids — and 15 grandchildren. As the first person in her family to graduate with a college degree, she's hoping to serve as an inspiration to her family.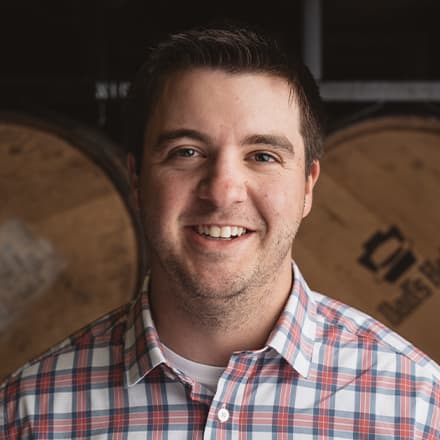 Stephen Hearn wanted more than his bachelor's degree. He wanted to become a Certified Public Accountant, so he looked for a "reputable" business school and found SNHU's master's in accounting program.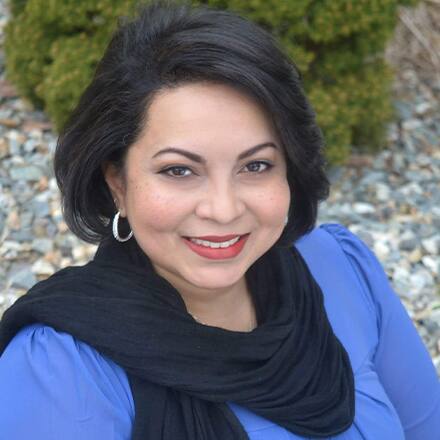 Katrina Jagroop-Gomes dropped out of school when she became a single mother at 23. She later earned her bachelor's degree, which she said, "opened a lot of doors for me." But she wasn't done. Now she has a Master of Business Administration from Southern New Hampshire University.
About Southern New Hampshire University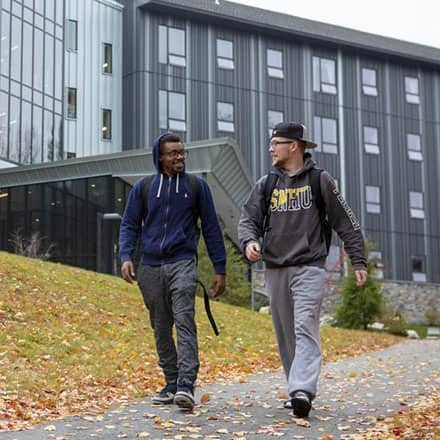 SNHU is a nonprofit, accredited university with a mission to make high-quality education more accessible and affordable for everyone.
Founded in 1932, and online since 1995, we've helped countless students reach their goals with flexible, career-focused programs. Our 300-acre campus in Manchester, NH is home to over 3,000 students, and we serve over 135,000 students online. Visit our about SNHU page to learn more about our mission, accreditations, leadership team, national recognitions and awards.