What is a Nurse Practitioner?
Nurse practitioners are valuable providers within healthcare, blending clinical expertise and strong communication skills with advanced education and training. They manage patient caseloads and help educate patients to become willing participants in their own health care.
Nurse Practitioners (NPs) are needed in just about every facet of healthcare, from private practice and hospitals to home healthcare and skilled care facilities. NPs are needed in policy roles and academia. Anywhere healthcare decisions are being made, nurse practitioners have an important role.
In fact, the advanced skills that a nurse practitioner brings to the U.S. healthcare system are so in demand that more than 20 states now allow nurse practitioners to practice independently, according to the American Association of Nurse Practitioners (AANP). This means NPs can run their own healthcare practice without the need for a collaborating physician in those states. That autonomy helps many communities, especially in rural areas, have access to convenient, affordable healthcare.
What is a Nurse Practitioner?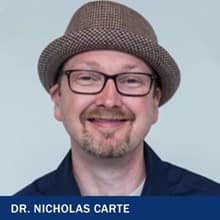 In short, a nurse practitioner is a nurse who completes additional graduate education and clinical training beyond their registered nurse (RN) training.
Typically, they'll need to earn a Master of Science in Nursing (MSN) - Nurse Practitioner with a specific population focus, such as pediatrics, family medicine or gerontology. They must also pass a national certification exam before applying for state licensure.
While nurse practitioners can work in virtually any area of medicine or healthcare, their role "often emphasizes disease prevention and health management in caring for their patients," said Dr. Nicholas S. Carte, AGPCNP-C, APRN, graduate nursing faculty lead at Southern New Hampshire University (SNHU).*
What Does a Nurse Practitioner Do?
A nurse practitioner "blends clinical expertise in evaluating, diagnosing and treating various acute and chronic health conditions" as part of a patient's healthcare team, said Carte.
In addition to providing clinical care, nurse practitioners focus on communication and patient education. Incorporating these practices helps put patients at ease and increases the likelihood that patients will more "willingly participate" in their own health care, said Dr. Jequie Dixon, APRN, AGACNP-BC, clinical coordinator of MSN programs at SNHU.**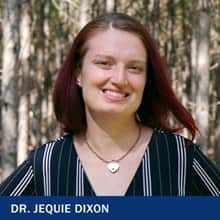 Nurse practitioners can provide quality healthcare in virtually any medical setting. They may:
Assess the health status of patients
Diagnose acute and chronic diseases
Address health concerns
Prescribe pharmacological and non-pharmacological treatments
Order and interpret labs and diagnostic imaging
Collaborate with an interdisciplinary team
Nurse practitioners can serve as healthcare providers in such settings as:
Private practice: In this broad clinical setting, nurse practitioners may see patients of all ages for various health issues. In some states, nurse practitioners will work under the oversight of a physician, but in many states, they can legally work as independent or autonomous practitioners.
In-patient hospitals: Nurse practitioner hospitalists focus on patients who are admitted to the hospital. They may further specialize as gerontological hospitalists, pediatric hospitalists or hospitalists in other specialty areas. Patient communication and education are key here as well.
Outpatient urgent care settings: Nurse practitioners are ready to help treat patients with acute health or injury issues, and they may order and interpret test results or prescribe medication.
Skilled Nursing Facilities (SNF): SNFs offer an opportunity for nurse practitioners to serve as providers on the treatment team.
Home health care: Many patients are not sick enough to require hospitalization but need assistance with their healthcare needs, perhaps post-surgery or post-illness. Home health care may also include palliative care. Pain management, medication education and overall healthcare support in one's home is an area of focus for many nurse practitioners.
Becoming a nurse practitioner enables nurses to advance their careers, building upon a solid nursing practice foundation to diversify specialty skill sets. Professional growth was critical throughout the COVID-19 pandemic. "The nurse practitioners stood up and showed their value by providing high-level care to patients in need during the overwhelming healthcare crisis of the COVID-19 pandemic," Dixon said.
Many people also assume that nursing is the same in every setting. "Being in the military, I was able to work in many states," said Dixon. That wide view of the nursing profession helped her see the differences and opportunities for nurses throughout the country. Dixon now puts her skills and experience to work with program development and management for SNHU. She is also teaching and practicing as an NP hospitalist.
What is an FNP?
A family nurse practitioner, or FNP, is an RN with additional education and training in primary care settings to treat patients across the lifespan. They may earn an MSN - Family Nurse Practitioner degree or a Doctor of Nursing Practice (DNP).
While FNPs are healthcare providers for patients of any age in the primary care setting, nurse practitioners can specialize in specific populations, such as adult-gerontology, pediatrics, women, neonatal, and psychiatric/mental health. Within gerontology and pediatrics, nurse practitioners may train, become certified and then practice in acute or primary care settings, whereas a family nurse practitioner "has the opportunity to practice in various clinical settings," said Carte.
Nurses with the FNP specialty work similarly in scope as a family practice physician who treats patients of all ages. They address all manner of health concerns, administer physicals and deliver patient education to help patients achieve health and wellness. While a family nurse practitioner does treat illness and disease, their focus is often on helping their patients get and stay healthy.
One of the many benefits of being a family nurse practitioner is the flexibility to work in such broad clinical settings. FNPs are the "jack of all trades" of nurse practitioners, according to Dixon. "They can work in pediatric offices, nursing homes, or home health care. They can really do a lot," she said. Dixon specializes in acute care as a hospitalist nurse practitioner.
What is the Difference Between a Nurse Practitioner and a Physician?
The main difference between a nurse practitioner and a physician is the type of training. While both roles play a necessary part in patient education and communication, physicians are trained in the medical model, whereas nurses are trained using the nursing model.
The notable differences between the two are:
The amount of time spent pursuing a degree required to practice
Different licensing requirements by their respective state licensing boards
Physicians are licensed to practice independently in every state and can work without supervision or oversight from another practitioner. Nurse practitioners can practice independently in many states and work under a collaborative agreement with physician oversight in other states.
That list of states where nurse practitioners can practice independently continues to grow. "This is a wonderful trend," said Dixon. "Getting providers to set up practice in smaller towns is difficult, so having more nurse practitioners there allows for even more impact to these smaller communities."
What Skills Do Nurse Practitioners Need?
While excellent communication and critical thinking skills are at the top of the list of important skills for the nursing profession, good nurse practitioners also have the following skills:
Strong active listening, organizational and time management skills
Ability to accurately collect patient health history and conduct physical exams
Use current technology in healthcare and stay up to date with any changes
Interpret labs and other resources and prescribe medication
Coordinate care from hospital admission to discharge
In outpatient settings, provide primary care, including managing referrals to specialty providers
Skilled nurse practitioners are "proactive in therapeutic health and develop health promotion plans," Carte said. In addition, they must "understand and recommend vaccine schedules, have the ability to counsel and educate patients and document cases based on accepted standards of care."
The list doesn't end there. Nurse practitioners should also "demonstrate sound risk management skills, understand healthcare policy and procedures and understand the legal and ethical aspects of being a nurse practitioner, which can vary by state," said Carte.
What's the Average Salary for a Nurse Practitioner?
The U.S. Bureau of Labor Statistics shows a healthy $110,700 median salary of nurse practitioners. With an hourly average rate of $53.22, that paycheck is considerably higher than the national average for earnings. The field of nursing has always been a valued profession, but the career outlook for nurse practitioners now is stronger than ever.
What are Common Misconceptions About Nurse Practitioners?
While nursing is a respected profession, it's also a diverse one. With the different nursing specialties and certifications available, it's not surprising that the public isn't always sure about the finer points of the role.
Some common misconceptions about nurse practitioners include:
That they need to work during the times a physician is present
That they can't work independently
That they can't see their own patients and have their own caseloads
That they are not able to prescribe medications
That they cannot diagnose a patient with a health concern
None of these are true, especially if a nurse practitioner is in a state where they can practice to the fullest extent of their license. Nurse practitioners can put their training, education and expertise to use seeing patients, managing their own caseloads, prescribing medications and diagnosing patients.
More than that, they can work collaboratively with patients and the entire healthcare team to create a treatment plan. It's important for their patients to feel comfortable with their treatment, so they stick with it and find success. That often involves an explanation of the details in a way the patients can understand.
"A lot of people think that nurses just implement tasks," Dixon said. But a skilled nurse "thinks through everything that the patient is going through." Nurse practitioners consider the whole patient, including financial aspects of receiving medical care. "I may write a prescription for a patient but find out that the medication is a financial burden for the patient," she said. "So, I would have that conversation with the patient to best help them and perhaps find an alternative treatment or medication. I work to support patients in every aspect of managing their health care."
Are Nurse Practitioners Needed in Rural Areas?
There's no doubt that nurses are a critical component of our healthcare system. Becoming a nurse practitioner allows a registered nurse an even broader reach to help patients achieve wellness and remain healthy. Because more and more physicians are focusing on specialty practices in highly populated areas like cities, the potential to serve the public as a nurse practitioner is greater than ever.
Rural areas are highly in need of additional healthcare options and providers. "As the healthcare system continues to see a decrease in primary care providers," Carte said, "nurse practitioners can support the need for additional primary care providers in rural areas."
What's the Bottom Line About Nurse Practitioners?
Nurse practitioners are a lot like superheroes. They can do it all: treat and diagnose patients, inform and influence public policy, serve as preceptors, educate patients, improve the health of individuals and communities, and the list goes on and on. Nurse practitioners are well-rounded, professional and caring. And the career potential as a nurse practitioner has never looked brighter.
If you are considering a career in nursing or are an RN interested in taking the next step in your career, the option to become a nurse practitioner can provide endless opportunities to learn and grow within the profession and to help the greater community around you.
*Carte's credentials stand for: Adult-Gerontology Primary Care Nurse Practitioner-Certified (AGPCNP-C) and Advanced Practice Registered Nurse (APRN).
**Dixon's credentials stand for: Advanced Practice Registered Nurse (APRN), Adult-Gerontology Acute Care Nurse Practitioner-Board Certified (AGACNP-BC).
Marie Morganelli, PhD, is a freelance content writer and editor.
Explore more content like this article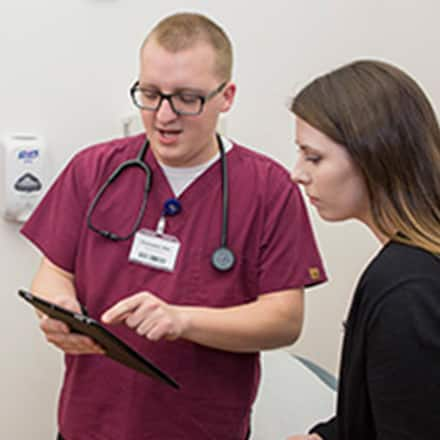 October 14, 2021
So many career paths can leave new and seasoned nurses alike wondering which specialty is right for them. To help, we've compiled a list of the 16 types of nurses employers are looking to hire, including information on salary, growth potential and required nursing degrees.
October 05, 2021
Both the nursing profession and some employers are calling on registered nurses (RNs) to obtain a Bachelor of Science in Nursing (BSN) to improve safety and help prepare for future healthcare challenges.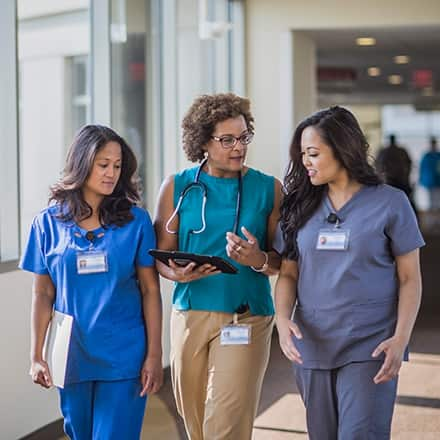 September 30, 2021
While nursing has always been a respected career, many people don't know that there are actually several different levels of nursing degrees and many different specialties available.