SNHU Becomes a BRAID Affiliate for Diversity in Computing
Southern New Hampshire University (SNHU) was recently invited to become a 2020 Building, Recruiting and Inclusion for Diversity (BRAID) Affiliate for its commitment to supporting underrepresented students in technology programs. Through the BRAID initiative, which is co-led by AnitaB.org and Harvey Mudd College, SNHU will have an opportunity to collaborate with other institutions demonstrating efforts to increase the representation of racial/ethnic minorities and women in undergraduate computer science programs.
A 2018 study done by Pivotal Ventures in partnership with McKinsey & Company discovered that the gender gap in technology fields is unlikely to change unless more women and girls pursue an education in the computer and information sciences.* In addition to the existing gender gap, the study also cites an underrepresentation of Black, Latino and Native American men in technology.*
Throughout the year-long program, SNHU will join seven other affiliates worldwide to meet with BRAID partner schools, share resources and receive specialized training – all to better serve diverse groups pursuing degrees in computing. It will be an opportunity to "really collaborate with one another to improve our own best practices and hopefully leverage what we're gaining from those other schools to improve our own programming," said Daniel Gannon, an associate dean of STEM foundations at SNHU.
In 2013, SNHU kicked off a Women in STEM initiative to engage diverse populations in STEM programs that connect directly to careers in the field, and it has only grown in scope. Since 2016, the number of underrepresented tech students in online undergraduate technology programs have more than doubled.
These programs and their many experiential learning opportunities were designed with diverse populations in mind, offering annual events and year-round career and academic support to help students build confidence and prepare them to break into a traditionally homogeneous field.
Since 2015, students have attended annual conferences including the Grace Hopper Celebration of Women in Computing, ACM Richard Tapia Celebration of Diversity in Computing, and Women in Cyber Security to learn from industry leaders, network and grow professionally. They have participated in the Teradata University Network data competition, made up the first all-female team to compete in National Cyber League, launched an Association for Computing Machinery (ACM) student chapter and developed an online community for women in technology to support one another.
SNHU's support of diversity in technology extends beyond college-level students, too. With programs geared toward youth, such as donating technology labs with the Boston Celtics and hosting robotics competitions and summer camps on campus, SNHU is introducing children as young as 5 to STEM subjects.
Through BRAID, SNHU hopes to take these efforts to the next level and learn best practices for developing course content and supporting student organizations that reflect the personal and professional needs of diverse groups. Given that SNHU's online technology programs consist of more than 11,700 undergraduates, Gannon believes SNHU can contribute scalability techniques to the conversations with BRAID partners and affiliates, and he is also interested in learning how SNHU can create more tailored and personalized experiences for students. "I think it's really going to be a beautiful give and take," he said.
Tapping into this community of computer science department chairs is the most significant aspect of the BRAID program, according to Cullen White, AnitaB.org's director of strategic alliances, policy and engagement. "Department chairs are able to connect with people from many different types of institutions from across the nation—and the globe—to share ideas and learn from one another," White said. "This, in theory, means that all affiliates are able to bring best practices back to their institutions while avoiding some of the strategies that simply haven't worked elsewhere."
In addition to participating in these valuable discussions and attending the annual BRAID Summit, this program will unlock professional opportunities for current SNHU students. This summer, sophomores, juniors, seniors and graduate students in technology programs can participate in a virtual career fair with recruiters from some of the top leaders in technology.
Although BRAID focuses on computer science programs, Gannon knows that this affiliation will offer insight into better supporting diverse students university-wide. "Programs like BRAID are going to help us prepare to be successful, not only as we scale in growth but as we scale in the breadth of the kind of learners we serve," Gannon said.
*According to pages 9 & 19 in this PDF source: https://www.rebootrepresentation.org/wp-content/uploads/Rebooting-Representation-Report.pdf (viewed June 25, 2020)
Rebecca LeBoeuf '18 is a staff writer at Southern New Hampshire University. Connect with her on LinkedIn.
Explore more content like this article
August 19, 2021
If you're wondering how to become a computer programmer, the field requires academic knowledge, a passion for math and engineering, adaptability and hands-on experience.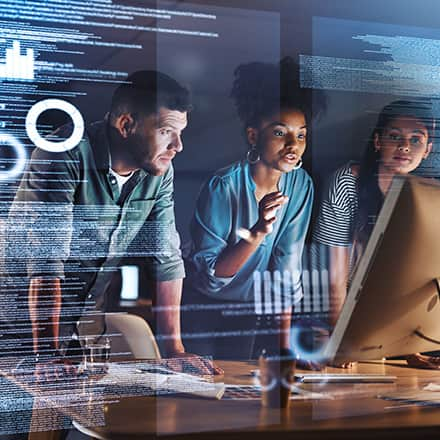 August 11, 2021
With a computer science degree, you can embark on a career with dozens of potential job roles suited to your interests. You can use the knowledge you develop earning your degree to work in technology, manufacturing and more.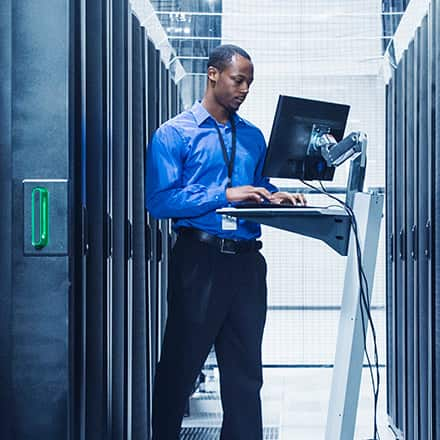 July 20, 2021
The field of cyber security is about leveraging top-notch problem-solving skills with technical aptitude to keep people and data safe. Despite being relatively new, the field of cyber security is here to stay.