How Nursing Programs Create a 'Transition to Practice'
A joint interview with an SNHU nursing program administrator and faculty about innovations in nursing education and how employers and universities work together.
Part of the challenge healthcare employers have in keeping up with the demand for nurses is the evolving set of skills that nurses need. Not only is the work fast moving, but so is the professional and technical environment around the work.
Telemedicine, for example, is just one of the emerging trends in healthcare that require specific new skills — and adaptability — within nursing. The daily practice of patient care tomorrow is unlikely to be what it is today.
As a recent report on the healthcare workforce from Southern New Hampshire University (SNHU) makes clear, regular collaboration between employers and academic programs is essential to meeting the demand for trained nurses. In particular, universities and healthcare organizations need to focus on the "transition to practice" — the effective handoff from an academic environment to a particular work setting.
In the joint interview, two leaders from the SNHU nursing program discuss what form that collaboration takes and the innovations that employers and academia are developing together.
Peggy Moriarty-Litz is the chief nursing administrator and executive director for nursing programs at SNHU. Lyndsay Goss is a faculty lead in the nursing and health professions department and also the lead nurse planner for the SNHU continuing nursing education team. They are part of the leadership team working with over 150 instructors of online nursing courses.
What are the implications of the nursing shortage for academic nursing programs?
Moriarty-Litz: It's a great time to consider being a nurse. The growth of jobs is faster than average because we have an aging population with multiple and chronic healthcare conditions.
The supply of nurses is projected to decline over the next 5 to 10 years because the average age of our practicing nurses is in the mid-50s. Many practicing nurses are planning to retire. The same trend is occurring for nursing leadership as well as our nurse educators.
How does a nursing program need to think differently to address this shortage?
Moriarty-Litz: Nurses are expected to work at the highest level of their educational abilities, so many nurses approach education in a stair-step approach. They might start out as an associate degree nurse and then come back to school for their BSN, continue on for their MSN, and then find a specialty based on their interest and the need. We try to build programs as an entry point into continual degree development.
We do have a nurse educator program that trains nurses to teach in a clinical facility such as the hospital or in an academic setting such as a community college or university.
What programmatic innovations give the program flexibility for working professionals?
Goss: One great thing about being adjunct faculty is working with students while at the same time continuing your clinical practice. It's an awesome opportunity to bring clinical expertise and real-world experiences into the classroom in real time.
Moriarty-Litz: Online classes provide working nurses the ability to be able to work while they are going to school.
We have technology that helps students work with an avatar online to provide real-life assessment skills. It identifies the competency needed for a head-to-toe assessment that a patient would need.
We have certifications built into our courses, such as the CITI Training (Collaborative Institutional Training Initiative) in our research courses. That's a national certification. The other one is privacy certification that's built into our technology course.
And we have electronic portfolios so that as students complete certifications or projects, they can showcase the work to employers.
What innovations are faculty excited about at the classroom level that helps grow the nursing workforce?
Goss: The technology Peggy mentioned is a huge opportunity for our students that faculty get excited about. Technology is best when it helps connect students to the real world. This allows students to see how what they're learning applies to what's happening in practice and make connections to current events.
What curricular innovations are emerging to prepare nursing professionals?
Goss: Our Continuing Nursing Education initiative partners with the health professions department to provide interprofessional continuing educational activities. We've provided a variety of activities to enhance the knowledge, skills and practice of nurses in the workforce. Some examples have included activities on Parkinson's disease, caring for adolescent populations and providing culturally competent care for veterans.
Moriarty-Litz: In interprofessional courses our nursing students study with public health, health information management and health sciences students. They see multiple perspectives so that when they go into a workplace setting, they can really understand the perspectives of the different stakeholders in their institutions.
Goss: We also have HEaRT, which is Health Education and Real-World Training. This program provides opportunities for health professions students, including nursing students, to work collaboratively to address real-world problems for an organization.
Moriarty-Litz: For example, one of our current health partners is Spaulding Healthcare in Boston. Spaulding comes up with a real problem that they're facing. Suppose it's recruitment of nurses. They'll give that problem to students to investigate, come up with a solution and provide recommendations back to Spaulding.
Students get academic credit and the facility gets real, innovative ideas to try. That shows they can think in complex terms and use systems leadership to provide information using a holistic approach.
What do you mean by systems leadership?
Moriarty-Litz: If I were leading a particular unit in a hospital, I would take care of all the nurses and patients in the unit. But I am not working independently. I have to work in a complex system — with purchasing to get equipment, with scheduling to get our correct ratios for nurses, with physicians to get the right provider mix on my unit.
These projects develop skills for thinking holistically, to work with these diverse partners, because we're not in it alone.
How do faculty connect with employers to understand the environment students are going into?
Goss: Each of us has our own unique interactions with employers. I sit on the advisory board for a community college, which is a way to develop partnerships with other nursing programs. This also provides me with the opportunity to hear from local employment agencies as they also sit on the advisory board.
A lot of our faculty actively participate in national or local professional organizations. For example, I'm the chair for the Commission of Nursing Practice in New Hampshire.
Moriarty-Litz: Our graduate students complete a capstone project in a healthcare institution. The faculty work with the preceptor at the site, so it's a three-way collaboration. The preceptor gives the experience and constraints from the workplace and the clinical instructor gives the constraints from the course. The student works with both to make sure they're meeting all the expectations.
For example, one student completed a practice improvement plan for monitoring pediatric asthma in her workplace setting. She shared the recommendations with her supervisor, who was impressed with the project. The student met the course outcomes, graduated from the program, and her workplace adopted her revised strategies for managing pediatric asthma. That was so exciting.
What kinds of friction do you hear about from employers?
Moriarty-Litz: There is an initiative to have all nurses with RN licenses earn a bachelor's degree, and that creates two pain points. First, many times hospitals and healthcare institutions provide tuition reimbursement for nurses. That can be a stressor for potential new hires if the tuition reimbursement is not as generous as other places.
Second, the lack of a bachelor's degree could be a deterrent for hiring: "I'm not going to hire you unless you have your BSN." So students right out of school with an associate degree and RN license might not get hired until they've completed their bachelor's degree, but they are ready to work. There's a lag there.
What kinds of emerging skills or needs are you hearing about from employers?
Moriarty-Litz: One area is diversity, equity and inclusion. Employers are looking for that kind of cultural competency. If our coursework can introduce cultural perspectives from different angles, that will help nurses be more prepared when they get into a workplace.
Another emerging area is telehealth and technologies to monitor patients remotely. The ability to have a system where I could work from home and manage 50 to 100 patients remotely by checking on their status and symptoms is a big need. Looking ahead at program development, we're planning for competencies related to using telehealth efficiently so nurses can take care of more patients efficiently with technology.
What's happening in the classroom to help students learn how to use telehealth technology?
Goss: Being enrolled in an online program helps students just get more comfortable with interacting in a virtual environment. They call it netiquette sometimes, how to communicate via email, via teleconferences. These skills are going to be helpful as you're beginning to work with patients in less face-to-face environments.
How would you sum up the ways employers and nursing programs work together on emerging needs?
Goss: Some of the emerging needs are case management, patient-centered care and caring for the patient outside of the acute care setting — getting out into the communities and providing patients with what they need outside of that healthcare setting. In case management, the skills needed are communication, teamwork and problem solving. These are all soft skills that we work on developing within our programs.
Moriarty-Litz: Practice and education are trying to get together on "transition to practice." It means when students step outside of our academic setting and into the door of a clinical placement, employers want students ready to go. It needs to be a partnership. We provide the skills and knowledge nurses need to practice, and the employers onboard them to their particular organization and environmental culture.
There still is a need to continue working together. SNHU Nursing has a robust Nursing Advisory Board comprised of graduates, clinical employers and academic educators. We meet twice a year to discuss trends in education and practice to ensure we meet the needs of our stakeholders. But I think we can look forward to a future with improvements in transition to practice.
Download the Healthcare Workforce Trend Report
Explore more content like this article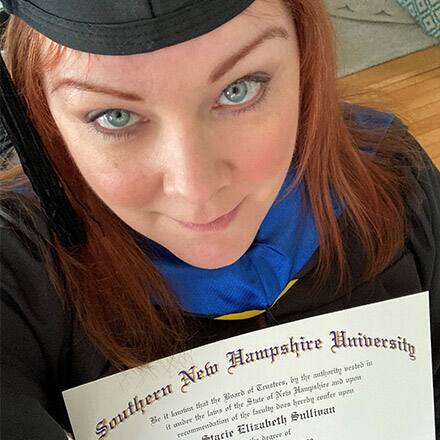 September 08, 2020
For years, Stacie Sullivan '19 felt stuck in her career, sensing her opportunities to advance were limited. After a series of challenging life events, Sullivan enrolled in the BS in Health Information Management program at SNHU.
July 01, 2020
Just a year after she decided to go back to school, Shereka Johnson-Bean '20 is preparing to submit the final project for her bachelor's degree.
June 12, 2020
Shannon Griffin's first job was as a crew member at a McDonald's restaurant. She's still working at McDonald's, but her role is a whole lot different thanks to her hard work and the degrees from SNHU.