The Nursing Workforce of the Future
An interview with Associate Chief Nursing Administrator Lisa Urban at SNHU about how higher education and employers work together to build the nursing workforce.
A recent report from the Southern New Hampshire University's Workforce Partnerships division examined the career outlook in healthcare in the U.S. and found a steadily rising demand for skilled nurses. The nursing workforce will be 4.4 million people by 2026, and they have been experiencing average annual wage increases of 4.6%.
To keep up, nursing programs in higher education must take into account a complex set of factors. Access to education can be difficult for busy working nurses early in their careers. There is a shortage of nurse educators. And the specialized skills required in healthcare organizations are constantly evolving.
To understand how higher education works to prepare the nursing workforce, we spoke with Lisa Urban, associate chief nursing administrator at Southern New Hampshire University. SNHU offers several online programs at the BSN, MSN and certificate levels.
In this condensed and edited interview transcript, Urban discusses the nurse educator shortage, emerging specializations, how artificial intelligence and telemedicine are affecting the nursing profession and how employers and higher education can work together to build the nursing workforce.
The main finding of the SNHU Workforce Partnerships report is that there will be very high demand for nurses in the workforce. What are the implications for higher ed nursing programs?
The challenge for academia is to support demand from prospective students and expand the program offerings to meet the needs of the market. With advances in technology and shorter hospital stays, nursing care and job opportunities are moving from acute care to outpatient settings. Academia also needs to acknowledge that most registered nurse students are working and have family commitments, so program flexibility and a variety of student supports are key to their academic success.
Certifications have become important for professional growth. Many nurses who already have bachelor's and master's degrees just need additional knowledge to expand a skill set to achieve a desired job. For example, a certification in patient quality and safety might be something they seek. Academia is in the driver's seat to set up high-quality certification opportunities for nurses so they can advance their skills and career opportunities.
At Southern New Hampshire University, we offer flexible and affordable programs designed for working nurses. We continue to work toward seamless academic pathways and transfer-friendly policies to award credit for past learning. Healthcare is continuously changing, so academia needs to maintain relationships with community colleges and healthcare partners to create educational offerings that address skill gaps due to changing roles, advances in research and advances in technology.
So SNHU is reducing friction around access. Are there also innovations in the learning models to reduce friction in the progress through a program?
There's definitely a movement in education for competency-based learning. That helps students move through more quickly to obtain skills and degrees by proving mastery in areas that they already know through their professional experience and prior education.
Historically, students were repeating courses when they transferred to a different university or changed their major. It's costly and time consuming, and it's really not a good use of their time.
When you look at competency-based education, you look at concrete outcomes and how students can achieve them in a variety of ways. We know practicing nurses seek specialty certifications and attend lots of continuing education programs, so they have more skills than their last degree indicates. It's our duty to recognize certifications and continuing education and give credit where credit is due.
Why do students choose an online nursing program?
The majority of our students work full time. They're already registered nurses and come to us to complete their bachelor's degree and/or master's degrees. They're juggling being a full-time employee, managing family responsibilities and going to school.
The flexibility of an online program helps with work-life balance because most nurses work a variety of shifts. The convenience of being able to log in to a course when they're off work to complete academic work is a valuable part of online education. It also offers educational access to those who live in rural areas or in areas with no higher ed opportunities.
What kinds of organizations do they typically work in?
Most new nursing graduates start working in some type of acute care setting, but we do attract RN to BSN students with experience from outpatient units, long-term care and hospice. Those BSN prepared nurses who are advancing their education to a master's level generally have a variety of clinical experiences.
Nurses who have the knowledge and expertise to plan and coordinate care for communities and aggregate clinical populations are in great demand. As healthcare delivery shifts to clinical prevention and community-based care, nurses are leading interdisciplinary teams and coordinating care in a variety of outpatient settings. Nurses that are focused on population health seek to create conditions that promote health, prevent adverse events and improve outcomes.
The nursing shortage is partly due to a nurse educator shortage. What's the role of a university program in working with employers to improve that?
The role of universities is to offer nurse educator programs and recruit and mentor students to increase the number of nurse educators. SNHU offers an online MSN program with a nurse educator track to prepare nurse educators for hospital or academic employment opportunities.
When I attend conferences and recruitment events, I share my love of teaching with prospective students and highlight how they can impact the nursing shortage by educating the next generation of nurses. The SNHU nursing faculty have the academic and experiential qualifications to teach, mentor and support students on their nurse educator journey.
Many employers support their nurses' desire to advance their careers by offering help with academic costs and providing flexibility in their work schedules.
What other pain points do you and your colleagues hear about when you're in conversation with employers?
The first thing employers say is they want to hire as many highly qualified bedside registered nurses as they can find. We focus a lot on advanced specialty programs, but a BSN graduate with strong clinical skills is extremely marketable. That's still what most healthcare recruiters are looking for.
We listen very closely to our nursing advisory board and community partners to hear about the knowledge, skills and experience needed to be effective practicing registered nurses. The skills are generally related to experiential learning in key areas like leadership, creating change and managing groups of patients. New nurse graduates generally struggle with managing groups of patients. Time management skills and prioritizing care are concepts that we need to ensure we continue to integrate into our programs.
When new information like that comes in, how does a nursing program respond?
After we identify new information and skill gaps, we revise the curriculum and courses to incorporate updated research findings and create new learning experiences into the RN to BSN and MSN programs. For example, nursing students who are seeking the RN to BSN degree take community and population health courses to increase their skills and knowledge related to public health nursing. In those courses, they learn how to complete a community assessment and develop and implement health education activities to address identified healthcare concerns. Real-life planned clinical practice experiences are an essential part of nursing program curricula. Clinical practice experiences enable students to integrate new knowledge and demonstrate the attainment of new skills and competencies.
As nurses advance in their education, we make sure we build in clinical practice opportunities. This way, nurses get to apply, practice and develop interprofessional team leadership skills, project management and evidence-based research skills. We also offer continuing education opportunities to enhance knowledge and skill attainment for non-degree seeking nurses.
Our students are also gaining an understanding of the business side of healthcare. Most master's-prepared registered nurses are charged with improving patient outcomes, problem-solving, developing budgets, buying equipment and justifying staff hires. We develop curriculum and program outcomes that include nursing and interprofessional courses to address these higher-level skills.
What specializations are you seeing increased demand for among employer partners?
The employer partners are always looking for those bedside BSN-prepared registered nurses. They also have needs in acute care settings, the emergency rooms and specialty units. That takes additional special learning and a desire on the part of a nurse to work in a specialized unit.
When we talk to our potential master's-level students, we hear a great interest in becoming a nurse practitioner. When exploring educational program opportunities with students, we hear, "I want to follow patients along the continuum of health."
Practicing nurses are keenly aware of the growing need for primary healthcare providers and are seeking educational opportunities to fill this gap. The NP role offers nurses career advancement opportunities, increased compensation and professional practice independence.
The other specialization areas often requested are nurse navigators, case managers, or coordinators of care. That's usually a master's-prepared nurse who manages specialized and at-risk populations.
Case management interest is also being generated by healthcare reimbursement change. If patients return to the hospital within 30 days, the insurance company may refuse to pay for some of the services provided. So there's a big demand for nurses who can manage patients and care from acute care to a return to the community.
Academia needs to help fill these specialty voids by developing creative programs around primary healthcare, coordination of care, population health and case management.
There is also a need to fill leadership roles in many organizations due to baby boomer retirements. Students continue to seek knowledge and degrees around leadership and management and want to gain greater understanding around organizational behavior, data analytics, budgeting and the business side of healthcare. Nurse leadership and nurse executive programs are key offerings that fulfill those leadership needs.
What's driving the growth of coordination-of-care roles?
Some of it is due to the rapid turnover from acute care. With insurance-driven outcomes, we know we have patients for maybe three days, and their needs extend beyond acute care.
Let's imagine a newly diagnosed diabetic, for example. There's a whole learning curve of care — how they will manage their injections, medications, meal prep, treatments and follow-ups. So extending care beyond the acute setting just makes sense.
A lot of the outpatient care and follow up needs used to be referred out. Now it's falling back to nurses who work in acute care. The nurses provide those services and manage patients as the patients move out into the community. Many hospital nurses now coordinate and take accountability for outpatient care and a safe return to the community.
How does site placement work with online students who are distributed around the country?
There's high demand and high competition for academic institutions to provide high-quality clinical site experiences for students. A lot of the site placements begin with the student identifying opportunities in their community. We encourage our nursing students to look outside their organization to learn about other organizational models of care. Ultimately, placement selection is driven by course outcomes and specific course assignments.
We have a clinical placement facilitator who helps students secure their affiliation agreements and secure high-quality placements. It's a big job, but we're able to do that so our students meet their course outcomes, with help from faculty and our clinical facilitator.
The SNHU Workforce Partnerships report addresses how artificial intelligence (AI) potentially is going to change the work nurses do. How does higher ed help nurses to prepare to work alongside AI?
It's definitely a recognized need, but AI is still a young field. Some organizations are using AI to diagnose, develop treatment protocols, develop drugs and personalize medicine.
Additionally, hospitals are looking at AI solutions to support operational initiatives that increase cost savings, improve patient satisfaction and satisfy their staffing and workforce needs. Companies are developing predictive analytic solutions to help healthcare managers improve business operations by reducing the length of stay and optimizing staffing levels.
Like with everything else, we try to bring advances in healthcare technology into the classroom using real-life scenarios. We also ask our advisory board and community partners about trends they are seeing in care and newly integrated technology so we can continue to update our curriculum.
What other technologies are influencing the curriculum for nursing degrees?
Telehealth is becoming a big part of healthcare. Patients are helped to manage their health through apps and web-based appointments. So how and what we teach our nursing students about patient communication is very important.
Nurses are now learning to manage groups of patients virtually. That's a really exciting part of nursing and healthcare as it brings services directly to the patient and helps meet the healthcare needs of rural and underserved populations.
I understand there's a high demand for nurses who are bilingual or multilingual.
Right, and we really do need to make every effort to recruit a diverse group of students to consider nursing as a career. We still are a predominantly white and female profession but I see that we're making some progress. It will really help strengthen the care for our patients to have nurses who speak multiple languages and come from different cultural backgrounds.
What other trends do you expect to impact nursing education?
It's important to think about how globalization impacts the learning needs of our students. You can see the global health impact of the COVID-19, right? That's due to globalization, travel and the movement of people, so nurses need to gain knowledge around maintaining public health and the impact of globalization on health and the patients they will care for.
We used to teach students, "get to know your community." Well, the communities are changing just as fast as healthcare.
Download the Healthcare Workforce Trend Report
Explore more content like this article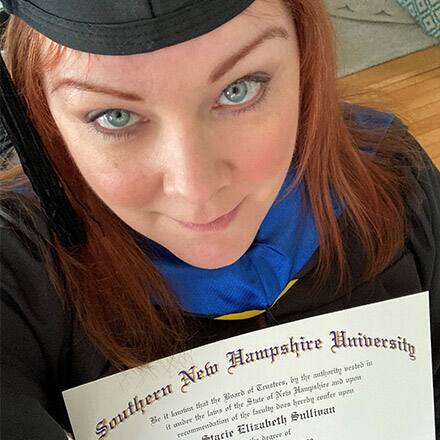 September 08, 2020
For years, Stacie Sullivan '19 felt stuck in her career, sensing her opportunities to advance were limited. After a series of challenging life events, Sullivan enrolled in the BS in Health Information Management program at SNHU.
July 01, 2020
Just a year after she decided to go back to school, Shereka Johnson-Bean '20 is preparing to submit the final project for her bachelor's degree.
June 12, 2020
Shannon Griffin's first job was as a crew member at a McDonald's restaurant. She's still working at McDonald's, but her role is a whole lot different thanks to her hard work and the degrees from SNHU.