Earn an AA in Photography Online
$330/credit (60 credits)
Transfer up to 45 credits
100% online instruction
Work with professional photographers
Learn essential business skills
No application fee or SAT/ACT scores required
Associate in Digital Photography Online Program Overview
Photographers capture our world in singular moments in time. And the images they capture can record the indescribable beauty of our world, trigger a flood of emotions or cause the downfall of governments. Take your creative eye and love of visual storytelling to new heights with an Associate of Arts (AA) in Digital Photography degree from Southern New Hampshire University.
You'll learn the technical skills needed to be a successful digital photographer – thematic storytelling, design theory, image composition, how to use light and color to create compelling digital images, as well as post-production editing techniques. These skills are paired with a strong foundation in the humanities, including courses in communication, writing, social sciences, and the business and history of photography. And all courses are online – so you're free to learn from anywhere and at any time that fits your schedule.
This program is for anyone seeking to launch or advance a career in the exciting world of professional photography. You'll complete this program ready to develop your own personal brand with a unique visual style, powerful creative voice and focused industry knowledge.
Learn how to:
Develop professional skills aligned with best practices of the industry
Employ industry-appropriate tools and techniques
Apply the elements and principles of art and design
Communicate ideas and themes to specific audiences
Tell powerful stories through your own unique visual imagery
If you're interested in continuing your education beyond your associate degree, you can seamlessly transition to the bachelor's online photography degree program at SNHU.
Digital Photography Career Outlook
Graduates of an associate degree in digital photography can become professional photographers in fields such as photojournalism, portraiture and commercial or product photography. Freelance photography is a field that continues to grow.
In fact, there are many ways to use your associate degree in photography that could lead to a rewarding career. You can apply the credits earned in the associate in photography toward a BA in Digital Photography or an online graphic design degree as well.
While an associate degree in photography can give you a competitive advantage, SNHU understands that the best job candidates have multiple talents and related skills. The accountability and professionalism you'll learn will serve you well in any career. Creative intelligence and collaboration are also two important skills you'll develop by studying visual arts. And written and verbal communication enhance your day-to-day relationships with clients and other professional peers.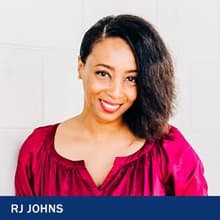 "A photography degree says that you have made an investment in yourself," said RJ Johns, a photography instructor for Southern New Hampshire University (SNHU). "While some view photography as a glorified hobby, to have a degree shows a commitment to your craft and career."
Through 2031, photographers can expect to see a jump in employment opportunities: The U.S. Bureau of Labor Statistics projects a 9% increase in roles – faster than the average of all jobs.1
Once you complete the online Associate of Arts in Digital Photography program, you'll be ready to work in a number of exciting career fields, including:
Portrait photography.

Specialize in photographing people, groups or even animals. You may apply your photography skills to documenting weddings or other special events, and may work in a studio space or on location. Strong communication skills, in addition to technical expertise, are helpful here.

Commercial and industrial photography. Take pictures of a variety of subjects ranging from buildings and merchandise to models and landscapes. You may work in a studio or on location.
Scientific photography. Use your photography skills to document scientific or medical data. You may use microscopes to capture images too small to see with the naked eye. Your strong general education background will be especially helpful here.
News photography. Photograph people, places, and events. Your photos might be used for a variety of print or digital media, such as magazines, newspapers or even television. Also known as photojournalism, strong digital photography skills will be especially helpful here.
Fine arts photography. Sell your photographs as works of art. This role combines photographic skill, a creative eye and a sound background in marketing and business.
University photography. Work as a staff photographer for a college or university. You may produce, edit and present photographs for all manner of university-related events. Your photographs may be used in official university publications, websites, emails and more.
Production assistant. A dynamic entry-level role, you'll assist lead photographers in conducting photo sessions at a studio or on site. A high level of technical ability is needed here, in particular with lighting and equipment. Strong communication skills may also serve you well as there is often a customer service aspect to this role.
Digital photo technician. Apply your technical skills to scan and manipulate images. Your aesthetic skills would be helpful in this role, as you may work on retouching, sizing and adjusting the color and contrast to create the best images for your clients. Good customer service and communication skills are helpful here as well.
Photo editor. A role with a strong management component, you may select and edit photos yourself, though the focus of this role involves managing other photographers by assigning and coordinating their projects. Business and communication skills would be helpful here, because you may negotiate fees and obtain the rights and permissions to use images.
Lighting technician. Set up lighting for stages, location sets or studio spaces. A strong knowledge of aesthetics, media, business and design may help you excel in this role. You may work in commercial settings, in television or film production or as a freelance artist.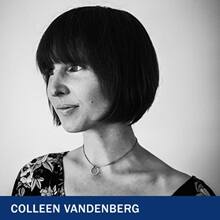 No matter which career you choose, "earning your online degree at SNHU will afford you the opportunity to lay the foundation of being an expert in your craft, and have a deeper understanding of professional photography," said Colleen Vandenberg, photography faculty at SNHU.
"I have grown up loving photography, and I also have my own photography business I started at the age of 16," said
Katie Haynes '21
. "The program met my expectations and gave me a skill set that I can use in the future as I grow my current career."
Understanding the numbers
When reviewing job growth and salary information, it's important to remember that actual numbers can vary due to many different factors—like years of experience in the role, industry of employment, geographic location, worker skill and economic conditions. Cited projections do not guarantee actual salary or job growth.
Start Your Journey Toward an Online Digital Photography Degree
Why SNHU For Your Associate Degree in Photography
Flexible
With no set class meeting times, you can learn on your schedule and access online course materials 24/7.
Affordable
As part of our mission to make higher education more accessible, we're committed to keeping our tuition rates low. In fact, we offer some of the lowest online tuition rates in the nation.
Prior coursework could also help you save time and money. SNHU's transfer policy allows you to transfer up to 90 credits toward your bachelor's degree and 45 credits for an associate degree from your previous institutions—that means you could save up to 75% off the cost of tuition. You could also save time and money by getting college credit for previous work experience, or by taking advantage of military discounts and employer tuition assistance if available to you.
Respected
Founded in 1932, Southern New Hampshire University is a private, nonprofit institution with over 160,000 graduates across the country. SNHU is accredited by the New England Commission of Higher Education (NECHE), a regional accreditor, which advocates for institutional improvement and public assurance of quality.
Recently, SNHU has been nationally recognized for leading the way toward more innovative, affordable and achievable education:
U.S. News & World Report named SNHU the 2021 Most Innovative University in the North and one of the nation's "Best Regional Universities"
Awarded the 21st Century Distance Learning Award for Excellence in Online Technology by The United States Distance Learning Association (USDLA)
A $1 million grant from Google.org to explore soft skills assessments for high-need youth
Network
At Southern New Hampshire University, you'll have access to a powerful network of more than 300,000 students, alumni and staff that can help support you long after graduation. Our instructors offer relevant, real-world expertise to help you understand and navigate the field. Plus, with our growing, nationwide alumni network, you'll have the potential to tap into a number of internship and career opportunities.
93.6% of online students would recommend SNHU (according to a 2022 survey with 17,000+ respondents). Discover why SNHU may be right for you.
Expanding access to quality higher education means removing the barriers that may stand between you and your degree. That's why you can apply at any time and get a decision within days of submitting all required materials:
Completed free undergraduate application
Prior transcripts, which we can retrieve at no cost to you
Test scores are not required as part of your application
Acceptance decisions are made on a rolling basis throughout the year for our 6 (8-week) undergraduate terms.
If you're ready to apply, follow these simple steps to get the process going:
If you have questions or need help filling out your application, call 1.888.387.0861 or email enroll@snhu.edu.
Courses & Curriculum
The Associate of Arts in Digital Photography degree at Southern New Hampshire University (SNHU) is designed to give you the leading edge for a career in commercial photography.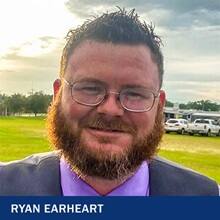 Even with a photography background, Ryan Earheart '19 '21 knew there was more for him to learn.
"I felt it was for me," he said. "I did a lot of digging around online, and after a bunch of research, I found that many people loved the photography program at SNHU."
Taught by industry-leading faculty, you'll enjoy foundational coursework grounded in business and the liberal arts. Then, you'll focus on courses covering all aspects of digital photography. Lighting, aesthetics, design and communications come together to offer a well-rounded degree.
"Photographers today often are hired on a contract basis and it is essential that they are educated in the successful creation, marketing and running of a photography business," said Sloan Kelly, associate dean of fine and applied arts at SNHU.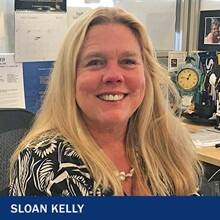 In addition to learning the most advanced camera, lighting and editing technology, you'll enjoy a robust feedback process to enrich your learning experience. Coursework examines the artistic and business sides of the profession.
"Learning how to build and maintain a freelance business and the importance of a brand – and marketing that brand – is essential for students to learn," Kelly said.
Earheart agreed.
"The journalism, marketing and business aspect of the courses is worth it by itself," he said.
Credits earned for the associate degree in photography can be easily applied toward a bachelor's degree in digital photography, graphic design and media arts or a variety of other liberal arts majors.
Curriculum Requirements & Resources
General education courses: All associate in photography students are required to take 21 credits of general education courses, if not obtained in prior coursework. Through these cornerstone, exploration and culmination courses, you'll learn to think critically, creatively and collaboratively, providing the edge employers are looking for. This foundation will position you to be competitive in your career and in a future bachelor's degree program online, or on campus, should you decide to continue on with your education.
Major courses: All associate in photography students will earn 27 credits of digital photography, communication and graphic design theory courses. Major courses may include Media Communication and Visual Literacy, Business of Photography, Lighting, History of Photography or Design and Color Theory.
Free electives: Every student has 12 free electives to use toward their associate degree in photography. You may use these courses to customize your study based on your interests and career goals.
Technology resources: We provide cloud-based virtual environments in some courses to give you access to the technology you need for your degree – and your career. Learn more about our virtual environments.
Hardware and software support: As noted below, you will need a DSLR camera, tripod and lighting kit to complete this program and be successful as a commercial or fine art photographer. Coursework includes instruction on popular photographic software, such as Adobe Illustrator and Adobe Photoshop. You'll also learn about hardware and other technical equipment such as scanners, still cameras and lighting kits. You'll cover methods and techniques for creating and editing graphics. And, of course, you will have opportunities for the hands-on practice of your new skills.
In addition to the technical and theoretical photography skills you will learn in this exciting program, your coursework will prepare you for the business aspects of working as a commercial photographer.
Communication, business, critical thinking and internet savvy are all skills that will serve you well for a future career or to move on to a bachelor's degree. Many of your courses for the associate degree in photography can be applied to a bachelor's degree, so continuing on with your education will be seamless.
List of Courses
Courses May Include
AA in Digital Photography
COM 130
Media Communication and Visual Literacy
Examine the concept of media literacy. Practice deconstructing media messages to recognize their potential effect. Understand how media literacy is associated with an individual's role as a consumer of and participant in media.
ENG 122
English Composition I
English 122 is a college-level writing course that introduces students to the various forms of academic discourse. This course focuses primarily on the basic elements of college composition and writing as a process in both narrative and analytical forms. Students will investigate the importance and promise of effective written communication in various personal and professional contexts and identify effective strategies through critical analysis of written works as well as their own writing. Finally, this course prepares students for more advanced research analysis by connecting students to important avenues of research.
ENG 123
English Composition II
English 123 focuses students on the importance of research to advancing knowledge for various purposes. This course will build on the foundations of composition and introduce students to the research process and the analysis and evaluation of various sources. Students will investigate the writing process for research as well as appropriate research methods and skills. Additionally, this course offers multiple opportunities to engage in the important tasks of revision and editing and will ask students to incorporate feedback to improve their writing.
FAS 202
Introduction to Humanities II
This course offers vocabulary, understanding and appreciation of the visual arts in their cultural contexts in history, religion, literature, music and ideas. It focuses on the cultural periods of the Baroque, the Enlightenment, Romanticism and Early Modernism while also exploring related issues in non-European cultures. May be taken independently of FAS-201.
FAS 226
Digital Photography
Photography as a visual medium is integral to the study of contemporary communication. This course introduces students to the history and practice of producing photographic images. The course is a combination of lecture and the hands-on practice of both the analog and digital methods of photographic image-making. The traditional darkroom is dispensed with, giving over to the computer the role of dark- room, with the student using Adobe Photoshop and other image editors to process traditional film and digital image captures. The student is taught to use various digital cameras techniques to capture, process, and print a portfolio of several original photographic images. Lectures on pictorial composition, subject matter choice, and methods of presentation display will accompany hands-on technical exercises.
FAS 235
Photographic Practice in the Digital Age
As the practice of digital photography leverages new technical skills through software programs and digital editing, it is critically important that practicing photographers gain a greater understanding of emerging methods for producing, editing, and distributing photographic works. This course provides an intermediate experience in the process of generating portfolios of digital images for presentation, distribution, or exhibition. Key to this experience is a broad understanding of design concepts that lead to decisions in coloring, resolution, formatting, and so on to produce high quality images that reflect a creative point of view. Students are exposed to advanced techniques using industry standard software to manipulate digital works for print and digital output, including color theory, management, calibration, and standard file formatting.
FAS 240
The Business of Photography
This course serves as an introduction to the business practices of photography, focusing on the legal, marketing, and entrepreneurial aspects of the highly competitive photography industry today. Students gain valuable exposure to best practices recommended for working with clients and agencies, setting up an entrepreneurial business, developing appropriate contracts, licensing works, setting a pricing structure, model and property release forms, and managing overhead costs, among other topics. This course culminates in students determining their next steps in their professional development, including how to drive their personal vision and brand as a practicing photographer.
FAS 255
Lighting for Photography
The act of photography inherently depicts how light reacts and reflects its subject matter, while also communicating different emotions, moods, and feelings to the audience. This course serves as a comprehensive introduction to how light is used and manipulated for different purposes and effects. Topics covered include using ambient light versus flash or studio light for different subject matter (portraits, editorial work, fine art, etc.), angle of light and how it influences the look of the subject matter, using a single light source versus multiple light sources, how to blend ambient light with strobe lighting, using long exposures and film speed to manipulate the look of your imagery, along with other purposeful techniques for manipulating the aesthetics of light.
FAS 326
History of Photography
This course will examine the history of photography from its invention in 1839 to the present time. The course will endeavor to address the technical artistic and social underpinnings of this most modern of art forms.
FAS 375
Photographic Aesthetic Concepts
This course explores various aesthetic theories of photographic practice and the evolution of photography as a respectable fine art medium available to contemporary artists and subject to critical inquiry. Students learn how photographic images shape our understanding of both the past and present as well as the very nature of photography as an art form and how this has changed over time. Besides theory, students also explore through hands on practice the methods and techniques for developing one's own aesthetic characteristics and personal style in photographic work.
GRA 101
Basic Design and Color Theory
This course examines the basic elements and principles of design, including balance, emphasis, proportion and rhythm. Students are introduced to visual designing systems that guide the student through the application of computer graphics tools. The basic visual design elements of line, space, texture and color are creatively explored as students complete a series of projects that relate to advertising layout and design and visual merchandising.
HIS 100
Perspectives in History
More than just dates, names, and places, history is the study of the human condition. It seeks to understand human behavior through the thoughtful examination of different types of historical sources. The study of history is a living subject, always changing as new discoveries and interpretations are presented. This course examines the process of investigating and writing about history through analysis of sources and the presentation of this analysis as an argument. Through this exploration of historical investigation, students will develop a holistic perspective on the contemporary relevance of history and their responsibility to participate and engage in such discourse.
GRA 220
Introduction to Digital Imaging
Using Photoshop and Illustrator software, this course is an introduction to professional computer graphics creation and to the software and hardware typically used in the graphic design, video, photography and interactive Web/multimedia industries. Emphasis will be placed on the professional use of image-capturing devices, such as scanners, digital still cameras and video cameras. Image editing and color management systems will be discussed and demonstrated. The important differences between vector and bitmap graphics will be defined, as will the significant differences in preparing images for print, broadcast and Web distribution. Students will be encouraged to experiment with their own and pre-existing images using sophisticated digital editing techniques such as layering, channel masking, filtering, cloning and montaging. Special attention will be paid to copyright awareness in the age of digital image.
MAT 125
Quantitative Reasoning & Problem Solving
This course focuses on the development of sound quantitative reasoning and problem solving skills, as applied to everyday situations. While this course will have computational elements, the focus is to be placed on conceptual understanding and creative problem solving through relevant applications. Problem solving strategies, inductive/deductive reasoning, analysis of quantitative information and arguments, and communication are the enduring threads.
SCS 100
Perspectives in the Social Sciences
How do social scientists examine issues impacting human behavior? This course will focus on the questions social scientists ask in their research of individuals, families, and larger society, as well as how social scientific inquiry has developed over time. This exploration of social science will focus on the ways in which researchers consider behavioral phenomenon and use research to study various concepts. Students will examine the relevance of social science to current issues, develop evidence-based questions about human behavior, and explore basic social scientific research approaches.
SNHU 107
Success Strategies for Online Learning
This course focuses on student success strategies for students who are new to higher education or online learning. Skill areas include critical thinking, self-advocacy and support services, and the empowerment of students to utilize their strengths in order to improve the likelihood of academic success.
Total Credits: 60
Minimum Hardware Requirements
| Component Type | PC (Windows OS) | Apple (Mac OS) |
| --- | --- | --- |
| Operating System | Currently supported operating system from Microsoft. | Currently supported operating system from Apple. |
| Memory (RAM) | 8GB or higher | 8GB or higher |
| Hard Drive | 100GB or higher | 100GB or higher |
| Antivirus Software | Required for campus students. Strongly recommended for online students. | Required for campus students. Strongly recommended for online students. |
| SNHU Purchase Programs | | |
| Internet/ Bandwidth | 5 Mbps Download, 1 Mbps Upload and less than 100 ms Latency | 5 Mbps Download, 1 Mbps Upload and less than 100 ms Latency |
Notes:
Laptop or desktop?  Whichever you choose depends on your personal preference and work style, though laptops tend to offer more flexibility.
Note:  Chromebooks (Chrome OS) and iPads (iOS) do not meet the minimum requirements for coursework at SNHU. These offer limited functionality and do not work with some course technologies. They are not acceptable as the only device you use for coursework. While these devices are convenient and may be used for some course functions, they cannot be your primary device. SNHU does, however, have an affordable laptop option that it recommends: Dell Latitude 3301 with Windows 10.
Office 365 Pro Plus is available free of charge to all SNHU students and faculty. The Office suite will remain free while you are a student at SNHU. Upon graduation you may convert to a paid subscription if you wish. Terms subject to change at Microsoft's discretion. Review system requirements for Microsoft 365 plans for business, education and government.
Antivirus software: Check with your ISP as they may offer antivirus software free of charge to subscribers.
Digital Photography Technical Requirements
Required Photography Equipment:
Interchangeable-lens camera (ILC) either DSLR or mirrorless models with manual and semi-auto modes allowing for shooting in RAW and control of the ISO, white balance, aperture, and shutter speed. The camera must have a hot shoe center pin on the top to attach a flash unit and other compatible accessories.
Wireless Camera Remote Control
Tripod
Lighting Kit
NOTE: Phone and/or tablet cameras are not permitted for use in this course. They lack the technical functionality to properly complete required assignments.
Required Software:
Adobe Creative Cloud is required for all students in the digital photography program. Creative Cloud licenses are available at an educational discount directly through Adobe.
Adobe's terms and conditions require a full-year contract for Creative Cloud.
System Requirements:
Please refer to the requirements for Adobe Photoshop, which demands the most technical requirements of the Adobe Creative Cloud and is used throughout the digital photography program. Given that current system requirements can change without notice from Adobe, it is best to consult the most up-to-date requirements on the Adobe website.
Tuition & Fees
As a private, nonprofit university, we're committed to making college more accessible by making it more affordable. That's why we offer some of the lowest online tuition rates in the nation.
We also offer financial aid packages to those who qualify, plus a 30% tuition discount for U.S. service members, both full and part time, and the spouses of those on active duty.
| Online Undergraduate Programs | Per Course | Per Credit Hour | Annual Cost for 30 credits |
| --- | --- | --- | --- |
| Degree/Certificates | $990 | $330 | $9,900 |
| Degree/Certificates (U.S. service members, both full and part time, and the spouses of those on active duty)* | $693 | $231 | $6,930 |
Tuition Rates are subject to change and are reviewed annually. *Note: students receiving this rate are not eligible for additional discounts.
Additional Costs No Application Fee, Course Materials ($ varies by course)
Frequently Asked Questions
Can you get an associate degree in photography online?
Absolutely. In fact, you might be surprised by just how easy, affordable and practical earning an associate degree in photography online really is. In an increasingly digital world, it's crucial to stay up to date on technology. Our faculty are current in the field, and they can teach you how to best use the internet plus all of the software and hardware needed to have a successful career in photography.
At Southern New Hampshire University (SNHU), we have designed our curriculum around the online experience. This means that every class and every assignment is designed to help you learn how to use all of the tools you need to advance your photography knowledge. We not only provide you with critical foundational courses in general education and business, we teach you how to use current photography software such as Adobe Illustrator and Adobe Photoshop.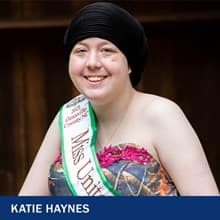 "(SNHU is) one of the very few universities that offers online photography, and I am very grateful for the access," said Katie Haynes '21. "I loved studying online – the easy access and flexibility was amazing."
We cover the history and business of photography. We teach you how to use the necessary tools of the trade such as scanners, lighting and different types of cameras. You may complete this degree armed with the knowledge and hands-on experience you need to be successful in a career such as commercial photographer, fine arts photographer or photography assistant. And you'll be ready to continue on to a BA in digital photography, game art and development or graphic design program.
What can you do with an associate degree in photography?
An associate degree in photography can take you places you've probably never dreamed of. With coursework grounded in general education and business, and focusing on the technical and theoretical aspects of photography as a practice, you will be prepared to enjoy careers such as:
Photo editor. Make creative and business decisions about which photographs to run with news or editorial pieces in newspapers or magazines.
Commercial photographer. Photograph buildings, outdoor locations or products for advertisement.
News photographer. Also known as a photojournalist, you may travel the country or the world photographing human interest stories, sporting events and more.
University photographer. Work exclusively for a college or university, documenting the many events on campus, providing content for the website and creating marketing materials.
You'll also be able to apply your associate degree coursework to a bachelor's degree and continue with your education as you build your career.
Is an associate degree in photography worth it?
We think so. The opportunity to study what you love and prepare yourself for the career of your dreams in an affordable and accessible way sounds pretty good to us. This degree provides the general education, business and, most importantly, photography skills needed to set you apart in a competitive job market.
An associate degree in photography can help launch your career in commercial or fine art photography. It can also serve as a launchpad for continued education with a BA in a related field, like graphic design, digital photography or game art and design.
What experience do you need to be a photographer?
While a high school diploma is the minimum requirement for many photography jobs, an associate degree certainly helps. By taking the time to study your craft and learn to apply business and theoretical principles to your work, you can show any employer that you are serious about the business of photography and that you are well-trained in your field.
You can also apply your work on your associate degree in photography toward a bachelor's degree, should you decide to continue with your studies. At Southern New Hampshire University, we make it easy. You can apply most or possibly all of the credits in your associate degree to a bachelor's degree in a related field like digital photography, graphic design and media arts or game art and development. There are many business, humanities and liberal arts degree programs that would be a natural next step from your associate degree as well.
Because some specialties in commercial photography, such as medical or science photography, deal with science, it can be helpful to build on your associate degree in photography with a bachelor's degree in a science-related field.
As for work experience, a good eye, sense of creativity and design, knowledge of branding and marketing, and strong communication skills, coupled with any practical work experience you have in the photography field, will help you meet your goals.
How long do you have to go to school to be a photographer?
While anyone can pick up a camera and take some images, formal training in a degree program offers instruction in business, marketing and communication as well as the history of and theory behind photography as a profession.
An associate degree in photography will help you connect with and learn from our faculty, who have professional experience in the field. The degree not only prepares you to be successful in the business and professional aspects of a career in commercial photography, it sends a signal to an employer that you are serious about your craft.
Best of all, you can earn your associate degree in photography at Southern New Hampshire University (SNHU) in as little as 18 months. With all courses online, you set the pace. If you want to continue on beyond the courses taught at the associate degree level, consider continuing on toward a bachelor's degree in a related field, such as digital photography.
Should you have credits you're able to transfer in, the time you spend on your associate degree could be cut down.
"I transferred some credits from my time in the military," said Ryan Earheart '19 '21. "I started my associate degree in July 2018 and finished it November 2019." Because it went by so quickly for him, he moved right into his bachelor's degree, graduating in 2021.
How do I start my photography career?
First, choose the right education. While anyone can take some nice pictures, it takes a real professional to apply skills, artistic and creative training and knowledge of photography as both a craft and a business to enjoy a long and rewarding career.
The Associate of Arts in Digital Photography degree at Southern New Hampshire University (SNHU) is a great place to start. Our program offers a solid foundation in writing, business and social science. You'll then take major courses that cover topics such as lighting, history of photography and color theory.
With most professions, practical experience is important. Our associate degree in photography offers hands-on experience through the coursework so you graduate ready to apply your skills to a real work environment.
What is the best online photography school?
Any school that includes courses grounded in the humanities and general education and then builds on them with courses specific to photography is tops. Look for a curriculum that includes humanities, business and writing courses, plus coursework in lighting, digital imaging, aesthetics and even media communication and visual literacy.
Katie Haynes '21 was thankful for the opportunity to study online – especially after medical issues kept her home and her previous school couldn't accommodate her remote requests.
"I found SNHU and was super thankful!" she said. "What made it even better was that they actually had the degree program I wanted to originally go to school for."
Southern New Hampshire University's online associate degree in photography allows you hands-on photography experience coupled with courses in the humanities, business and both the technical and artistic aspects of photography. We also offer a variety of bachelor's degree programs that will help you continue to advance your education after you complete your associate degree. Consider a bachelor's degree in digital photography, graphic design and media arts or even game art and development.
Our online platform pairs expert advising with the flexibility to complete your degree at your pace. Our affordable tuition ensures that our degree programs can fit your budget. And you can graduate with more than just expertise in photography.
Related Articles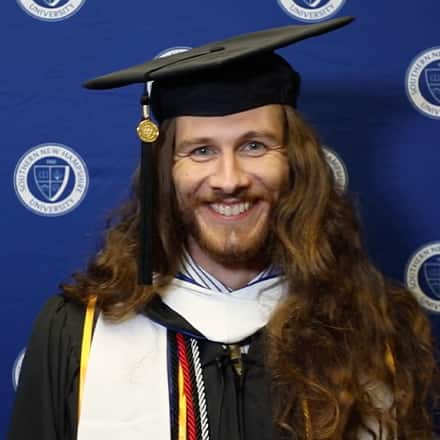 Lawrence Michael Mazza II traveled from Florida to New Hampshire to celebrate earning his bachelor's in English and creative writing. And he was celebrating another accomplishment, too — the start of his new career as a middle school English teacher.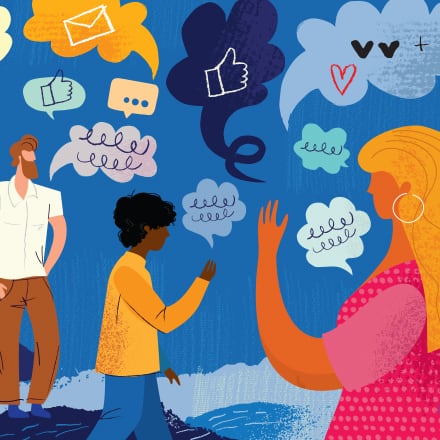 Everyone has their own communication style. Knowing what these styles look like — and how to identify them — can help you better communicate and work with other people. Learn how to leverage communication styles to communicate successfully across different mediums and cultures.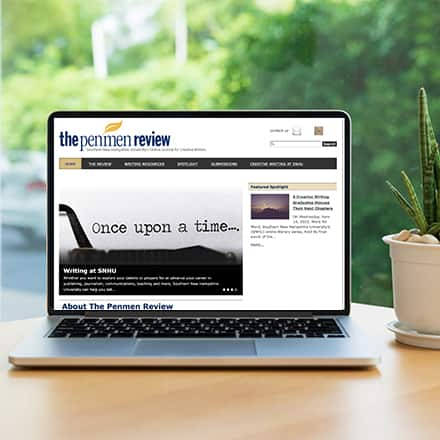 Southern New Hampshire University's online creative writing journal, The Penmen Review, publishes beginners and bestsellers alike. This year marks more than a decade since its inception. 
References
1Bureau of Labor Statistics, U.S. Department of Labor, Occupational Outlook Handbook, on the internet, at:
https://www.bls.gov/ooh/media-and-communication/photographers.htm (viewed October 25, 2022)
Cited projections may not reflect local and/or short-term economic or job conditions and do not guarantee actual job growth.