SNHU On the Horizon
The changing landscape of the 21st century keeps higher education continually working to address how best to prepare students for what lies ahead. I attended a recent workshop on the Horizon Report, which chronicles and forecasts key trends, significant challenges and important developments in technology spanning the next one to five years. As higher education seeks to expand and develop in the online model, the exploration of new technologies must be ongoing. At the same time, every opportunity for advancing technology must be weighed against our ultimate goal: supporting the student learner.

Having been with SNHU Online's Academics for about a year, I was impressed with SNHU's willingness to tackle these issues and the advances we have already made. Even more, I noticed how much that progress and readiness to explore has taught us.

Measuring Outcomes

One of the key trends identified for the next year is a growing focus on measured learning. In the asynchronous online classroom, the ability to see where our students struggle with the critical elements that make up a single course outcome gives us the opportunity to continually examine if, week by week and course by course, they are being prepared to meet the larger outcomes for their academic careers at SNHU. SNHU Online is further refining a sophisticated approach, mapping critical elements in every part of each course to larger outcomes. The analysis of this data enables us to better support our students in successive terms as well as to strategize when redeveloping our courses.

The insights from student learning data have pushed SNHU ahead by two or three years to what the report identifies as the mid-term and predicts a trend favoring deeper learning approaches. Challenge- and inquiry-based education drive our current models as we prepare our students with knowledge applicable in their very real world. Learning resource analysts like me are tasked with going beyond traditional textbooks, aiming to support students as they develop the skills that lie past content knowledge. Educational publishers are rising to this challenge, preparing interactive e-books and courseware that set rich multimedia content into applicable context, encouraging critical thinking. Naturally, this growing focus on deeper learning opens the door to the Horizon Report's long-term trend of rethinking how institutions of higher education can and should work to best serve the next generation of learners.

Personalizing Education

The Horizon report identifies a short-term challenge of improving digital literacy, which has been critical to the success of SNHU Online's model and continues to inform the technologies we implement to support students. Building upon digital literacy, our students can be then be driven to explore the deeper learning that is fostered by the synthesis of education and technology. SNHU Online is also exploring ways to utilize microcredentials or badges to blend formal with informal learning, incorporating experiences outside of the traditional classroom as valid currency in our students' education. The recognition of the learning students bring into and build outside of the classroom contributes to the perception shift that must take place to meet the challenges current learners will face when they take their education into a career path.

Institutions of higher learning are recognizing that no two students learn the same way or have the same educational goals. The Horizon report identifies these as difficult challenges in the next two or three years. SNHU is developing models of education to meet this goal, seeking ways to personalize the student learning experience. Our College for America is already bringing one such model into the field, partnering businesses with our students to create a uniquely applicable education that translates instantly into the world outside of higher education. Furthering this idea, SNHU Online is working to develop a competency-based educational model that will truly put the student in charge of their educational progress. Most students enter into higher education with a degree as their goal; rethinking the timeline on which this occurs further puts the student in charge of how and when they can move forward with their education in hand.

Being ahead of the curve on this score enables us to leap forward to the long-term challenge of keeping education relevant. The changing landscape of the job market means students need degrees that will remain applicable for the next 30 years. Beyond the resources needed to challenge learning, SNHU works to predict where students will need their education to take them in their future. In this spirit, we continue to roll out forward-thinking new programs, not only to keep attracting students but also to challenge the paradigm of what can be expected from higher education. For example, our Bachelor of Science in Game Programming and Development prepares students to become leaders in the ever-expanding virtual world.

Leaping Ahead

As technology and education flourish, new means of production have been placed in reach of students at any age. For example, the Horizon report suggests a trend toward makerspaces — SNHU's Shapiro Library opened one in summer 2015. This innovative space gives our on campus population access to laser-etching and 3D printing, with plans in the works to develop a network through which our online students can connect with similar resources in their home communities. Encouraging these sophisticated modern laboratories, which unite informal learning and real-world application, continues the development of new educational models that challenge the traditional perception of higher education.

For SNHU Online, the mid-term challenge of augmented reality could completely reimagine the online environment, enabling students to interact with content in a truly innovative way. Imagine studying the human body using AR technology, enabling them to see internal organs superimposed over a live webcam feed of themselves. Further expanding the ability of technology to diversify the learning allows for content that will appeal to the multiplicity of learning styles present in a growing student population.

SNHU Online is no stranger to the Horizon report's long-term advance of affective computing. Proctoring exams in the online environment poses a challenge, but affective computing software can monitor a student's eyes and keystrokes to ensure academic honesty. Future advances in affective computing may even allow for learning resources that respond to the emotion of learners as they interact with the material. Truly adaptive, these resources would detect confusion and respond with additional material clarifying the topic in front of the learner. Being able to implement these types of resources in our online environment would allow an immediate support virtually unheard of in an asynchronous classroom.

Driving home from the conference, I reflected on how each step SNHU takes brings the future into better focus. Every new technology made available within higher education is indissolubly linked with its implementation; each phase of the forecast bleeds directly into the next. As SNHU has moved ahead of the curve, we see more and more how this interconnectivity lies at the heart of considering the intersection of technology and higher education. Venturing into uncharted territory gives us the opportunity to help shape the model for the 21st-century university as we build programs, courses and an online classroom that will truly prepare our students for what lies just beyond the horizon.
Explore more content like this article
May 26, 2021
The world is over a year into the COVID-19 pandemic and some people are growing tired of public health measures. What are some of the things that can be done to combat pandemic fatigue?
March 25, 2021
The importance of empathetic teaching in an online environment cannot be understated. Students appreciate when instructors show concern for what is happening in their lives, and having an instructor with a teaching approach that focuses on empathy helps them navigate anxiety or uncertainty.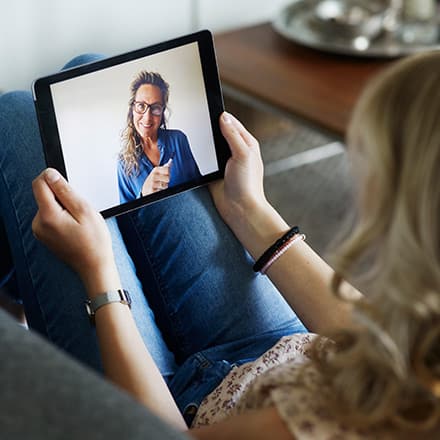 February 11, 2021
Consider what your role might be as a mental health advocate; someone who gives a voice to the problems and potential solutions related to mental health and mental health awareness. To advocate means more than just giving voice; it means to fight.