Red Bulls Partnership Pinpoints Experience for SNHU Students
He wasn't in New York this spring but Stephen Denis '17 said this semester felt like he had an internship at Major League Soccer's New York Red Bulls thanks to a sport marketing project he took on with fellow students.
Denis was one of five Southern New Hampshire University students in the Practicum in Sport Management class that worked with Red Bulls marketing and events staff to design an interactive game for the team's "BULLevard," an area outside the Harrison, N.J., arena filled with mini-games and skill challenges for fans heading to the game. The game, Pinpoint, challenges fans to boot a soccer ball into a series of strategically placed barrels for points and prizes. Red Bulls leadership liked the students' plan so much, Pinpoint has become a full-time feature on the BULLevard for home games this year. "It wasn't specifically an internship but it really felt like we were working for the Red Bulls," Denis said. "This was by far the best experience I've had. It was the most professional experience I've had. It felt like I was an intern at the Red Bulls and I had a job to do."
The project, designing what is called a "customer activation," may sound simple, but the practical experience of working with one another and Red Bulls executives, marketing and finance employees to invent, design and implement the activation could be invaluable when the students begin talking with potential employers, said Mark Hecox, a professor and chairman of the Sport Management Department in the School of Business. "Students got an opportunity to do hands-on experiential learning through a project with an external organization," he said. "It's kind of a walk-before-you-run. It's not an internship but it's moving them outside the classroom." The project was particularly meaningful for students because they not only worked with professionals in the field to identify a problem or growth opportunity to pursue, they then worked with Red Bulls staff to define the project, developed a strategic plan to solve it and then were on site to execute it. "That's the real (difference) right there. It's not just handing in a final paper," Hecox said.
Denis said the practicum course felt more like attending a series of business meetings than a traditional class. Instead of completing assignments to a professor, they met a series of deadlines with the Red Bulls. That began with a formal Skype meeting in early February during which Red Bulls marketing and event coordinators explained to the student team the fan demographics, who they wanted to target to generate more engagement, examples of other activations already in use and the amount of space available. From there, the students set a number of deadlines for themselves and began brainstorming ideas, initially coming up with five possibilities, Denis said. They sent a series of PowerPoint presentations to Red Bulls staff, spoke more via Skype and incorporated critiques until they settled on Pinpoint.
Red Bulls Event Marketing Manager Bryan Ruff said Pinpoint has become one of the BULLevard's most popular mini-game with upwards of 350 participants - two at a time - at each Red Bulls match. The point of the game is to kick a soccer ball trying to land it in one of nine, 55-gallon bins set up in a 3x3 square from an increasing distance away. The farthest line to kick from is 50 feet from the barrels, Ruff said, making the game a challenge for everyone from the soccer rookie to a very experienced player. "It gives you that full spectrum of playability," he said. "In summary, it's been a perfectly natural fit into the training ground and the BULLevard. It's one of the most popular games so people seem to like it a lot."
Ruff said the student team was under a significant time crunch because the development and execution of customer activations usually takes longer than a couple of months, but he said they responded well to the deadline. "It was a nice surprise they were super timely with everything. We were really crunched time-wise," he said. "I think that shows another nice bit of maturity on their end."
Denis said he and his fellow students spent a long time on the campus soccer field and inside the gymnasium kicking a lot of soccer balls to test a series of ideas before settling on Pinpoint. They also had to go back to the brainstorming stage more than once based on feedback from the Red Bulls marketing staff. "There were a couple of moments of 'where do we go from here?' but we made sure we were resilient in the brainstorming. We made sure we were on top of things and were very organized."
The student team traveled to the Red Bulls arena on April 9 with the intention of launching their activation, but were waylaid by poor weather that cancelled events on the BULLevard for that game. The game itself, though, still went on so instead, they had the opportunity to work with the Red Bulls' on-field event coordinators to see what goes into many of the pre-game activities common at most sporting events. For instance, Denis said after attending the on-field events pregame meeting, he helped coordinate the 30-something local youth soccer players who each took the field with a Red Bulls player during team introductions. Other students coordinated a group of fans who held and waved a giant Red Bulls banner at center field during the pre-game ceremony. "Being able to walk on the field while that was going on was awesome," Denis said. Students also watched the game against Sporting Kansas City from a suite. "We got to network a little bit with people from MLS and the Red Bulls," he said.
Hecox said the project hit on a number of goals of the Sport Management courses. The students used many of the skills they're learning and developing for their future careers, including strategic planning, project management and verbal and written communication skills along with networking. They also got a sense of working in a professional environment, Hecox said, and got a wider view of how their project fit into the larger BULLevard area within the marketing strategy of the Red Bulls organization. "I think the real take-away, the real benefit was a couple of things. It forces them to a creative problem-solving field and it requires them to think more strategically," he said.
From the Red Bulls perspective, the project was a chance to offer an interactive learning experience. "I think it was as simple as being a good partner," Ruff said. "How can we have them experience the Red Bulls brand and the Red Bulls match-day experience?"
"It's a simple concept: Learn by doing," Hecox said. "The Red Bulls seemed genuinely excited about it, and the students had a great creative experience. They had to be quick. I think it really stimulated a part of their brain they don't often get sitting in a classroom."
Denis said the experience kindled an interest in partnerships and event marketing as a possible career path. This summer the 20-year-old is working at a marketing and event coordination internship with the Ocean State Waves, Rhode Island's New England Collegiate Baseball League team. "The SNHU Sport Management Department has given kids a lot of chances to get practical experiences," he said. "I just think it was a great step forward in the partnership that SNHU has and it generated a lot of interest on my end with partnerships."
Joe Cote is a staff writer at Southern New Hampshire University. Follow him on Twitter @JoeCo2323.
Explore more content like this article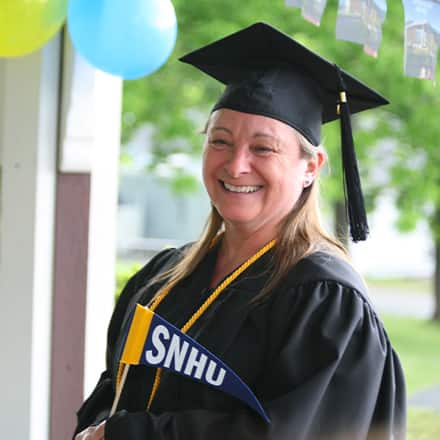 A Special Diploma Delivery for New Hampshire Grad
August 03, 2020
When SNHU's Commencement was postponed, Dr. Gwen Britton decided she would arrange a special ceremony for her longtime friend who had earned her bachelor's in information technology.