Partnering for Student Success
Most universities have established partnerships with various organizations to create a pipeline of jobs for students, or to bring a certain benefit to their alumni population.
True to our roots, Southern New Hampshire University (SNHU) is taking that traditional model and creating something new, something exciting and student-focused.
"In the past few years, we have started to focus more on cultivating partnerships that bring unique opportunities to our students," said Libby May, senior vice president of external relations and communications. "We're working with some of the top minds in business, government and industry to provide experiential learning opportunities for our students."
May said the University's partnership model was developed in pursuit of its mission, to focus on student success by challenging the status quo of higher education. In fact, SNHU long ago abandoned one of the longest-held beliefs in the field of education: that information flows in one direction, in one medium, from teacher to student.
"Currently, there are almost 80,000 students at SNHU, and they come from all backgrounds, with all levels of career and life experience. Because our student body is so diverse, we knew we had to find ways to enrich their experience but also fit their educational goals and pathways," she said. "We look for ways to leverage business and community partnerships for our traditional college-aged students on the Manchester campus, as well as those in all 50 states and across the world enrolled in online programs. We're looking for partners to think creatively with us, to explore how students can gain the most valuable experience possible."
Many organizations have already jumped on board, excited to work with some of the best-prepared students in higher education, scouting new talent and creating pipelines of future employees. A partial list boasts such companies as the Bank of New Hampshire Pavilion, the Boston Celtics, the New England Patriots, Major League Soccer, the New Hampshire Fisher Cats, the Manchester Monarchs, Worcester Polytechnic Institute and the Flatiron School.
Partnerships with brand names in education such as Flatiron, a New York-based coding school, give SNHU students access to programs and skillsets above and beyond the University's current offerings. SNHU President Paul LeBlanc pointed out that in the next decade, the U.S. workforce will need an estimated 1.4 million people with programming and software engineering skills.
"The partnership between SNHU and Flatiron represents a powerful blend of test-driven learning and the highest quality student-support services. We're in the planning phase of rolling out a 3+1 program, through which SNHU students will follow up a three-year academic program with six months in the Flatiron program and an internship or apprenticeship in the final semester before graduation," LeBlanc said.
Steve Boucher, senior director of Marketing and Communications for University College (UC), has spent the last five years developing ways for students to learn outside of the classroom, guided by top executives in some of the nation's most powerful organizations.
"Our students aren't only learning graphic design in the classroom. They're participating in a contest judged by the Boston Celtics' design team. They're learning about multi-cultural marketing, and then sitting face-to-face with Major League Soccer's Chief Marketing Officer - alumnus Marc de Grandpre '96 '00MBA. They're studying entrepreneurial skills, and then applying them in a group contest to design new promotions for more than 100,000 concert fans at the Bank of New Hampshire Pavilion," Boucher said, naming just a handful of examples from the past six months.
The Bank of New Hampshire Pavilion, in particular, has proven to be a rich source of hands-on experiences for SNHU students. In the past four years, students have played integral roles in marketing, culinary, social media and public relations for a major festival show. Boucher said that Culinary students participated in a BBQ Battle where they displayed their skills before 5,000 concertgoers. Graphic design students created the SNHU ad that goes in the Pavilion's program book each year, which is distributed to more than 100,000 concertgoers, and video students created the thirty-second ad that runs on the giant stage side screens between acts. Game design students created a game that lives on the Pavilion's web page and competed against each other by having to sell the concept of their game at a major concert.
"The entire partnership model is student-driven - and how cool is it to have this type of experience on your résumé," Boucher said.
The ripple effect of these partnerships extends beyond the benefits to SNHU students and partner organizations, said May. "We're also doing some pretty amazing things in the greater community, helping kids and future scholars gain access to technology and understand that higher education is within their reach."
For example, the Boston Celtics and SNHU recently co-sponsored a brand new technology lab for Rochester Middle School in Rochester, NH. Celtics center/forward Tyler Zeller was on hand to celebrate the unveiling of the lab, which includes 13 Apple iMacs and Apple iPads, one Apple TV, a 65 inch Vizio HDTV and mount and many more supplies. The room will be available to RMS students and faculty during and after school, inspiring students to learn the importance of technology and education.
"Investing in our students as well as national organizations and local community groups is the best way we know how to make an impact on the field of education and - more importantly - on the success of generations of students to come," said May.
Audrey Bourque is the director of advancement communications at Southern New Hampshire University. Connect with her on LinkedIn.
Explore more content like this article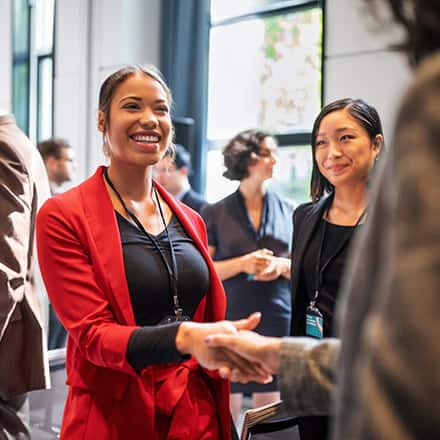 June 04, 2021
The day you receive your diploma from your university is a proud one, marking the culmination of your degree. But, your relationship with the university doesn't have to end there. Alumni are an integral part of a university community and are true advocates for student success.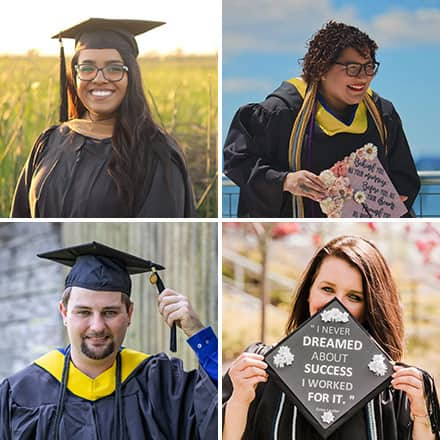 May 10, 2021
Determination has always been a key characteristic of SNHU graduates but never more so than within the 43,000 students who persisted throughout the pandemic in completing their degree programs.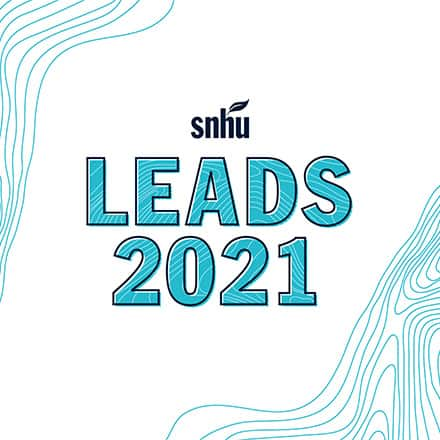 April 22, 2021
SNHU students, staff and alumni worldwide dropped by the 7th annual LEADS Conference earlier this month for personal and professional development that focused on academic achievement, leadership and career advancement.