Three Principles of Learning Resources
A little over three years ago, the majority of SNHU's online courses required students to purchase physical (and often costly) textbooks. Institutionally, we recognized we needed to drive costs down and simplify the acquisition of resources for our students.

Shortly after the Learning Resources team began converting the use of physical resources to digital, we discovered a whole new playing field within our vendor partnerships. Instead of asking how to encourage students to purchase the resources, SNHU focused on the ways resources can enhance the student learning experience and pushed to ensure our resources are scalable, accessible and affordable.

Scalability

Operating as we do in a fully asynchronous environment, we look for resources that are adaptive and able to provide students with unique experiences that make them feel as if the course was designed just for them. With the demand for educational technologies growing, traditional publishers are racing to provide online, interactive environments that align with their textbooks or that can stand on their own. For example, in one of our courses we use a simulation tool that immerses students in the complexities of running a business. Students apply theories they have learned while working on a team to balance the needs of their companies. With this in mind, our next focus is on scalability, which requires a deep understanding of our model and the expectations we hold for our instructors and students.

Our one-to-many model involves the creation of a master template that is copied into sections, each with an assigned instructor and unique cohort of students. This enables SNHU to maintain consistency across programs and courses. To ensure scalability at a learning resource level, the technology must allow for successful integration with our LMS and require little maintenance while promoting an easy and positive student and instructor experience. We expect our learning resources to integrate seamlessly throughout a course to support learning at both formative and summative levels.

Accessibility

As we form partnerships with vendors, we have learned that accessibility is one of the most important conversations to have. It should also be one of the first. Our student population is growing rapidly, with our new students coming to us from across the country and the world. This diverse student population requires resources that can be accessed in different formats. Imagine a student serving overseas on a ship without Internet access. In situations in which using electronic resources is challenging, we work closely with our vendor partners to ensure they can provide alternative formats or access regardless of student needs. Some partners are able to provide us with HTML versions of textbooks, whereas other vendors have developed their products to auto-adjust to changes in screen size while remaining screen-reader compatible. These small details are the ones that have the largest impact on our students and the teams that support them.

We also support the needs of students who have been diagnosed with a disability because we believe education should be accessible to all. Our Assistive Technology team is directly responsible for converting resources into alternate formats and captioning videos in courses. We also expect that our vendor partners will assist with providing alternative formats where possible.

Affordability

The College of Online and Continuing Education works hard to keep costs low for students and to foster a sense of student confidence in the value of their tuition dollars. With the cost of physical textbooks being significantly higher, we strive to meet specific price points when students are required to purchase resources. Most of our digital learning resources range between $75 and $110. This cost covers both the digital resource as well as access to the e-book. Efforts to meet and maintain these price points have saved our students hundreds of dollars. We do not believe in profiting from textbook sales and apply this belief when negotiating with our vendor partners. Working closely with our vendors, we have been able to strategically leverage our partnerships to provide students with the lowest prices possible.

Through the Shapiro Library, we are able to provide students with a plethora of stable and free resources that support learning. As an institution, we cover the cost of resources that instructors and students can benefit from and blend informal learning with traditional learning by exposing students to resources they could potentially see when they enter the workforce. We recognize the importance of experiential learning and have partnerships with vendors who support that. Some of these resources include the use of lab kits, which can be described as portable starter laboratories for people interested in chemistry and physical science and enable students to become familiar what they will experience in their careers. Another resource allows students to practice trading using a real-world platform. They are applying financial and economic concepts as they buy, sell and analyze stock. It builds their confidence and financial independence with no financial repercussions.

As we push our partners to the next level, our experiences over the past three years have enabled us to test reality and our assumptions about learning.

With its focus on delivering best-in-class resources to our students, the learning resources team devotes a lot of effort to building relationships. This involves communication not only with vendors but also with students and instructors to ensure we are meeting their needs and helping give them the best possible support for learning. We believe a successful student is not just one who obtains a degree; a successful student is one who is able to take experiences and apply them within their daily lives. Learning resources are one way we are able to make that happen.
Explore more content like this article
May 26, 2021
The world is over a year into the COVID-19 pandemic and some people are growing tired of public health measures. What are some of the things that can be done to combat pandemic fatigue?
March 25, 2021
The importance of empathetic teaching in an online environment cannot be understated. Students appreciate when instructors show concern for what is happening in their lives, and having an instructor with a teaching approach that focuses on empathy helps them navigate anxiety or uncertainty.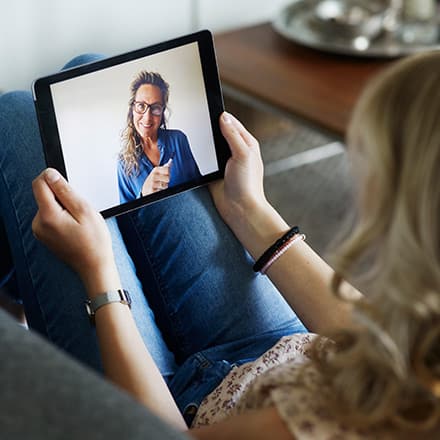 February 11, 2021
Consider what your role might be as a mental health advocate; someone who gives a voice to the problems and potential solutions related to mental health and mental health awareness. To advocate means more than just giving voice; it means to fight.