SNHU, Patriots Unveil New Computer Lab at Dorchester, Mass. School
Many of the more than 600 students at the oldest elementary school in North America were screaming and cheering Tuesday afternoon when the school's first computer lab was unveiled by representatives from Southern New Hampshire University and the New England Patriots.
Joined by Patriots defensive backs Patrick Chung, Jordan Richards and Brandon King, New England Patriots Charitable Foundation President Joshua Kraft helped reveal the high-tech lab that was built in secret over the summer. Students had no idea the space featuring new desktop computers and tablets was being built and only a few school staff members had seen the space before Tuesday, according to Steve Thiel, SNHU's director of partnership marketing. "It was kind of a fun secret project," he said.
The new lab, paid for with a grant from SNHU and built by the Kraft Group, features four new desktop computers, 50 Kindle tablet computers, new tables and chairs, printers, a podium and a 50-inch smart TV that can function as a projector. The room was also painted red, blue and silver and decorated with photos from the Patriots and SNHU, Thiel said. "It's the school's first dedicated space that's just made for technology," he said. "It went great. The kids were super excited obviously that their Patriots heroes were in their school, talking to them. (They) were incredibly well-behaved, incredibly engaged." The lab is one of three SNHU has agreed to provide as part of its partnership with the Patriots and the New England Patriots Charitable Foundation.
"I mean nowadays technology is big. If you use it the right way, you can learn a lot of things," Patriots safety Patrick Chung said. "So I think it's good for kids to have a lot of technology so they can learn things. And they can play games and have fun so they want to come to school.
Mather Elementary School was founded more than 375 years ago by a Congregational minister and has remained at its current location on the border of Boston's Mattapan and Dorchester neighborhoods, two of the city's most underserved areas. About 90% of the students in kindergarten through fifth grade are Black, Asian or Latino and 84% are from low-income families, according to the school's website.
"It's not every school that can say, 'We have a room that's dedicated to technology.' And then on top of that, it's a Patriots room," Principal Rochelle Nwosu said.
The school places a particular emphasis on encouraging its students to go to college. Students can skip wearing their school uniforms if they wear a shirt with a college or university logo. Classrooms are named after teachers' alma maters. The school also focuses on integrating technology into its curriculum. One of its programs, Technology Comes Home, which brought a handful of students and their families to the school once a week to learn basic computing and internet literacy skills, Thiel said. Both focuses made the school the perfect place for the first of three computer labs SNHU has committed to building or renovating. "A big part of our mission is expanding education to anyone who wants it and is willing to work for it," Thiel said. "So this really connects the technology side and education side that we feel so strongly about."
It was the students who participated in the Technology Comes Home program who got the first crack at the new computer lab. After an assembly before the whole school during which the lab was announced, those students worked with the Patriots players and other VIPs on an internet scavenger hunt solving clues about SNHU and the Patriots. "The idea is, 'Look at the increased access that we have as part of this lab and what you can learn,'" Thiel said. "And that's such a small little bit you can learn, but imagine it across all interest areas and levels."
The lab also represents a significant opportunity for professional development for teachers at the school, who lacked a dedicated space to learn new teaching techniques and new technologies, Thiel said.
Amelia Manning, executive vice president of SNHU Online, said Mather Elementary School was an ideal place for the computer lab because, "the teachers and administrators are wholly focused on helping these students realize their potential and understand the importance technology will play in their learning."
"Personally, I got goosebumps listening to the children scream and cheer their enthusiasm as the lab was unveiled," Manning said.
Thiel said the partnership with the New England Patriots Charitable Foundation and particularly the collaboration to build and renovate computer labs in Massachusetts and New Hampshire is another way for SNHU to advance its mission to encourage as many people as possible to earn their education. "It does not matter to us if a single student comes to SNHU that was in that school or in that lab," he said. "What we do care about is if having a college or university in their building saying that they matter to them inspires them to pursue higher education in a meaningful way. If all of them do go to college, that's the ultimate win-win. It's them amplifying their potential in a really significant way."
Joe Cote is a staff writer at Southern New Hampshire University. Follow him on Twitter @JoeCo2323.
Explore more content like this article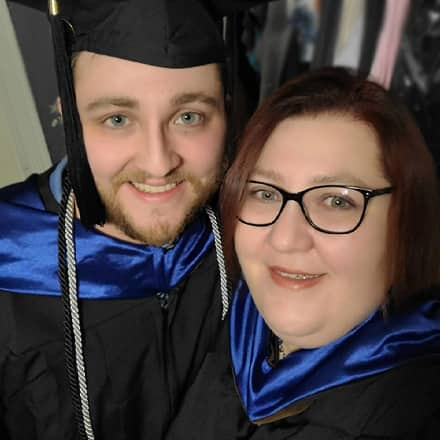 April 09, 2021
Tara and George Conrad – mother and son – began their degrees at the same time. Now they're celebrating their journey and accomplishments as graduates.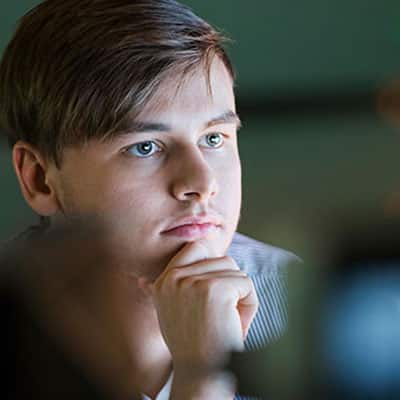 April 06, 2021
You may be wondering what do computer programmers do, and you're not alone. The simple answer, is writing computer software.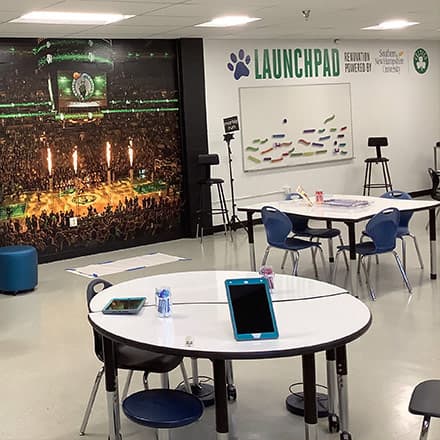 April 02, 2021
The Boston Celtics and Southern New Hampshire University recently unveiled their 14th tech lab, this time, the "Wildcat LaunchPad" at Webster Elementary School in Manchester, New Hampshire.