SNHU Military Partnership Stretches Back to School's Beginnings
Southern New Hampshire University's (SNHU) relationship with the U.S. military has been important throughout the school's history. The university's commitment to the military and military veterans began soon after Harry Shapiro founded the New Hampshire School for Accounting and Secretarial Services in 1932 and pre-dates the country's involvement in World War II.
The earliest record SNHU archivist Chris Cooper found of a military program at the school was an administrative clerk's course for military personnel taught by Mary Andrews. Andrews was an alumna herself, having attended in 1940-41. The 14-week course was offered in 1941, beginning with 25 members of the 45th Bombardment Group of the 33rd Air Base Group at Manchester Air Base. The base would later become Grenier Field and today is the Manchester-Boston Regional Airport. Students were taught typing, business English and mathematics at 88 Hanover St. in Manchester, N.H., and then took military courses at the base in the afternoon, according to Cooper's research.
The next year there were barely a dozen male students at the school because so many young men were fighting in the war. Just 15 of the 130 enrolled students were men in 1942. But two years later the GI Bill, more properly the Servicemen's Readjustment Act of 1944, gave a number of new benefits to veterans, including money for living expenses and tuition assistance. The school, at that time called the New Hampshire School of Accounting and Finance (NHSAF), was one of the first schools to enroll students using the program and almost immediately 134 veterans began taking classes. The first was Armand H. Beaudoin.
Beaudoin was the first NHSAF student to take advantage of a provision of the GI Bill for veterans with service-related disabilities. Before studying accounting and typing in Manchester, he was injured while trying to decouple a burning train car from other cars containing information in Algeria and then helping two other soldiers to safety. One account indicates Beaudoin found ways to take some advantage of the hearing loss he suffered when the train car exploded. Asked if it was difficult to study with three children at home, he said it was easy, "All I have to do is turn off my hearing aid."
Students also formed the first veterans club on campus in 1944, appropriately enough called simply the Veterans Club. It was headed by Edward Mahoney as president and Elwin J. Marcotte as vice president. Other officers included Joseph Dupuis serving as a treasurer and Elmer Campbell as secretary.
A decade later a change to the GI Bill nearly caused the school to close. Harry Shapiro had died by the time the Veterans Adjustment Act of 1952 was passed, changing the way former soldiers received tuition assistance. Rather than the money being sent directly to schools, veterans received a $110 stipend each month for education costs.
Enrollment dropped at all schools and dropped to just 25 students at SNHU, but Harry Shapiro's widow, Gertrude, managed to barely keep the school open. Things were even more dire again in 1953, dire enough that the decision to keep the school open wasn't made until the Thursday night before Labor Day based on the number of students who enrolled that evening.
By the mid-1960s, what came to be known as "The Centers" opened at military bases in the region. The college, called the New Hampshire College of Accounting and Commerce in the mid-1960s, developed off-site programs after the school's downtown Manchester campus hit capacity. The partnerships with military bases was seen as a way to expand without needing to build new facilities. William Cleveland, the director of education at Pease Air Force Base in Portsmouth, N.H., suggested an experimental program that offered 8-week courses, half the time it would normally take. Military members, who transferred locations often, liked the program because it made it easier to accrue enough credits from one school to graduate.
In July 1965, Gertrude Shapiro worked with Cleveland to develop courses for the base. Night courses there became the first off-campus program in the school's history. Servicemen working on their BS in Business Management had to take classes right next to the base's runway because since Pease was a Strategic Air Command Base they needed to be able to get to their planes in a matter of seconds. The program was expanded to Grenier Field in Manchester and Hanscom Air Force Base outside Boston later that year. In 1967 the school offered classes to American and Canadian military members stationed at Topsham Air Station who were responsible for providing early warning in case of a Russian nuclear attack. By 1975 programs were being offered at the Navy Security Force Station in Winter Harbor, Maine, and Roosevelt Road, Puerto Rico.
"The Centers," designed to offer the flexibility for military members were the university's first programs provided off-campus and served as a precursor to distance education that Dr. Lee Williams began in 1995 with a pilot program of two undergraduate courses. He offered six courses the following year and the 8-week timeframe and convenience of the online courses made them a match for many active-duty students. "Many of our students have jobs that require them to travel a lot. Some have recently moved or been transferred. A number are in the military," Williams said in 1998. By 2002, about 40% of the distance education students were active duty or veterans. That number has dropped to about 15% today thanks to online courses being available in all SNHU programs, but they remain popular with military servicemen and women because of the flexibility and mobility they allow students.
SNHU remains dedicated to active duty soldiers, veterans and their families with a variety of programs, discounts and support systems. Each military-affiliated student works with an academic advisor with their own military experience. Active-duty servicemembers are offered a discount of up to 30% for online undergraduate degrees and 25% for online graduate programs. This discount has been applicable to the spouses of active-duty servicemembers as well since 2014.
SNHU is a sponsor of Run to Home Base, a charity treating and researching Traumatic Brain Injury and Post-Traumatic Stress Disorder among soldiers returning from combat zones. SNHU partnered with Operation Homefront in 2014 and has awarded scholarships to servicemembers' spouses since then.
Recently SNHU became the USO's worldwide education sponsor and now provides education and financial literacy programs to servicemembers reentering civilian life at USO locations throughout the country. In July SNHU collaborated with another partner, Major League Soccer, to raise $100,000 for the USO. SNHU donated $2,000 to the group for every goal scored by U.S.-based MLS clubs. The 47 goals in addition to the dollar for each retweet of the goals to specific U.S. soccer clubs totaled $97,800, which SNHU rounded up to hit the six-figure mark.
Joe Cote is a staff writer at Southern New Hampshire University. Follow him on Twitter @JoeCo2323.
Explore more content like this article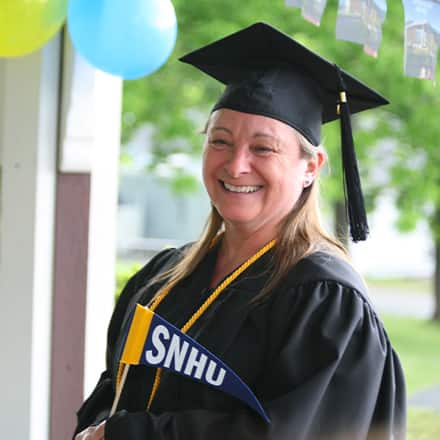 A Special Diploma Delivery for New Hampshire Grad
August 03, 2020
When SNHU's Commencement was postponed, Dr. Gwen Britton decided she would arrange a special ceremony for her longtime friend who had earned her bachelor's in information technology.