Lessons Learned: Integrating e-Learning with Composition
What We Did

Every student in SNHU's College of Online and Continuing Education must take English Composition I and II. These courses have a huge impact on our student body for two reasons:
The sheer number of students reached (upwards of 40,000 per year).
These courses are among the first students take in their college careers here
For many students, taking these courses is an exercise in overcoming fear. They often come to us after many years outside of the classroom and are scared they do not have the writing skills necessary to succeed in a college environment. Or perhaps they are recent high school graduates who had some bad experiences with writing in the past. Even traditionally "successful" students are nervous in this new, online environment, with an instructor they never meet in person.

As an institution, we recognize the critical importance of scaffolding writing skills to build student confidence and foster a pattern of long-term success. In other words, if we can help students find confidence in their writing and learn basic research and composition skills early in their college careers, they are more likely to succeed in subsequent courses. Wait until a student gets farther into his or her program to require composition, though, and the confidence in core writing ability has not been developed nor have the skills been learned. We feel we would be doing a disservice to our student community by not emphasizing the importance of strengthening core writing skills early in one's academic career.

To emphasize the importance of those core writing skills, we took scaffolding to the next level when we redesigned the composition courses: We integrated the e-textbook to seamlessly begin fostering these skill stepping-stones form day one, scaffolding within the course itself. Where earlier iterations of the course required students to read an electronic textbook, work through course modules, participate in discussions and submit written work, the new design fully integrates the course text within the modules. Instead of having an external e-textbook that students could effectively ignore all term if they chose, with the new design, the course content is integrated with the modules. This requires students to work step by step through the research and writing process from day 1.

Why We Did It

With these changes, we are emphasizing the key concept that writing is an active process. We've all heard the saying that "doing is learning," right? The more students write, the more they will learn how to write well. Building in opportunities for students to actually write, in particular with low-stakes assignments, helps build skills and confidence. By putting the course material front and center within the student experience, we fulfilled a responsibility to make student success our priority and leveraged our access to technology and innovation in course design. In the current design, students will seamlessly access the course material as they move through each module, accessing lessons written by faculty subject-matter experts that are clear, digestible and rigorous, yet always progress-focused.

Scaffolding the course to focus on building toward a single final paper was the key component of the redesign. We restructured the courses so that each assignment builds on the previous assignment.

First students narrow down their ideas to two topics, then receive instructor feedback on which would be the better choice. Next they craft a Writing Plan, and the course is structured to walk students through how to do this step by step. Then students work on choosing sources and integrating them into paragraphs. Finally, they work through how to put the pieces together in a workable draft and revise the draft to craft a final product.

By having each assignment build on the previous one, the courses now have the effect of holistically teaching students how to craft an academic essay. This is in direct contrast of the previous design, in which students wrote several separate assignments with different topics over the course of the term. The previous design had merit, but the change was made to consciously and deliberately support students as they build their skills toward the ultimate outcome of crafting a single, strong and competent research paper.

What We Learned

While we are still gathering data from this redesign, we did learn one thing very quickly: Implementing the change was a much bigger challenge than designing the change. Students, faculty and advisors in or working with these high-enrolled courses all had to adapt to the new course environment, with a new design and new functionality, very quickly. However, by the second term with the new design, most functionality kinks had been worked out, new students did not know the course had ever looked different and instructors were much more settled into the new routine.

Most importantly, we learned that students were more successful with the new model. More students passed the course with a grade of C or better and moved through the course material with higher levels of engagement than they had when the e-text was a separate document.

It is too early in the process to know where enduring rough edges may lurk, but the general consensus is that it is far better to work toward a model of innovation and student-centered course design than to be content to rest on one's past success.
Explore more content like this article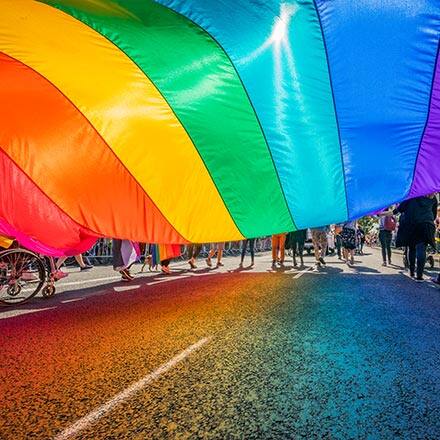 June 24, 2021
What about clips from the article, like: In a world where some believe and display that LGBTQ+ lives do not matter, we must continue to show the world through our pride that we do matter. When we learn to be prideful, we can continue to change the world for the better and be a beacon of light to those who are watching and waiting for us to come forth as possibility models for those who are fearful of exhibiting PRIDE.
May 26, 2021
The world is over a year into the COVID-19 pandemic and some people are growing tired of public health measures. What are some of the things that can be done to combat pandemic fatigue?
March 25, 2021
The importance of empathetic teaching in an online environment cannot be understated. Students appreciate when instructors show concern for what is happening in their lives, and having an instructor with a teaching approach that focuses on empathy helps them navigate anxiety or uncertainty.