What is a Personal Brand and Why It Matters for Your Career
You may not know it but you already have a personal brand. The ubiquity of social media networks such as Facebook and the search power and digital memory of a simple Google search means you are projecting an image into the world whether you want to or not. For the same reasons, it's vital that you are aware of the story you're telling about yourself online and ways to display the qualities you want potential customers or employers to see first.
In today's competitive job market, you need to leverage tools like Twitter and LinkedIn, in addition to more conventional documents such as your resume and business card, to create a unified personal brand that sets you apart from the people competing for the same jobs or business partners.
What Is a Personal Brand?
Writing on Mashable, Dan Schawbel, author of "Me 2.0: Building a Powerful Brand to Achieve Career Success" and owner of the Personal Branding Blog, defined personal branding as "the process by which we market ourselves to others."
Personal brand strategist Meredith Liepelt, of Rich Life Marketing, described a personal brand as the traits that those around you know you for, your reputation. Your brand is what people think of when they think of you. In some ways, it's a reflection of the values you represent and the talents you can bring to a company.
Alyssa Mare Langelier, a career services executive with Coding Dojo, said a personal brand is really an explanation of yourself to prospective clients. "Branding is an extremely underrated aspect of the job search process. All it means to have personal branding is to have a clear scope of your strengths, your weaknesses and your goals," she said. "In developing your brand and describing who you are to prospective employers, be honest about your unique strengths, your weaknesses and how you plan to rectify them, and the goals you have for yourself."
Why Do You Need a Personal Brand?
You may think brands are just for companies or perhaps celebrities. You need to stand out and developing a personal brand is the way to do that. "With such a competitive market today, it is important to differentiate yourself and having a personal brand helps tell your journey," said Katie Bisson, a marketing communications specialist at Rapid Manufacturing.
In creating a strong personal brand, you're not only showcasing your best qualities, you're also allowing others to quickly learn more about you. Jason Brewer, CEO of digital web and marketing firm Brolik, said it's important your brand expresses not just your skills and experience but your "mission and strengths." Your brand should make it easy for an employer or client to recognize why you do what you do and differentiate you from other candidates. "Your chances of getting an interview and getting hired improve dramatically when your personal mission, values and strengths are easy to decipher," he said.
Developing Your Personal Brand
Jayson Demers, founder and CEO of AudienceBloom, said the first step to developing your own personal brand is to determine what it is you're passionate about. It's about finding the work you enjoy the most and then finding a way to market yourself in such a way that you can make a career doing it. Becoming an expert in a segment of your industry gives you more authority than you may otherwise have - and lowers the number of people competing against you. "With a niche focus, you'll have more opportunities to prove you know what you're talking about and while your audience might be slightly smaller, it will also be that more relevant," he wrote on Inc.com. "Specificity is a trade of volume for significance."
First and foremost, creating your personal brand is about thinking; thinking about what you excel at, what you want to do for a living and being honest about your strengths and shortcomings in that area. You may need help with self-assessment. Monster.com recommends these tools, including the PI Behavioral Assessment, the Myers-Briggs Type Indicator and more. Schawbel also recommended writing down a mission and personal brand statement and establishing goals for yourself. That mission should then be incorporated in everything connected to your professional life, he said, including your business card; resume; Facebook, Twitter and LinkedIn profiles; email address; wardrobe and website.
One step you can take is to Google your own name to see what other people find when they research you. Starting a personal website with links to your social media profiles is another option. Liepelt said it can be helpful to ask a handful of people who know you well to choose three or five words to describe you. You'll likely find some common adjectives being applied to you, she said. An important part of developing your brand is to honestly evaluate yourself in order to maintain an authentic brand.
Remember, if you're not taking the time to establish your personal brand, the rest of the world will. Take control and create a focused profile that reflects the very best of what you can offer to others, a personal brand that reflects your mission and your strengths, along with your education, experience and accomplishments. Make it easy for others to want to do business with, or hire, you.
See more tips for building your personal brand online.
Joe Cote is a staff writer at Southern New Hampshire University. Follow him on Twitter @JoeCo2323.
Explore more content like this article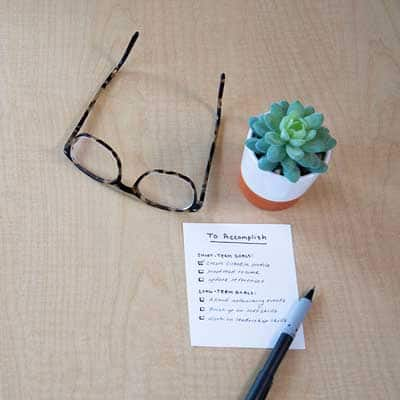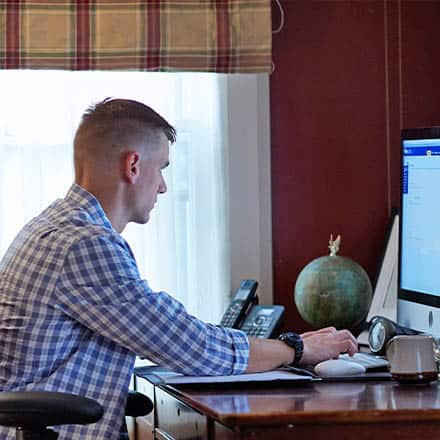 Jobs After Military Service: How to Transition Into a Civilian Career
June 30, 2020
Some of the best jobs after the military enable you to use the experience and discipline you acquired as a service member. In the private or public sector, or as a federal employee, careers after the military can be tailored to your interests and strengths, and built off your service skill sets.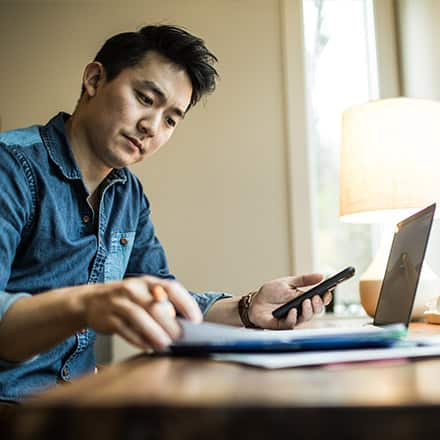 3 Tips for Working Remotely
April 29, 2020
Working from a home office is more common today than ever before. If you're new to remote work or hoping to land a position working from a remote location, consider these practical tips to foster career success.