Keeping the Student in Play: The Role of Faculty in Student Engagement Part II

Student engagement is at the heart of student retention, and our faculty play a vital role. In part 1 of this two-part series, I detailed shared characteristics of online students and stressed the importance of getting to know them from day 1 and of connecting them to real-world application in their chosen fields of study. Part 2 focuses on identifying and assisting at-risk students while leveraging internal stakeholders to promote student persistence and consistent success.
If we don't engage our students, we simply won't be able to know what we should share with them from our wealth of personal and professional experience.
'Tis the season for football: Let's continue focusing on ways we can keep our students "in play."
Second Half: Engaging Students Using Feedback
As instructors, we want to show our students that we genuinely care about their success and go to great lengths and much effort to do so. As much as students want to impress us with how they collaborate with their peers, master quantitative analyses and draft remarkable journal entries, we want them to review our feedback and incorporate our recommendations in subsequent assignments. Providing students feedback on their deliverables is the most prominent touchpoint and is as much about engaging with your students as it is about the student's individual submission. It's all about them, and it needs to be!
Staying in Bounds: Assisting At-Risk Students
Not submitting work isn't the only characteristic of at-risk students. Looking for patterns in their grades is important. Perhaps a student is struggling with a particular type of assignment (i.e. homework problem sets, quizzes, short papers) and their scores are consistently low. Also, many of our students are first-generation college students who may lack sufficient research and writing skills as well as the academic mindset to remain focused on their studies and manage their time effectively. These students need our guidance and there is a significant opportunity for us to make an impact.
Academic supports available to online students include course-specific tutoring, live appointments with writing coaches, online tutoring services and online learning communities, to name a few. Instructors can also identify points for the student to work on to become a "better" writer versus a "perfect" writer. Perhaps they are struggling with using headings to lay out their papers and they aren't aware of free online proofreading tools or how to properly cite sources to lend credibility to their statements, for example. After receiving our assistance, we can look for these improvements to be incorporated in their next submission and then challenge them on other areas of their research and writing that require additional effort.
Our Defensive Line: Leveraging Internal Stakeholders
Try as we might, not every student will respond to our outreach efforts. Leveraging internal stakeholders such as student advisors, mentors/coaches and associate deans to assist at-risk students is critical. Advisors in particular typically have regular, consistent communication with students and represent our first line of defense. Struggling students would receive more outreach than typical students. Students may have an extenuating circumstance that limits their ability to participate in the course fully. Partnering with advising can be very advantageous as stronger bonds are built over time between advisors and students they assist.
Reaching the End Zone: Getting Students to Submit
One of our primary goals is to improve student success in our courses without ever sacrificing academic rigor. As instructors, we want to ensure that we reach out to our students early and often. We can't manage the life emergencies, trials and tribulations that students face, so how else can we help them be more successful in our courses? What we really need to do is get them to submit their work.
We CAN:
Clarify instructions so they know what we are expecting them to do.
Remind students to review the rubric prior to submitting assignments.
Provide exemplars where appropriate.
Reach out to students when they don't submit.
The Final Whistle
The most effective means of positively impacting student success is actively engaging our students in a world-class student experience. We teach and students learn through our engagement with them. Our engagement in every area of the course with our students, whether addressing the class as a whole in announcements or discussion forums or within grading feedback, transcends mere instructor "participation."
It is ultimately up to us as faculty to tailor our approaches to each student's needs to personalize their learning experience. We add value to courses with preloaded content by sharing our personal and professional experiences. Doing so provides the opportunity to express ourselves and show our personalities. We try to inspire students to get the most out of the discussion boards, ask questions to clarify concepts that are difficult for them to grasp, and remain aware of the value they bring to the learning experiences of all the students enrolled in the course. As such, our job is to model what we would like to see from our students at every opportunity. After all, we leave a little of ourselves imprinted on the minds of those we nurture.
Explore more content like this article
May 26, 2021
The world is over a year into the COVID-19 pandemic and some people are growing tired of public health measures. What are some of the things that can be done to combat pandemic fatigue?
March 25, 2021
The importance of empathetic teaching in an online environment cannot be understated. Students appreciate when instructors show concern for what is happening in their lives, and having an instructor with a teaching approach that focuses on empathy helps them navigate anxiety or uncertainty.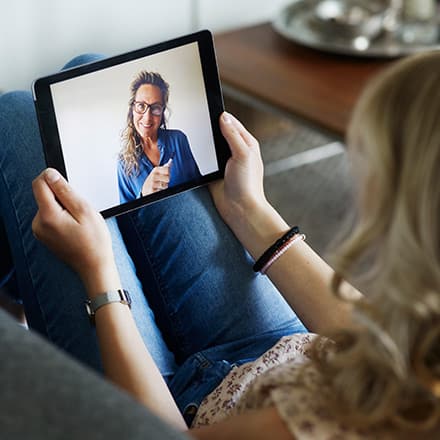 February 11, 2021
Consider what your role might be as a mental health advocate; someone who gives a voice to the problems and potential solutions related to mental health and mental health awareness. To advocate means more than just giving voice; it means to fight.