Under The Hood: How We Create Degrees That Work
We are at a critical juncture in this nation when it comes to credentialing our workforce. Georgetown University's Center for Education and the Workforce tells us that by 2020 65% of all jobs will require workers with credentials beyond high school. And the word is out, at least among returning adult students who look to college to better their careers. But, are the credentials providing them with the skills they need for success in the workplace? At SNHU, we are committed to providing students with degrees and credentials that help them succeed at work and in life. We take strides to ensure our programs provide the skills needed for success at work, while at the same time are academically rigorous.
Step 1: Data & Discovery
Our process for degree development begins with a comprehensive literature review to understand industry or occupational trends -- technology innovations, policy and regulatory requirements and the effects of changing demographics. We also analyze secondary labor market data from the Bureau of Labor Statistics, industry groups, regional economic development authorities, workforce boards and others to understand employment projections, hiring needs and skills gaps occurring both regionally and nationwide. We leverage big data and analytical tools to help us truly understand what skills and competencies individuals need to be effective on the job and to determine career paths from one job to the next. However, this background information isn't enough. We formulate our hypotheses and then vet what we have learned with industry through focus group discussions, observation, and interviews with industry representatives.
Our Newest OfferingOur new specialization, Transforming the Customer Experience, is a case in point. This nine-credit specialization is part of our Associate of Arts in General Studies. To design this program we explored the skills needed to effectively deliver customer service, how those roles differ by industry, and the impacts technology and changing demographics have had on service jobs. We documented what we learned in a trend report
Step 2: Adding the Personal Touch
We use our extensive research to start discussions with business representatives to learn more. In the case of the Transforming the Customer Experience specialization, we spoke with professionals from retail, financial services, and healthcare, all of whom rely on their frontline service workers to support clients and represent their brand. We also observed call centers and spoke with staff to learn more. Based on the feedback from the front lines and management professionals in customer service roles, we not only refined the list of important skills but prioritized them and were able to put them in context.
Step 3: Developing Real-World Projects
The next step is for our academic design team to take the identified skills and turn them into competency-based workforce relevant curricula designed to meet the academic rigor and standards of the university and our accreditors. Working with subject matter experts (SMEs) who have advanced degrees and experience both in the classroom and in industry, the team devises a project-based approach that incorporates all of the necessary elements. This curriculum is then reviewed and signed off on by the SMEs. Next, testers whose profile mirror that of our target students, work through the curriculum. They ask questions, comment on what worked well, and make suggestions about what could be improved or clarified. This feedback is incorporated into the final curriculum.
In the case of the Transforming the Customer Experience specialization, the above steps were just completed and we now look forward to launching this new program in the Fall.
This process of connecting our degrees and credentials to the labor market has had an impact on both our employer partners and our students. Survey responses from our employer partners indicate that their workers who are SNHU students are more likely than others to be promoted. We hear similar feedback from our students. Keeping our programs relevant. That is our commitment to our students.
Explore more content like this article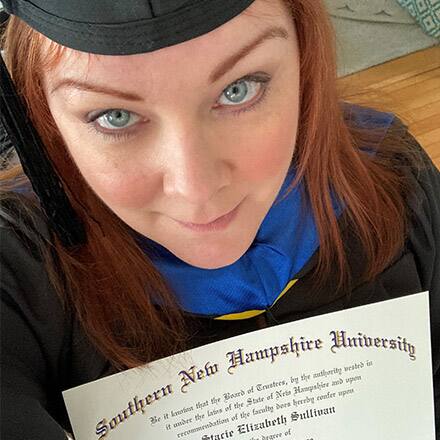 September 08, 2020
For years, Stacie Sullivan '19 felt stuck in her career, sensing her opportunities to advance were limited. After a series of challenging life events, Sullivan enrolled in the BS in Health Information Management program at SNHU.
July 01, 2020
Just a year after she decided to go back to school, Shereka Johnson-Bean '20 is preparing to submit the final project for her bachelor's degree.
June 12, 2020
Shannon Griffin's first job was as a crew member at a McDonald's restaurant. She's still working at McDonald's, but her role is a whole lot different thanks to her hard work and the degrees from SNHU.