SNHU Partners with FC Dallas to Create Positive Youth Impact
On Sept. 14 and 15, Southern New Hampshire University had an opportunity to extend its goal of creating real, measurable impact in local communities through its ongoing partnership with Major League Soccer. Members of FC Dallas Foundation, CoServ and SNHU unveiled a new mini-pitch at Strickland Middle School in Denton, Texas and dedicated three new mobile STEM labs at Ann Richards Middle School in Dallas.
According to Melissa Reddick, executive director of the FC Dallas Foundation, the mini-pitch is part of the Foundation's commitment to promote a healthy, active lifestyle for disadvantaged youth by building safe places for them to play soccer. Strickland Middle School, which serves 860 children in grades 6-8, has a diverse student population, with 44% Hispanic students and 60% of its students receive free or reduced lunches, Reddick said. The focus is not just on diversity and lower socio-economic need, however; the Foundation focuses on schools where soccer-related programming is already in place, so there's assurance that the mini-pitch will be well utilized.
As one of eight middle schools that runs the GOAL (Guys & Girls Operating as Leaders) program, Reddick said Strickland already uses soccer to engage second-language learners in their school and community to build leaders. Seventy of the middle school's students are enrolled in GOAL and two dozen or so of those kids participated in the mini-pitch event this past week. While the day was very hot, it didn't dampen the spirits of the students one bit. They were especially excited to interact with the FC Dallas mascot and three of the team's players: Chris Seitz, Paxton Pomykal and Tesho Akindele. The players were equally pumped and expressed how much they wished they had these types of places to play when they were kids. Seitz, who has been at several of the mini-pitch dedications, is always excited to see the kids enjoy their new play space. Like the youngsters, Seitz and Akindele are also students, currently enrolled in degree programs online with SNHU.
"Building our sixth pitch, but our first in Denton, is very exciting for us," said Reddick. "With SNHU's support, we are able to bring these kids a reward for their hard work, not just in soccer but in their academics as well. Being in GOAL is a privilege and these kids work for it. This gift is also encouragement. It lets them know that we - FC Dallas and SNHU - are watching and supporting them to continue their success."
For SNHU, the mini-pitch events never get old. Each event is unique to the community it serves, but the basic premise focuses on what can be achieved in the classroom and outside as well. "It's important to remember that learning doesn't just happen in a classroom, and that it can happen in places like the mini-pitch just installed in Denton, Texas," said Steve Thiel, SNHU's senior director of strategic partnerships. "In association with the GOAL program, these kids will learn lessons of teamwork, sportsmanship, and perseverance that will prove to be every bit as valuable as the concepts they learn in school. These students now have a place they can be proud of and want to come to every day."
Texas utility company CoServ has committed to two more mini-pitches to build within the next two years, and representatives were excited to see the mini-pitch unveil in action. "CoServ's focus is to give back to the communities they serve. They were very excited to see this in their backyard. It's a living legacy to the work all the organizations involved do in the community," said Reddick.
On Friday, Sept. 15, FC Dallas and SNHU celebrated the opening of three new mobile STEM labs at Ann Richards Middle School in Dallas, Texas, and awarded a full online scholarship to a deserving teacher during the labs' dedication ceremony.
FC Dallas players Aaron Guillen and Jacori Hayes were on hand to participate in activities with students in the new STEM labs. Guillen is a FC Dallas homegrown player, as he is from Texas and has been developing in FC Dallas' youth academy. Reddick said, "When we sign a player that we have developed, they are considered homegrown."
The soccer players enjoyed interacting with the kids, especially Hayes, who has a degree in physics and a minor in engineering. The coding done with students allowed his STEM side to come out, Reddick said, but "both dove right in with the kids to work on the sport-related coding activity."
With a diverse student population of more than 1,200, and more than half coming from economically disadvantaged households, the labs provide an opportunity to level the playing field through experience in STEM activities.
"Too often, where someone was born and their access to resources becomes a massive predictor in their ability to flourish later in life," Thiel said. "Access to technology and proficiency in math, science and the arts are so incredibly important, yet are not a given. Alongside FC Dallas, our hope is to make a positive impact on technological access with Ann Richards Middle School and its students. The school's leadership clearly understand the important of STEAM integration into its curriculum and after-school programming and we're thrilled to assist how we can."
While the mobile STEM labs will create a positive impact at the school, another element of this special event will also yield benefits to students in many ways going forward. Sixth-grade reading teacher Christie Lewis was presented with a full-tuition scholarship, which she'll use to further her education through a master's degree. Reddick said Lewis was chosen for her involvement in the community and her dedication to her work. According to her colleagues, she is an invaluable change maker, consistently in pursuit of how to expand her instructional capacity to be better prepared to meet the educational needs of the school's diverse learners.
As the official education partner of Major League Soccer, SNHU joins forces with MLS clubs in the United States and Canada to make a real, measurable impact in local communities. Learn more about the partnership.
Pamme Boutselis is a writer and content director in higher education. Follow her on Twitter @pammeb or connect on LinkedIn.
Explore more content like this article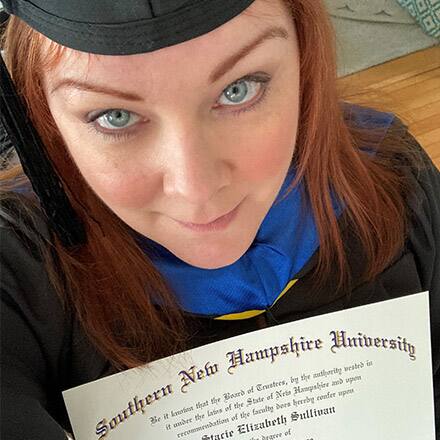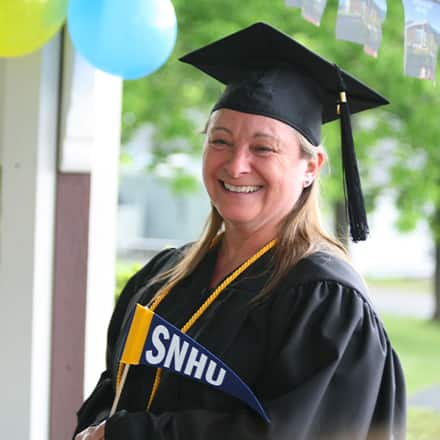 A Special Diploma Delivery for New Hampshire Grad
August 03, 2020
When SNHU's Commencement was postponed, Dr. Gwen Britton decided she would arrange a special ceremony for her longtime friend who had earned her bachelor's in information technology.