SNHU Soccer Teams, Kelyn Rowe Bring Joy to Young Cancer Patients
On this night, it wasn't his team's upcoming game against American International College on Joshua Taylor's mind. There were toys, puzzles, sunglasses and coloring books spread out on two long tables and they weren't going to pack themselves.
Taylor, head coach of Southern New Hampshire University's men's soccer team, along with the SNHU women's team and New England Revolution star Kelyn Rowe were stuffing 250 mini-JoyJars intended to bring a smile to the face of a child undergoing cancer treatment. Rowe delivered a batch of the jars the following day to children staying at Massachusetts General Hospital in Boston.
"I think it's a wonderful way to give back to the community and be part of this charity," Taylor said. " ...it's important to realize the many privileges we have every single day and to give back to those who don't have the easy things and the simple things of daily life."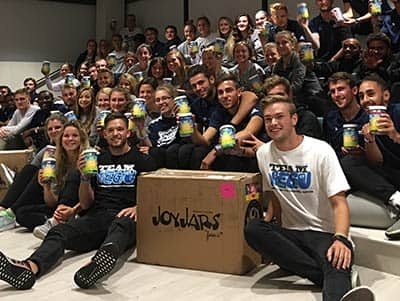 JoyJars by Jessie was created by a little girl in southern California in 2011. Jessie Rees was 11 when diagnosed her with two inoperable brain tumors. Although the cancer was not treatable, she took part in a clinical trial during which she underwent 30 rounds of radiation and daily chemotherapy. Her father, Erik Rees, said the treatments were difficult, but she was able to go home. She asked him one day while they were leaving Children's Hospital of Orange County when the other kids there went home. He told her many of them didn't for weeks and months at a time. Jessie wanted to help.
That afternoon Jessie began putting together little bags filled with toys and treats for other kids undergoing cancer treatment. After she delivered them, word spread and other hospitals requested JoyJars for their patients. Jessie died in January 2012, and since then, the Jessie Rees Foundation has sent more than 130,000 JoyJars to hospitals in 50 states and dozens of countries. Cory Tomlinson, the foundation's sports engagement manager, said 45,000 jars will be sent out in 2017. "For an 11-year-old girl to have created such a monumental and widespread idea, it's amazing for us to see how far and wide her mission has gone," he said.
Unlike many organizations, the mission of the Jessie Rees Foundation isn't focused on research or finding a cure. Instead, it focuses on improving the lives of kids battling the disease, putting a smile on their faces and creating experiences they will remember forever. "There are many foundations out there raising money to fund research, to finding a cure," Tomlinson said. "We are all about caring for these kids and providing a boost of joy, of encouragement in the midst of such a hard battle against cancer."
The soccer teams spent a Wednesday night packing the JoyJars with toys and games and a rubber wristband that reads "Never, ever give up," or "NEGU." NEGU was Jessie's motto, one the foundation has adopted. In addition to packing JoyJars and delivering them to cancer treatment centers around the country, four years ago Rowe created Kelyn's NEGU Crew. He hosts a child fighting cancer and their family at Gillette Stadium in Foxborough, Mass. for a Revolution game. After watching the game in a luxury box, the child and family meet Rowe and the rest of his teammates on the field. Rowe leads them to the Revolution fan-support area of the stands and fans there chant the child's name and "Never Give Up!" Rowe has hosted 21 children so far, and other NEGU crews are being founded by players on other teams. Tomlinson said the hope is for each of the 22 MLS teams to have a similar group.
Rowe said he became involved in the Jessie Rees Foundation through Tomlinson, who he knew in college. "After the first invite, after the first step into one of the rooms, I realized I needed to be part of this because it brought such a smile to a kid's face," he said. "It brought so much joy to the whole room. It brought a smile to everyone's face, and I needed to be part of that as fast as I can."
Delivering the JoyJars is a particularly meaningful - and humbling - experience, Rowe said. His first visit was alongside Olympic swimmer Kaitlin Sandeno. The kids are so excited to receive a present, Rowe said, the novelty of meeting a professional athlete soon pales. "The moment we gave the jars to the kids we were invisible. The jar is the favorite, every time," he said.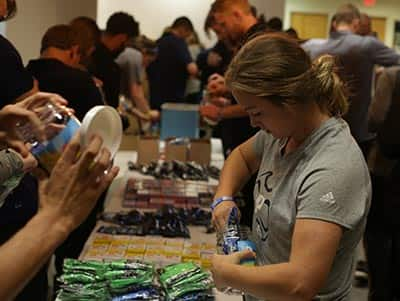 Tomlinson called Rowe a "catalyst of joy."
"Kelyn comes to them," he said. "They don't feel lonely and limited when they're experiencing the JoyJar and having an experience with Kelyn."
Rowe is studying at SNHU to earn his online Bachelor's in Communications, which he wants to use to advance a sports organization's philanthropic efforts once he's done playing professional soccer. He said that goal and events like the JoyJar stuffing with SNHU soccer players is a way for him to help build a positive future. "Now I get to bring them into something amazing on the philanthropy side with the Jessie Rees Foundation and show them there is an opportunity to be involved in something greater than just soccer, than just school," he said. "If you can create a positive youth, you're going to have a positive future. It just creates this ripple effect of positive energy of giving back, of finding greater things than just yourself in the world."
Paige Salmon, a SNHU senior, said hearing Jessie's story and thinking about the fact that even when she was sick herself Jessie was thinking of others was moving. "It's so overwhelming to know that in her darkest time she was looking to bring a smile to everyone else's face," she said. "I think it shows how to take a stand. I wanted to be here today because it's such a positive impact."
Joe Cote is a staff writer at Southern New Hampshire University. Follow him on Twitter @JoeCo2323.
Explore more content like this article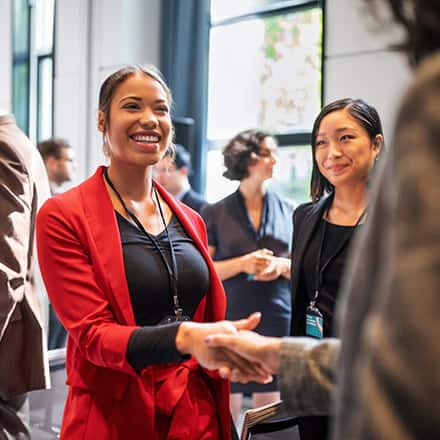 June 04, 2021
The day you receive your diploma from your university is a proud one, marking the culmination of your degree. But, your relationship with the university doesn't have to end there. Alumni are an integral part of a university community and are true advocates for student success.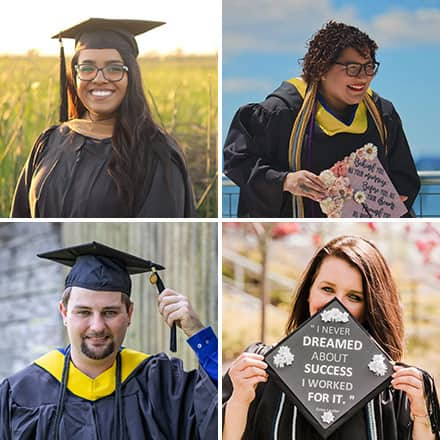 May 10, 2021
Determination has always been a key characteristic of SNHU graduates but never more so than within the 43,000 students who persisted throughout the pandemic in completing their degree programs.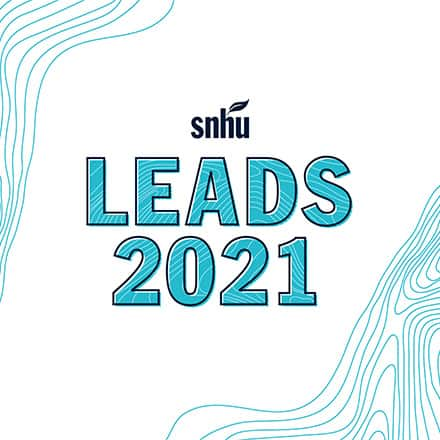 April 22, 2021
SNHU students, staff and alumni worldwide dropped by the 7th annual LEADS Conference earlier this month for personal and professional development that focused on academic achievement, leadership and career advancement.