OFYE Matters: Building Rapport

Perhaps one of the most important relationships in Online First Year Education (OFYE) students' learning experience is the one fostered with their teacher. New students come to class with varying degrees of preparedness, confidence, educational experience, and skill. Many new students struggle with asking for help and hesitate to reach out when necessary. A strong, positive rapport between the OFYE student and teacher can help eliminate those barriers to communication and enable students to achieve their goals. Working to develop a strong rapport with students who require varying levels of support is no easy task. It is, however, time very well spent.

For this iteration of OFYE Matters, we gathered a variety of rapport-building strategies from OFYE educators that bring student and teacher together to increase student success.
How do you work to establish a positive rapport with OFYE students in your class? What steps do you take or strategies do you use to develop rapport?
Building rapport through storytelling
Gale Cossette, SNHU Instructor
I like to connect and develop a rapport with students through storytelling. Storytelling goes as far back as the prehistoric era and continues throughout history. It was done either on a cave wall or through speaking. We all have stories. I have had a rather colorful life including being followed by KGB in Russia and being swept away by a riptide for a mile from where I should have been. Stories such as these, as well as other journeys we have had in our lives become stories to connect to others, teach, and model. Stories all by themselves are just stories and while these are nice, when you can link them to some purpose they become more meaningful to the audience.

Linking stories to a purpose is what connects one person to another or an instructor to students. There is always something that can be connected; however, the instructor needs to help students make the connection. For example, in the introductory course SNHU 107, students are new to college and filled with all kinds of worries. Being online is another worry. I like to share my educational story which is filled with significant ups and downs, doubts, and about those who did not think I would ever make it. This story immediately connects to students, because they are experiencing these exact concerns. When they know that their professor, who has a doctorate, began where they did, it gives them hope and inspiration.

I tell my stories in discussion forums as I link a story to what the student wrote and in relation to the discussion prompt. I link my stories to questions students ask of me through email or in a phone call. I also share my relevant stories in Announcements. I grew up in a household of stories including those about great, great, great grandparents. My favorite mantra to students is this, "Let me tell you a story about that." We all loved stories as children and as adults, even more so.


Building rapport through assessment
Ryan Korstange, Assistant Professor of University Studies, Middle Tennessee State University

Any strategy for building rapport with students must include careful consideration to the assessment of class work. This is all the more the case for online instruction where written feedback of student work is a primary mode of direct communication with individual students. In my OFYE class, the students are assigned a one-page reflection paper each week in addition to participation in an online discussion board, which means that I have two opportunities for connecting with each student per week. Therefore, written feedback on student work is an essential vehicle for building rapport with students.

Using feedback to build rapport with students includes the following components in some measure.


The feedback begins with an introduction, affirming the student's value and potential to master the content and reach the classroom expectations. David Scott Yeager talks about this in his article "Breaking the Cycle of Mistrust: Wise Interventions to Provide Critical Feedback Across the Racial Divide." It is worth remembering that the purpose of feedback is to help students improve their academic performance, not merely to give them a score, or to point out errors.
In academic circles, feedback is expected to contain some assessment of the work itself, and so both the content that the student has already mastered and the information that the student has yet to master should be identified. Carol Dweck discusses the role that the word 'yet' can play in effective feedback in her book, "Mindset: the new psychology of success" and in her article, "Revisits the 'Growth Mindset'. It is helpful to commend the student on their successes and to identify some next steps for correcting any errors or misunderstandings in those areas where the student has yet to express mastery.
My OFYE course uses reflective writing to help students refine their academic processes and to articulate their academic mindset. Written feedback provides an opportunity to identify more effective paths to learning or more efficient workflows by pointing out alternative methods or relevant campus resources.
Finally, students frequently reveal things going on in their lives within their writing. These are not throw away statements, and even if they are not on the main topic of the assignment, acknowledging this information and offering assistance can help to build rapport with students.
Regular constructive feedback goes a long way to helping increase students learning and can contribute to building rapport with students. Feedback is an indispensable tool for the OFYE instructor.


Building rapport through personalized videos
Dr. Wendy Conaway, Assistant Professor, Ashford University

One of the most effective strategies I have found to establish a good, positive rapport with OFYE students is to create and embed personal videos within the classroom. I create a video to welcome each and every student in the introductions. I find something that relates to what they have said and comment on it. I also find that embedding a short video in the discussions at strategic times to further discuss a concept is extremely helpful. I have received positive feedback from students regarding these practices. Here are some examples:


"I absolutely love your video responses! It is so nice to "see" you and now I have a real feel for what kind of instructor you are! I am so excited to start this new journey of mine and I feel blessed that you are my first instructor, so thank you!"
"I am absolutely in love with your videos. It is so easy to sit and listen like we are in the classroom with you. But also I have been finding myself listening and watching you and then replaying it again as I write my responses to you or to another classmate. It allows me to then listen and remember your key points and makes me try to remember to hit all of the questions and statements that stand out to me."
There are several strategies that I use to ensure that the videos I generate for students are not just positive and helpful but also engaging and real. First of all, I think through what I am going to say. I have some prompts in front of me that remind me of what the key points are, but I am reading directly from them. I keep my eyes focused on the webcam as much as possible to be perceived as "looking them in the eye". Second, I make sure I am nicely groomed but not overly so. I wear some lip color but don't use much other makeup because I want to seem as "real" to them as I can. Third, I don't necessarily eliminate the "bloopers" because these little things can help humanize me to the students. For example, I was recording a video for a discussion board when my cat decided to walk over my laptop right in front of my webcam. I made a cute comment about it and simply continued my talk. The students loved it! You don't have to be perfect…just be genuine and the students will be more inclined to listen and engage with you.


Building rapport through personalized and relevant care, support, and instruction
Kate Butler, SNHU Instructor

The key to developing rapport with students is threefold. First, I meet them where they are. Every student has a unique set of circumstances, making them feel alone. I use anecdotes about and responses from past students to demonstrate that their circumstances matter and that they are not alone. Second, I establish my own humanity by sharing my own stories of trials, mistakes, and successes. My goal is to provide feedback not just as an instructor with academic experience, but rather as a student, mother/parent, employee, and partner in learning. Thirdly, I try to demonstrate in every interaction that I truly care about each student's success. I use their names and take note of crucial/personal details to demonstrate that I am listening and to make personal connections.


Building rapport by going the extra mile with personalization
Debby Hailwood, Lead Faculty, Ashford University

Names are such an important part of our identity. There's so much online instructors can do with names to help build rapport with students. I think it's important when I start a conversation with a student in a discussion forum or I'm leaving feedback in the grade book to acknowledge the person by name. This is like making eye contact in the online classroom. I ask students if they have a nickname they would prefer I use during the course. Some students go by a shortened version of their legal name or use their middle name instead of their first. I take note of this and then call students by this preferred name, which goes a long way in showing the students that I see them as an individual on the other side of the screen.

It's also important to know how to properly pronounce their name. I like to use videos to introduce myself to each student in an introduction forum and I refer to the student by name in their video. If it's a hard to pronounce a name, I will practice before and then ask the student to correct me if I'm wrong. I make it a point to let them know that I want to be able to say their name the way they pronounce it. I recently had a Korean-American student whose name was one I hadn't encountered before. I Googled it ahead of time to try to find a pronunciation and then practiced it aloud before recording my welcome video to her. As usual, in my video, I specifically asked if I had pronounced her name correctly and if I hadn't, to please feel free to correct me. She replied to my video and expressed her appreciation to me and said that I had pronounced it perfectly which is rare for someone to do so.


What do you feel is the biggest challenge in establishing rapport with new OFYE students?
Kate Butler, SNHU Instructor

The most frequent comment I get in a first-year classroom is that online education is drastically different and consequently more difficult) from ground education for two specific reasons: a lack of personal presence and a lack of forced accountability. Whether or not students have ever participated in online education themselves, there is an entrenched perception that these assumptions are true. In fact, many students are already convinced that they are going to fail because of these two factors, creating a self-fulfilling prophecy. This is a major obstacle in terms of rapport because both a lack of personal presence and a lack of accountability undermine a sense of community, making it difficult to establish relationship, understanding, and kinship.


What evidence have you received from students, or observed, that your rapport strategies are working and have made an impact on their learning experience and/or success?
Kate Butler, SNHU Instructor

There are several indicators when these strategies are working. The most obvious is a direct note of thanks in the classroom and/or a referral from one student to another to check out my posts in the classroom for inspiration. More indirectly, I often notice an increase in both depth and frequency of participation. In fact, developing a rapport with one student can often be the spark to start a fire within the classroom. When one student thanks me for sharing my personal experience, especially related to my personal struggles as a student, that student begins to share. This prompts another student to add to the depth of his or her own posts, which then snowballs throughout the class. I make sure to call out this growth in the grade book, since these students tend to be more reserved than others. When students feel connected and that their voices are important, they strive to put their best foot forward and come out of their shells. Developing rapport is about connection, a sense of shared vulnerability, and a sense of shared success.


Looking Ahead
The next installment of OFYE Matters will focus on a skill that many OFYE students struggle with, time management. OFYE students who are able to establish strong time management skills early often find success. In our next blog we seek to discover the strategies educators use to help students strengthen this important skill. As such, please share your thoughts on one or more of the following:


How do you approach "time management" in a way that resonates with your students?
What strategies or technologies do you share with your students to help them strengthen their time management skills?
How do you showcase the value of this skill and make it relevant to students both in and out of the classroom?
Are there technologies that you use as an OFYE educator to help students stay on track with their work and participation in class?
What common time management challenges do your students most commonly experience, and what do you do to resolve those specific challenges?
How do you proactively navigate time management challenges like the holidays with students to help them find success?
Please submit your short two- to three-paragraph – 300-450 words maximum responses for publication consideration. Send to Jamie Holcomb, associate dean of First Year Experience, at j.holcomb@snhu.edu by Jan. 19.

We will regularly pose questions about specific OFYE challenges and seek responses from educators for each post. Our goal is to work together to help our new online learners find success. Read our most recent OFYE Matters blog here.

We also encourage you to continue the conversation in the comment area. Working together we can increase our virtual toolbox of skills, best practices, resources, ideas and strategies.
Explore more content like this article
May 26, 2021
The world is over a year into the COVID-19 pandemic and some people are growing tired of public health measures. What are some of the things that can be done to combat pandemic fatigue?
March 25, 2021
The importance of empathetic teaching in an online environment cannot be understated. Students appreciate when instructors show concern for what is happening in their lives, and having an instructor with a teaching approach that focuses on empathy helps them navigate anxiety or uncertainty.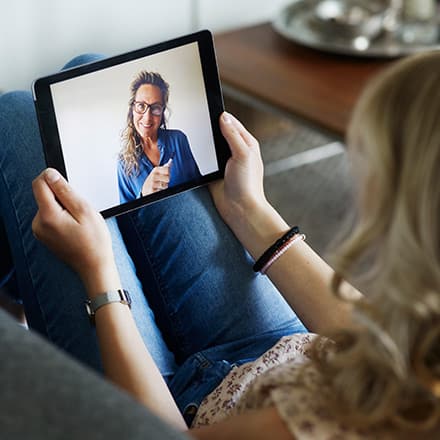 February 11, 2021
Consider what your role might be as a mental health advocate; someone who gives a voice to the problems and potential solutions related to mental health and mental health awareness. To advocate means more than just giving voice; it means to fight.