What Degree Do You Need to Become a Nurse?
If you've ever considered the field of nursing, the time is now to change that consideration into a solid to-do. A lot of factors, from a changing healthcare system to aging Baby Boomers and many Registered Nurses (RNs) nearing retirement, are contributing to a "critical shortage for nurses" in the United States, according to the American Nursing Association (ANA). This shortage means "employment of registered nurses is projected to grow 15% from 2016 to 2026, much faster than the average for all occupations," the U.S. Bureau of Labor Statistics (BLS) reports. Meanwhile, employers are offering perks and incentives to recruit and retain nurses, according to CNN.

In other words, now is an optimal time to consider a career in nursing. So, what degree do you need to be a nurse? While it may seem obvious that it would a degree related to actual nursing but there are few things to know about how to proceed.

"Nursing is unique among the healthcare professions in the United States in that it has multiple educational pathways leading to an entry-level license to practice," according to the 2011 "Future of Nursing" report from the Institute of Medicine (IOM). And regardless of which educational pathway students complete, they also need to pass the National Council Licensure Examination, or NCLEX-RN, to become a licensed RN.
What Education is Needed to Become a Nurse?
The ideal path to achieving a nursing degree should align with your professional goals while also building on your experience in the healthcare field. With that in mind, let's look at the different nursing degree options available.
Bachelor of Science in Nursing (BSN)
"A baccalaureate education is the preferred route for preparing someone to take the licensure exam in nursing," said Margaret (Peggy) Moriarty-Litz, chief nursing administrator at Southern New Hampshire University. Bachelor degrees in nursing take about four years to complete and are offered at accredited colleges and universities.
"A nurse prepared at the baccalaureate level is required to have the knowledge, skills and attitudes to deal with the increasing complexity of patient care, which is the result of increased life expectancy, a more diverse patient population and rapid patient turnover in hospital admissions," Moriarty-Litz said.
In addition to the necessary science education, BSN-prepared nurses learn the soft skills that are, in fact, vital skills in the profession. According to Moriarty-Litz, these skills include:
Communication – This means being able to converse clearly and effectively with people (patients and colleagues) from diverse backgrounds and cultures.
Collaboration – Working as part of inter-professional teams, including doctors, pharmacists, medical technicians and case workers, has become the standard of nursing and all health professions education, according to the National League for Nursing.
Critical thinking – Problem-solving through interpreting, analyzing, and evaluating is deemed an essential skill for nurses in a 2014 "Acta Informatica Medica" journal article.
Organization – "It's important for nurses to be organized and methodical in how they approach their responsibilities, especially since many aspects of nursing care are time-sensitive," Moriarty-Litz said.
Finally, hospitals employing larger numbers of BSN-educated nurses are associated with decreased patient mortality rates, according to research by Linda H. Aiken and her co-authors.
For these reasons, the IOM report recommended that "the proportion of nurses with baccalaureate degrees be increased to 80% by 2020." In other words, nurses holding a bachelor's degree will be sought-after in the workforce. Yet as of 2017, the American Association of Colleges of Nursing (AACN) found that the current nursing workforce "falls far short of these recommendations with only 55% of registered nurses prepared at the baccalaureate or graduate degree level."
Associate Degree in Nursing (ADN) or Nursing Diploma
An alternate educational pathway to becoming a registered nurse is earning an associate degree in nursing (ADN) from a two-year program at a community college or vocational school or a diploma from an approved nursing program. "While a BSN is the optimal way to go, some second degree or non-traditional students might choose one of these options," said Moriarty-Litz.
An ADN or diploma is also an educational stepping stone for licensed practical nurses (LPNs), the health services professionals who provide basic nursing care under the direction of RNs. If an LPN aspires to become an RN, this incremental approach "is a great way to earn some money while going to school," Moriarty-Litz said. "It also lets LPNs build upon their foundational educational knowledge."
While the nursing profession embraces nurses from all backgrounds and levels, "we encourage them to continue on their education to earn a baccalaureate degree, a master's degree and even beyond," said Moriarty-Litz. To this end, many colleges and universities offer degree programs that build on a student's existing credentials, such as the:
These bridging degree programs let you develop your professional identity as well as progress in your career by opening doors to nursing positions in an array of settings, from hospitals and doctor's offices, to schools and long-term care facilities.
Advanced Degrees in Nursing
According to the IOM report, nurses with graduate degrees are needed to "assume roles in advanced practice, leadership, teaching and research." The IOM continues:
"While 13% of nurses hold a graduate degree, fewer than 1% have a doctoral degree. Nurses with doctorates are needed to teach future generations of nurses and to conduct research that becomes the basis for improvements in nursing science and practice."
Graduate degrees in nursing include:
Choose a Nursing Degree That Fits with Your Professional Goals
Different nursing positions require different levels of education. Ultimately, the type of degree you need to become a nurse depends, in part, on the type of nurse you want to be.
Fortunately, there are a range of options: from the bedside to the boardroom, hospitals to hospices, schools to specialty niches, and options in between. The key is to identify your personal career goals and aspirations, and then build on your credentials and experiences along the way.
Whichever path you choose, you're positioning yourself to make a difference in healthcare and the lives of others while creating a career with incredible opportunities.
Sofia Tokar is a freelance copywriter and editor in higher education. Follow her on Twitter @stokar or connect on LinkedIn.
Explore more content like this article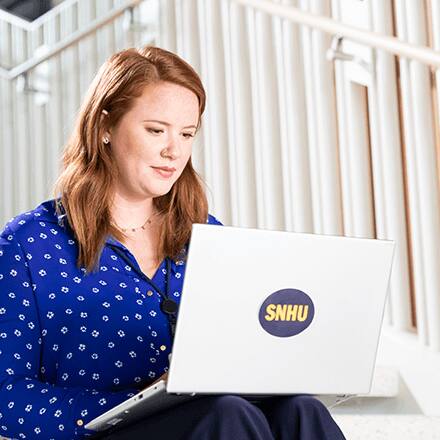 July 15, 2021
Like many high school graduates, Ali Lamoureux wasn't sure of her next steps. After kickstarting a career in healthcare, she eventually found her passion in hospital administration and came to realize that she would need a college degree to advance in the field.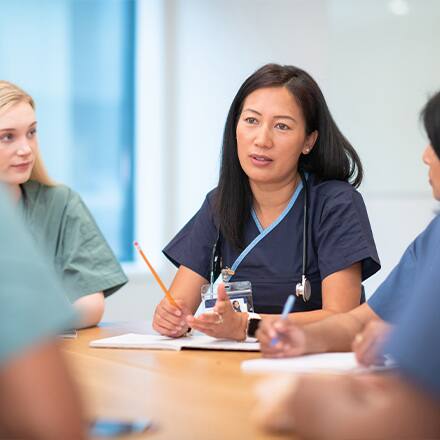 July 13, 2021
Leaders are found everywhere. You name the setting; we look toward leaders at the helm, and the nursing profession is no exception. Leaders in nursing are influencing healthcare organizations at all levels, and in every setting and discipline.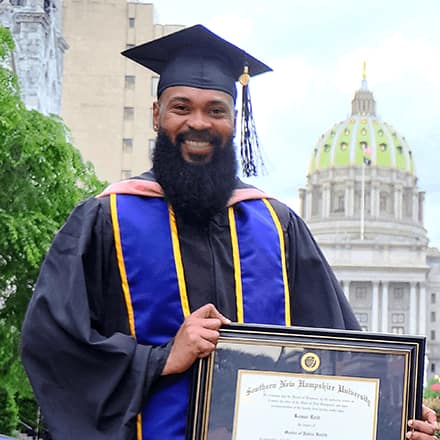 July 12, 2021
Kemar Reid didn't just earn two degrees by attending SNHU. He learned how to help others improve their lives and that, with some hard work and focus, he could achieve anything.