New Study Demonstrates the ROI of Education for Frontline Workers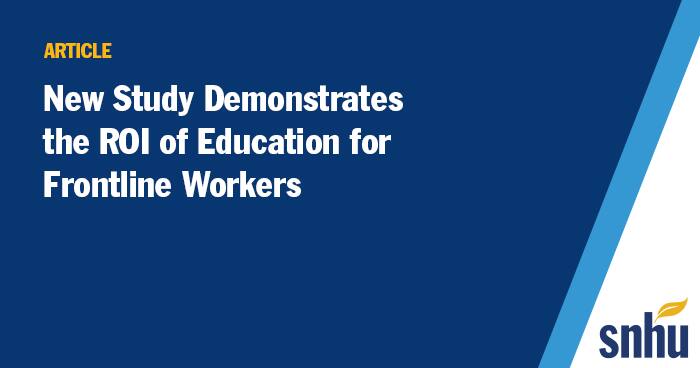 Southern New Hampshire University and the Walmart Foundation recently partnered on a study to measure the skills frontline employees develop when they participate in learning and development (L&D) programs. These metrics can be critical, given that investments in workplace L&D often exclude frontline employees and focus on manager-level roles and above.
A recent study by the Committee for Economic Development (CED) made clear why these learning opportunities are needed: increasing competition from abroad has created an economy that puts a growing premium on worker knowledge, yet fewer than 40% of Americans have a college degree.
Educating frontline employees, and promoting from within, also helps companies build an internal talent pipeline. This is critical in a talent market where jobs requiring some form of postsecondary credentialing vastly outnumber American frontline workers who have those skills and credentials.
Earlier studies have already shown a significant return on investment from tuition assistance programs for frontline employees. For example, consider these studies by the Lumina Foundation:
Each of these reports found a positive ROI that extends both to the workers themselves (in terms of earning and promotion potential) and to the company. The employer benefits from a better trained workforce, better retention and an internal recruitment pipeline for management positions.
The numbers are compelling, but so is a closer look at why tuition assistance and L&D programs work and how they can most effectively upskill frontline employees.
Further reading: Perk or Investment? Q&A with Lumina Foundation on Their Tuition Assistance ROI Studies
Results from the Walmart Foundation study
In the newly released study by the Walmart Foundation, researchers followed first-year students enrolled in Southern New Hampshire University's competency-based College for America program between July 2016 and May 2017. The self-directed degree is offered completely online, where students can engage with the curriculum on their own schedules.
The results of the Walmart Foundation study echoed findings in previous ROI studies:
48% of employers indicated College for America students had higher retention rates than other employees.
43% reported that College for America students were less likely to be absent.
43% reported College for America students were more likely to be promoted.
But most encouraging was the increase in skills directly related to those required for higher-level jobs in management. The study evaluated the progress from tactical skills (following directions, work ethic and customer service) toward strategic-thinking skills required in management positions (decision making, information gathering, communication, teamwork, initiative and creativity).
The study found these were the skills most likely to be developed through the College for America curriculum. Students and managers reported an increase in critical thinking and written communication (skills that are strongly associated with career mobility in the workplace) and an improvement in teamwork skills.
Meanwhile, 44% of managers reported increased strategic thinking among College for America students. Additionally, 89% of students reported that they felt their writing had improved.
Further reading: The Difference Between Training and Education, and Why Employers Need Both
Educating frontline workers gets results
Overall, the findings of this study have suggested that investing in the education of frontline workers can foster the types of skills necessary to help them move from tactical entry-level positions to more strategic management positions. But education can do more than that.
As the study notes, "Among the biggest outcomes for these students was a transition from the 'potential' to the 'possible.' Students now felt their goal of attaining a degree was possible, as was their hope for a promotion."
As students became more confident in their ability to attain education, researchers reported, many moved from hoping they would complete an associate degree to planning to achieve a bachelor's or even a master's degree.
To learn more about how educating frontline workers can have a positive impact on their skill sets and the company, read the study here.
Explore more content like this article