OFYE Matters: Growth Mindset
New online learners begin their academic journey with a tremendous amount of excitement. For many, they are taking the first-step to achieving goals they have had for many years. Tackling new challenges isn't easy, and it doesn't take long for the initial excitement to fade once obstacles begin presenting themselves. For new online learners who often struggle with self-efficacy, even small obstacles can quickly become barriers that deter students from continuing on their path. Southern New Hampshire University (SNHU) instructor, Melanie Schopp shares,
"As educators, we must first break down the "fear" barrier to student success. Students need to believe in themselves and know that they have academic support and resources behind them to achieve success."
Helping students embrace obstacles as learning and growth opportunities rather than barriers is one of the challenges OFYE educators regularly face. While challenging, helping students to achieve this transformation can significantly increase the likelihood that they obtain their goals. To learn more about the strategies to help learners embrace a growth mindset, we asked OFYE educators the following questions:
How do you help OFYE learners move from a fixed mindset to a growth mindset?
How do you present or develop course content that encourages students to continually stretch themselves to improve?
How do you present assignment feedback in a way that helps students embrace opportunities for further development rather than focus on the grade as the outcome?
Below are some of the strategies that were shared.
Create a sense of belonging.
Melanie Schopp, SNHU learning community facilitator and instructor:
Students need to believe in themselves and know that they have academic support and resources (amenities) behind them to achieve success. The simple power of positive thinking and for students to have a place to "belong" can impact the movement from a fixed to a growth mindset. At Southern New Hampshire University we provide students with an online community outside the classroom where students can interact with their peers in a non-academic space. This community is called a "Learning Community." This space offers students support outside the classroom based on academic/course content, and also allows peer interaction. The key to this community is students "see" that others feel the same emotions and they are not alone. One of the first things we discuss in this community is my personal motto, "You got this!" It is a quick, positive affirmation to help students understand they curate their academic journey and the energy they put in, is what they get out of it.
Foster a culture of growth.
Dr. Newton Miller, Associate Dean of Education, Ashford University:
In order to help promote a culture that fosters a growth mindset for OFYE learners, educators should lead by example. Stanford University professor and author of Mindset: The New Psychology of Success, Carol Dweck, states in Education Week that when educators focus on why someone is not learning, instead of working to find a way to help them learn, they are themselves operating in a fixed mindset. If that is what the educator plants in their students, then that is what will grow. She labels this phenomenon the "False Growth Mindset." Very often finding the way to help OFYE students learn calls for educators to change their belief systems in order to extend the mile they are willing to walk with their student in order to assist them. Dr. Dweck goes on to say that this can be problematic for many educators because no longer is the responsibility to grow solely on the student… educators' ethics, values, and passions are also placed in the spotlight.

Offer personalized encouragement.
Melanie Schopp:
I feel it is necessary to remind ourselves, as faculty, of the student emotions attached to each assignment and the communication we have with our learners. As we move through our course material, it is key to think about ways to incorporate our academic content into the daily lives of our students "outside" the classroom. Students benefit from knowing how they will use concepts, skills, and ideas now in addition to in their future career. I like to "teach" in a way I would work with my peers or even my loved ones by giving realistic scenarios and providing a way for the learner to "see" themselves using the academic material. Our OFYE students have typically overcome so much in their personal lives and demonstrated personal "grit," but when it comes to academics, they are unsure how to "dig deep" for their success when hurdles impact their journey. As an OFYE faculty member, it is our job to remind them they are worth being there, they are working hard, and we need to help build them up to achieve "academic" grit through personalized encouragement.

Embrace individual interests and motivations.
Joel D. Hanlon, Director, New Student and Family Programs, Radford University:
Many of the early assignments in my course are reflection journal entries. This allows me to get to know my students and how they are handling the transition to college. I try to provide an open-ended question that allows the student to dictate the direction that the journal will go. Some of the topics include highs and lows since coming to college, something they are excited about, something they wish they could change, living situations, campus engagement, connections, favorite courses, etc. The later assignments have very specific requirements, but I leave the topics up to the students. This allows students to grow academically while still addressing a topic that interests them. …

Deliver highly personalized feedback in multiple formats.
Melanie Schopp:
Feedback can be tough for many people, let alone OFYE students. Often our students crave feedback but are unsure what to do with it or if they can question our comments in addition to being fearful of what we as faculty want to share with them due to a previous difficult interaction at some point in their life.

I think it is imperative to craft personal responses to each student. This helps students see more of an academic relationship and that you as a faculty member want them to succeed, but changes need to be made to the students work. Our academic guidance needs to provide specifics such as what the student does well and then offer detailed information and/or examples on how they can improve. In addition, offering students the opportunity to connect with academic resources (amenities) for their success helps them to see they have support to achieve goals.

Another thing to consider is the delivery of our feedback and offering it in a variety of ways. I feel to achieve a state where students focus on development opportunities from feedback versus only thinking numerically about their grade OFYE faculty should personalize it for their success. It would be beneficial to know the best way to approach a student outside the grade center to offer the best academic service. Ideas for this are to work through a student advisor, contact the student via email, or even by phone to discuss their success.

Joel D. Hanlon:

The purpose of individual feedback meetings with my students is twofold: First, I find out if the student does not understand something about the material or teaching style. If so, I clarify any information that may be in question. Second, I go through the syllabus and breakdown of assignments. I show students that missing an assignment early on is not the end of their college career, and I give them a chance to make up the assignment for partial credit. By emphasizing their potential for success, students do not focus so much on the one negative grade. By developing journals and making connections with the students, I can have these conversations with students in an impactful way. It is critical to meet the student in their transition and support them. Each student has a very different roadmap to making the successful university life transition.

Focus on student goals while working to raise the bar.
Dr. Newton Miller:
(O)ne of the most powerful things educators can do for OFYE learners is to constantly remind them that their final destination in life is not based on innate ability. It is directly proportionate to the amount of hard work, access to learning, training, and positive expectations targeted at developing new skills, resiliency, and motivation to change in which they are willing to participate. Educators must also be aware that many OFYE learners are also non-traditional learners that have been deemed at-potential (I refuse to say at-risk), thus accommodations should be embedded in the course room to support immediate success in the course and to raise the bar of expectations by teaching to mastery and accepting only what is expected. For example, here are some things educators can employ to model a growth mindset and raise the bar of expectations:

Employ relaxed deadlines to remove the anxiety attached to turning in assignments on the clock. After all, what does that have to do with mastering the course learning outcomes?
Provide exemplar examples of past student work to show learners what is expected and communicate the message that they can do the same, or even better.
Distribute motivational quotes, and self-made videos that provide tips for the week and humanize the online experience. This shows your OFYE learners that you "have their back" and that encourages them to keep pressing forward.
Deliberately unload a heavy dose of a mixture of 50% honest and direct feedback combined with 50% positive reinforcement to keep the learners encouraged about what they have done well, and realistic about attacking their areas of opportunity.
Provide pointed feedback on assignments and return them to learners without grading them.
Telling the learner to re-submit a revised edition of the work, and once they do, grade it.
These strategies may cost educators a little time and effort, but they demonstrate to learners that their instructor is willing to put their money where their mouth is, while simultaneously ensuring that the educator is not operating in a false growth mindset. The outcome and reward of this extra effort is a breeding of a fixed mindset in the learners being served.
Next Blog Topic: Technology to Build Bridges
Technology continues to advance quickly and new technologies become available for use all the time. As we know, it can be easy for new online learners to feel disconnected and isolated in their virtual classroom. Creative applications of technology by OFYE educators can create bridges to engagement and mastery of concepts for new online learners and can help them find success while reducing feelings of isolation. Our next blog seeks to discover the many ways technology is being leveraged as a bridge to student engagement and success. If you work with first-year online students, please share your thoughts on one or both of the questions below:
What technologies are you using to build bridges to student engagement?
How are you leveraging technologies to help students master first-year course concepts?
To submit for publication consideration, please articulate and email one to three-paragraph responses to Jamie Holcomb, Associate Dean of First Year Experience, Southern New Hampshire University at j.holcomb@snhu.edu by Monday, February 4.
Please note: All submissions will be reviewed and edited for grammar, format, and readability.
Explore more content like this article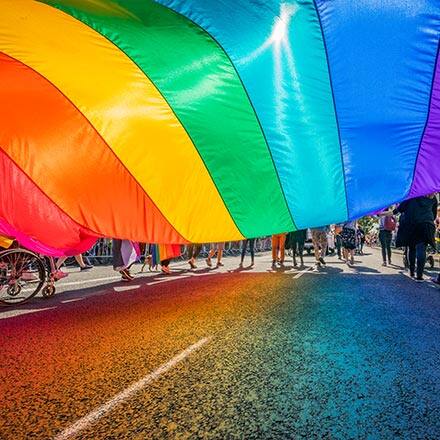 June 24, 2021
What about clips from the article, like: In a world where some believe and display that LGBTQ+ lives do not matter, we must continue to show the world through our pride that we do matter. When we learn to be prideful, we can continue to change the world for the better and be a beacon of light to those who are watching and waiting for us to come forth as possibility models for those who are fearful of exhibiting PRIDE.
May 26, 2021
The world is over a year into the COVID-19 pandemic and some people are growing tired of public health measures. What are some of the things that can be done to combat pandemic fatigue?
March 25, 2021
The importance of empathetic teaching in an online environment cannot be understated. Students appreciate when instructors show concern for what is happening in their lives, and having an instructor with a teaching approach that focuses on empathy helps them navigate anxiety or uncertainty.