Creating Leadership Paths for Veterans Through The Walgreens HERO Program

Idea in brief:
The Walgreens HERO program is a commitment to hire and develop military veterans for management and leadership roles. Read here about how they partner with SNHU to provide online degree programs for those employees.
For Walgreens, community social responsibility (CSR) has been part of the company's DNA since the beginning. For example, Red Nose Day raises funds to address child poverty. And Walgreens' Get a Shot. Give a Shot. campaign provides more than 20 million lifesaving polio and measles vaccines around the world. Now the company's CSR report has a new example of how they are giving back to communities.
A new initiative, the Helping Veterans with Educational and Retail Opportunities (HERO) program is expanding this CSR mission to help veterans. Through the program, Walgreens and Southern New Hampshire University will provide career and educational opportunities for 5,000 U.S. veterans over the next 5 years.
The HERO program, which launched in late-2018, has long been a vision for Christine Kallis Rivera, Walgreens' principal in career development. In the company's quest to create something that was truly unique and valuable to veterans, said Rivera, Walgreens didn't want to simply stop at hiring veterans for entry-level positions, which often don't resonate with the experience service members have had in the military.
"Our servicemen and women gain a lot of leadership experience in the military, and that can be easily translatable to a leadership position in one of our stores," said Rivera. "That's what makes the HERO program different. We are offering a store leadership career path."
Transferring military skills into the civilian workforce
As part of the Walgreens HERO program, the chain committed to hiring veterans into shift lead and assistant manager roles. That on-the-job training, combined with the opportunity to take college courses that build toward a bachelor's or master's degree, is designed to put veterans on a leadership pathway within the company.
To better understand how to help veterans succeed in civilian career paths, Walgreens has been working with veterans organizations to identify what skills across different levels of the military are easily transferable. Flexibility, communication and problem-solving skills honed in the military translate readily into leadership in the civilian world..
They then provide that data to the members of their team who are in charge of posting jobs and interviewing candidates for the HERO program.
Identifying these skills helps with interviewing and hiring, as well as recruitment. Walgreens' local HR teams have been building relationships with local military transition offices and veteran organizations like the American Legion and Veterans of Foreign Wars.
Creating a career path through leadership and education
Once veterans are hired into leadership pathway positions, Walgreens and SNHU are working together to help further develop those skills through work-relevant college courses. Veterans hired through the HERO program receive a 40% discount on tuition, which is applied on top of any additional federal student aid benefits. This makes attaining their bachelor's or master's degree an affordable option.
SNHU's commitment to providing affordable, accessible education to veterans and other military-affiliated learners made the university a good fit to partner with Walgreens' HERO program, said Jade Poduska, SNHU's director of strategic partnerships.
"Education really does change people's lives," said Poduska. "Being able to truly have that as part of our mission and our values resonated with them."
Along with a tuition discount, SNHU's commitment to military learners include a dedicated team of academic advisors who come out of the military themselves, and whose job it is to support and encourage veterans who are pursuing their degree.
At Walgreens, veterans will also receive on-the-job leadership training with the goal of developing the skills they need to become store managers. From decision making and critical thinking about customer service issues to managing a staff of more than 20 team members, these kinds of skills are not only developed in the military, but honed through a liberal arts education.
Walgreens HERO program built on educational partnerships
Walgreens was attracted to working with SNHU in part because of the university's rich history of serving the military, said Rivera. But it was a visit to meet with SNHU's president Paul LeBlanc and hear stories of the work SNHU has done with communities around the world that made them realize that SNHU was the perfect partner for the program. "Our CSR effort naturally aligns to the vision of what SNHU does," she said.
Along with providing educational opportunities to veterans through the HERO program, SNHU and Walgreens will also partner to offer affordable, accessible degree programs to the rest of the company's employees at their 9,500 store locations across the states, said Poduska.
She is looking forward to developing new initiatives with Walgreens, as well. One example is a youth program in Chicago where Walgreens has hired underprivileged and underemployed youth in order to give them a job and assist with college tuition.
"I always tell Jade that this is just the start," said Rivera.
Contact us to learn more about how SNHU works with employers to develop career pathways for veterans and their families.
Explore more content like this article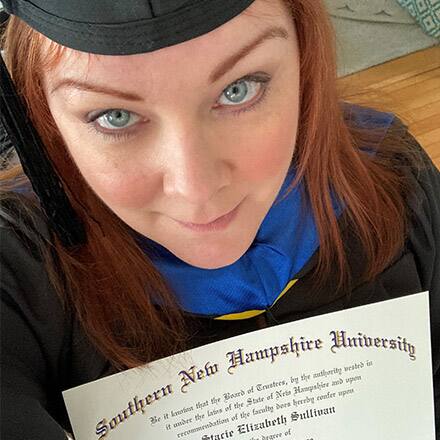 September 08, 2020
For years, Stacie Sullivan '19 felt stuck in her career, sensing her opportunities to advance were limited. After a series of challenging life events, Sullivan enrolled in the BS in Health Information Management program at SNHU.
July 01, 2020
Just a year after she decided to go back to school, Shereka Johnson-Bean '20 is preparing to submit the final project for her bachelor's degree.
June 12, 2020
Shannon Griffin's first job was as a crew member at a McDonald's restaurant. She's still working at McDonald's, but her role is a whole lot different thanks to her hard work and the degrees from SNHU.