A Q&A with Newly Published Creative Writing Alumnus, Poet
In a little more than a month, Michael Garrigan '19G achieved two major goals. In May, he graduated with his MA in English & Creative Writing, and in June, he published his first chapbook.
The idea for his chapbook, "What I Know [How to Do]," began with a poem he wrote in his capstone class at Southern New Hampshire University (SNHU). Pleased with his work, he wrote more poems that encompassed its "how to" theme, ultimately creating a collection that would be picked up by Finishing Line Press.
Ahead of the chapbook's presale, Garrigan spoke about the role his education played in his achievements.
Have you always written poetry?
Though I've always written poetry, my undergraduate work at the University of Pittsburgh and early publications were focused on creative nonfiction. However, as I progressed through the MA in English & Creative Writing program at SNHU, I began to write more and more poetry. Now it's what I write the most, though I still love to explore longer prose pieces when I have the space to do so. Poetry seems to be where my voice is most comfortable. Even when I am working on an essay, it now usually starts out in some poetic form.
What's your process in developing poems?
Each poem is a bit different, but almost all of them start in my Moleskine notebook. Some start with one phrase or image while others come to hand nearly completed. Once I have a good sketch of a poem scribbled out, I'll type it and from there the process of editing and revising begins. Sometimes a poem will only be revised once or twice and it's done, while I tinker a lot with others. I may write a poem and finish it six months later, when the right image or line comes into focus.
I tend to approach each poem singularly; however, for this chapbook, I wrote them all in one document. I knew, once I wrote the first two poems, that they were going to be a collection and I wanted each one to speak to a different person, but to also speak to each other. Audience is not usually my primary focus when I write a poem, but for this collection, the imagined audience was a major influence on each poem.
What challenges do you face in your writing, and how do you overcome them?
I think the biggest challenge for me is creating the time and discipline to sit down and write. One of the best things about going through the MA program is that it helped me get into the habit of focusing my attention on writing. Oftentimes, I would only write when I felt "inspired," which I quickly realized was not nearly enough. Now, I try to give myself a set amount of time each day to write and create. I recently came across this great quote from Nick Cave's blog, "The Red Hand Files." He writes that "the creative impulse is simply the strategy used to catch ideas. Ideas are everywhere and forever available, provided you are prepared to accept them. This takes a certain responsibility to the artistic process. There is discipline and rigor and preparation involved. You must prove yourself worthy of the idea." I try to look at writing as more than just a creative outlet, but something I must do every day in order to tap into that creative vein we all have.
What has the road to publication been like for you?
Very interesting. This is all new to me, so I feel like every acceptance and rejection is a learning experience. This chapbook will be my first published collection. It's been incredibly exciting in how it's moved me out of my comfort zone as a writer. I've had to reach out to ask other writers for blurbs, work with an artist on the cover and work with the publisher regarding all the prepublication requirements. ENG 540 - Contemporary Writers and Publishers really helped me get my writing and publishing platform ready for this process. In particular, Professor (Steven) Brodsky gave me a lot of support and encouragement in regards to what the publishing process looks like. I already had so much of what I needed – a solid understanding on how to write a query letter, an author bio, and the start of a platform – that the publication process for this chapbook came together pretty authentically for me.
How do you plan to market your work?
Promoting my own work isn't something that comes naturally to me. I know that self-promotion is an important part of being a writer, so it's something I need to actively pursue. I'm still finding my voice and identity as a self-promoter. I have a website which I use as an online portfolio and blog. I also use social media – mainly Twitter and Instagram – in order to connect with other writers and share my work. I plan on reaching out to the literary magazines that have published my work in the past to look for support of the release of my chapbook. Additionally, I'm exploring opportunities for public readings at local bookstores and universities.
What do you wish you knew when you first started writing?
To be a writer, one needs to write. I heard this all throughout my undergraduate program at the University of Pittsburgh, but it wasn't until I actually made writing a daily practice that I realized how true that statement is. Also, it's incredibly important to find other writers that you can share work with that you trust will give you honest, critical feedback. (At SNHU,) I was lucky enough to have Prof. (Andrea) England for ENG 528 - Poetry Fundamentals. She is a great professor who not only offered me perceptive feedback on my writing, but, more importantly, taught me how to be critical of my own work.
For a long time, I thought writing was a solitary thing. It isn't. Even when I'm alone, putting pen to paper, I know there will be an audience for these words, even if it's just another writer who will tell me what works and what doesn't.
Who are the poets that have inspired you most, and how have they inspired you?
Todd Davis, Robinson Jeffers and Jim Harrison are three poets that have helped shape my own voice as a poet and writer over the past couple of years. Todd Davis is also from Pennsylvania, so reading his poems is like walking up a mountain stream with an old friend. I love Harrison's voice and sense of humor. He has shown me that poems can easily be stories. Lyrically and stylistically, Robinson Jeffers pushes and challenges me to write a line in a way I haven't. All three of these writers have a keen eye when it comes to the natural world. They are able to capture landscapes, moments and life in a way that is unique and deeply moving.
Persuade someone to read your chapbook in 50 words or less.
"What I Know [How to Do]"is a collection of poems that explores how to connect deeply with the land you stand on and the fires you build. The poems climb Katahdin and survive blizzards. They run rapids and tell us how to make mountains, create lakes and read landscapes.
Did you work on any of the poems during your classes?
Yes, I did! I wrote two of the 25 poems in the collection as part of my capstone course. It was great to get peer feedback on them as it helped me hone my voice and focus for the entire collection. "What I Know [How to Do]" grew out of a full-length collection I've been working on for the past two years. I wrote "How to Make a Mountain" for that collection, but then followed the notion of the "How to" poem to end up with this chapbook. It was a really organic process. It felt like I tapped into a creative current as I wrote this set of poems. They all seemed to speak to one another in a way that I had not experienced before as a writer. The way in which the poems are sequenced in the collection are almost exactly the same order in which I wrote them.
For a sneak peek at Garrigan's poetry collection, here is 'How to Make a Mountain.'
Prayer hands push up and break the crust
and dirt and rock tumble across the back
of your hands, but keep the fingers together,
that is your power, that is where you reach
to and once your thumbs are out, flick them
to the side and there, now you have a ravine
and when it rains water will flow and salamanders
will crawl their way around the little pebbles of your knuckles
and there will be a river that rushes by your wrist that cleanses
that murmurs lines of dialogue and direction. Listen.
Rebecca LeBoeuf '18 is a staff writer at Southern New Hampshire University. Connect with her on LinkedIn.
Explore more content like this article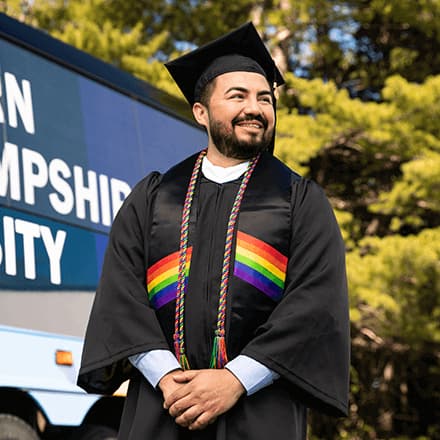 July 19, 2021
The moment Jesús Suárez '21 received his diploma in the mail was one he and his family will never forget. This was more than a degree—it was a cap to an incredible journey. While there was a series of hardships along the way, there was a persevering sense of love and accomplishment.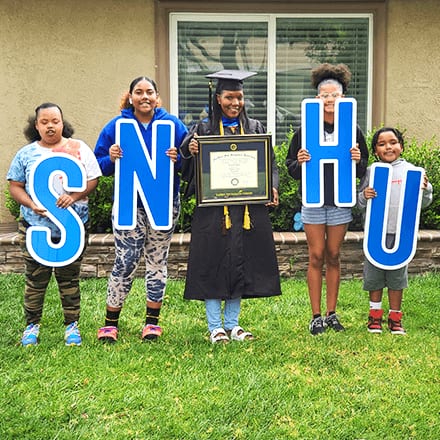 July 12, 2021
Latisha Aguilar '21 has always wanted to be a voice for special needs students and advocate for them. With the goal of becoming a middle school guidance counselor, she said finishing her psychology degree later in life allowed her more time to figure out what she wanted to do with her education.
July 01, 2021
Interested in starting a new job or advancing in your current field? An Associate of Arts (AA) degree can give you the broad-based education and in-demand career skills you need to reach your goals. Learn more about earning an AA degree and what you can do with one.