Q&A with Sports Journalist, Novelist Marjorie Herrera Lewis '16MFA
Marjorie Herrera Lewis' writing career took an unexpected turn when she became captivated by Tylene Wilson's story.
A longtime sports journalist, Lewis wanted to write a biography about Wilson, a woman who coached a high school football team during World War II. When she couldn't track down enough information, Lewis switched gears and decided to fictionalize the story. She hoped to memorialize Wilson's legacy.
"Once I made the commitment to write a novel, I felt an ethical obligation to give this story, based on a real person, my best effort," Lewis said. "I felt in order to do that, I needed to study fiction."
She enrolled in Southern New Hampshire University's Mountainview MFA program, and "When the Men Were Gone" came to life through her MFA thesis. Two years after she graduated, HarperCollins published the novel.
Recently, Lewis shared her journey from journalist to novelist.
Have you always written?
Yes, I have always written but as a sports journalist and not as an author. I've worked for a number of newspapers, including The Dallas Morning News and the Fort Worth Star-Telegram. I'm currently a sports contributor to PressBoxDFW.com.
What's your process in developing your storyline and characters?
This is a great question because my process changed at one point during my writing. Originally, I wrote the novel in third person, but once I changed it to first person, my process changed.
At that point, I began writing through the night. I'd sit at my kitchen table, put on a Brownwood High School letter jacket, put a photo of the real Tylene Wilson next to my computer and start writing. I wrote what I believed Tylene would tell us, so I got into "her head," and the story began to flow from me.
I didn't plan, or outline, or determine what the story would be in advance. I just let the storyline and the characters take me on the journey.
What challenges do you face in your writing, and how do you overcome them?
I've written for so long under daily deadline pressures that I found writing a novel to be a much more relaxing experience. That is not to say that it wasn't challenging — quite the opposite.
To start off, what I found most challenging was finding the information I needed to build the story. In fact, I originally intended to write a biography using my journalism skills. When I discovered much of the story was lost to time, I decided to fictionalize the story so I could memorialize what Tylene had accomplished.
Learning a new writing style as a novelist was the most challenging. Writing fiction is a completely different writing skill than the one I had utilized as a journalist for so many years.
What has the road to publication been like for you?
Because "When the Men Were Gone" is my debut novel, I had no idea what to expect on the road to publication. What happened was once I signed with my agent, Andrea Somberg of the Harvey Klinger Agency in New York, I left it up to her to find a publisher. Fourteen business days after I signed with her, she sold the novel to the William Morrow imprint of HarperCollins.
I was elated, especially because I hadn't finished the novel yet. So for me, the experience was wonderful. A month later, she (Somberg) secured the film rights, and so I then went into high gear to get the novel finished.
How do you market your work?
This has been an interesting experience. For the first four months, I was basically told by my publisher to stay out of marketing and leave it up to them. Anytime someone would reach out to me, I was asked to forward the information to my HarperCollins publicist and marketing reps, and they would handle it. I didn't expect that; yet, being a debut novelist, I really had no idea what to expect.
Since then, I've been marketing with and without my publisher, using materials they supplied, including videos, ecards, printed materials, and so forth. I use social media, and I speak often – with one engagement often leading to several other engagements. The novel has been out (for) seven months, and I still have speaking engagements weekly and up to three per week. It's been unbelievable.
What do you wish you knew when you first started writing?
If I had known how much I'd love writing a novel, I would have started years ago. Regarding this one, had I known I was going to settle on a first-person narrative, I could have saved a lot of time and a lot of drafts. But I'd say starting out in third person did result in a lot of learning, so I have no regrets.
Persuade someone to read "When the Men Were Gone" in 50 words or less.
Immerse yourself in "When the Men Were Gone," to experience life in small-town Texas during World War II through the eyes of a grieving mother who, in her efforts to pierce a world for "men only" as a football coach, exemplifies perseverance, strength and fortitude, all in service to others.
Who are the authors that have inspired you most, and how have they inspired you?
This is a tough question because, as a journalist, I didn't read many novels. I read lots of biographies and autobiographies, several written by journalist friends of mine. So I'd have to say I was most inspired by my friends who went on to write books:
Mitch Albom
Melissa Isaacson
John Feinstein
Christine Brennan
We all came up the sports journalism ranks together, but they began writing books before I did, and I admired their tenacity.
If you could keep just three books in your library, which would you choose and why?
I love reading about the lives of people, so one book I would keep and read over and over is the memoir by Katharine Graham (former owner and publisher of the Washington Post), "Personal History," which won the Pulitzer Prize. For fiction, I'd select "Breakfast at Tiffany's" by Truman Capote. For inspiration, I would keep the Bible.
Read a sample of "When the Men Were Gone."
Rebecca LeBoeuf '18 is a writer at Southern New Hampshire University. Connect with her on LinkedIn.
Explore more content like this article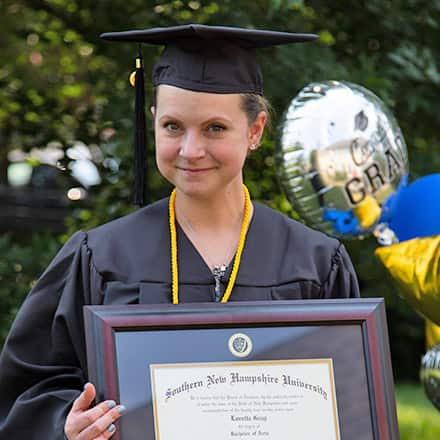 September 15, 2021
Loretta Gray started her college career in 1997, but finances took her away shortly after. Just a few weeks ago, the two-time cancer survivor completed her bachelor's degree in history. Little did she know, her husband and SNHU were planning a special diploma delivery for her.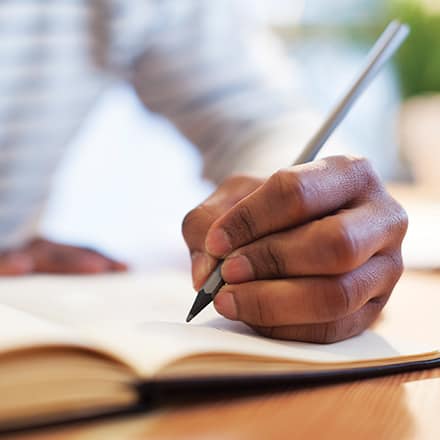 August 05, 2021
An MFA stands for Master of Fine Arts and is a graduate-level degree earned by students who study and practice visual arts, performing arts, design or creative writing.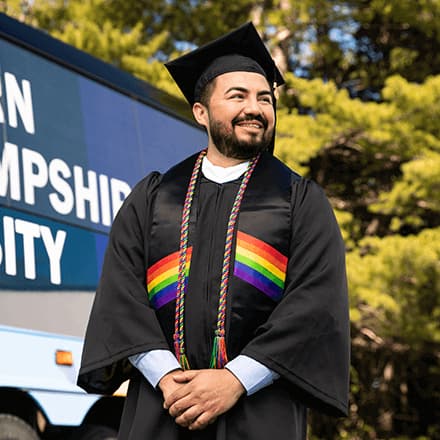 July 19, 2021
The moment Jesús Suárez '21 received his diploma in the mail was one he and his family will never forget. This was more than a degree—it was a cap to an incredible journey. While there was a series of hardships along the way, there was a persevering sense of love and accomplishment.