Becoming Mr. Miyagi: Part II
The Challenges of Designing the Next Generation of Higher Ed Learning Experiences
In the first part of this two-part series about the challenges of designing higher ed learning experiences, I talked about program performance and user experience as pieces of the puzzle we put together to provide the best experience for our learners. In this second section let's discuss a few more.
Stackability
I am always fascinated to see how an audience responds when I use the music listening or newspaper reading experience to illustrate how industries evolve — Clayton Christensen would say "are disrupted." Clark Gilbert would say "transform." Books, conferences and workshops have been produced written on how education is being impacted by social, technological and economic forces, including Clayton Christensen's "disruption" and Clark Gilbert's "dual transformations." Yet in conversations with colleagues, there continues to be one of two reactions: either a "just stop all of this talk about smaller credentials that learners can stack in new ways" (i.e., the music industry with Napster approach) or the "things would be fine if administration and admission would just do a better job of getting more people to buy our hard-earned work" (i.e., the journalists bemoaning newspaper sales approach).
Lifelong learning is a term I have heard my whole life, and yet I have found very few places that deliberately think about how what is happening right now in their classrooms will be relevant to the learner in ten years. There is an immediacy to almost all experience – this fact or skill at this time, even though it may be obsolete almost before you receive your degree. In a world where the vast majority of jobs that will exist in five years is not yet known and it takes a student six years to get a 4-year degree, unless we change our way of thinking about learning experience our students will be playing catchup from the moment they leave us. A few years ago I was attending a conference where a number of institutions were excited about their forays into coding until one of the attendees noted that unless they included more skills their students would be replaced by computers who could do better coding than humans by the time the first cohort graduated. A slight oversimplification in my mind, but the point was valid.
As the technology revolution progresses, there is no escaping that how our learners interact with information – accessing it, processing it will continue to change as well. This is both a conversation about workforce needs and one about simply being able to effectively communicate and discern fact from fiction in a world where the virtual space can easily conflate and confuse the two. Refining current skills or building new ones will increasingly need to happen more often at different points in learners' lives and in smaller bursts. Those bursts are likely to happen in environments where additional degrees or packaged course learning experience fixed in a time or place are as untenable as carrying a phonograph to the gym to listen to during a workout.
In addition to these lifelong learning scenarios, several factors are already impacting the traditional student population with whom we associate the face-to-face campus experience.
These include:
The current generation's aversion to substantial long-term debt leading them to live at home with parents,
Resistance to a multi-year exclusive commitment to the classroom experience at the opportunity costs of other life priorities,
Increasing opportunities to get high-paying jobs without the degree, and
The likelihood of digital native learners so far outpacing the current generation of educators that they essentially operate in two different realities when it comes to how they ingest and process information.
Already new learning models, technologies and daily living demands reflect an increasing influence from corporate and industrial entities. Amazon's $750 million investment in educating its workers outside of the college environment is only the most recent example. Western Governors University's entire raison d'etre is that the governors of Utah and Colorado needed to provide documentable skill sets that businesses were asking for to students who couldn't enroll in college where and how it was being offered. I remind my SNHU team that we didn't start off as a college; in fact we were around for several decades as an accounting school — based on providing students with demonstrable accounting skills (dare I say competencies) before anyone considered whether there was another mission to be served in becoming a university.
This does not mean universities are in danger of extinction but it will draw a clearer line between the role of the university as research centers creating new knowledge, and actors in the space who provide just-in-time learning to individuals in need of upskilling.
For SNHU this has several implications. For years we have developed our learning experiences by marrying practitioners with more traditional academics (one of my colleagues coined the term "pracademics") when it came to designing effective learning experiences. Like a growing number of community colleges, and a number of educational innovators in the space, we have revamped our engineering of learning experiences in a modular fashion so that learners may select various plug-and-play experiences from the portfolio depending on their immediate needs. Those may eventually stack into other larger credentials like courses, but are not required to, as many businesses and learners may never have the need of an actual degree as part of the acquisition and certification of skills.
Distributions Channels
As we focus more on providing the right learning experience to the right learner at the right time, it requires us to increase our agility in conceptualization as well as our understanding of the various populations we serve. SNHU serves a population, rapidly approaching 200,000 learners, including face-to-face; coming of age students; refugees in Africa and the Middle East; adults around the world whose online experience will never require them to set foot on a campus or meet an SNHU team member face-to-face; workforce, community, and military partners; and high school students in concurrent and dual-enrollment programs.
Our program portfolio spans liberal arts, business, health professions, social sciences, and STEM. With a mission of increasing access and affordability without compromising academic quality, we know that a one-size-fits-all learning experience or environment would be counterproductive. Students in various parts of the world learn in different ways, have access to different resources, cope with different environmental circumstances, and will struggle with different concepts at different times.
To allow the power of education to transform these lives requires that we master listening to our learners about their needs/circumstances and marrying those to rapidly evolving edtech capabilities. Our relationships with our vendors — Learning Resources, technology platforms, supporting tools – is heavily dependent on their ability to transcend a client relationship and partner with us in continuously thinking anew about what the learning experience will need to be moving forward.A large majority of our learners continue to participate in traditional learning experience constructs, i.e., courses and degree programs. In that space we constantly challenge our partners and ourselves to get better at helping more learners succeed, with additional focus on those who have a history of not succeeding in traditional environments. At the same time, our work with those nontraditional experiences provides a productive tension that produces innovative solutions across all that we do. How might solutions derived from populations in Africa, where there is low bandwidth or inability to attend synchronous experiences, educate us on how we might be successful on a tribal reservation in South Dakota or with a prison population in Detroit? How might a new STEM virtual lab experience inform what we do face-to-face in our engineering experiences? What have we learned about crafting outcomes and assessments in competency-based education that can help shape how businesses and academics partner more effectively with preparing students?
Team Development
How do you prepare the team to not only survive but thrive in a space where the VUCA (volatile, uncertain, complex, and ambiguous) concept applies not only to the world they are preparing learners for, but one that ripples through their daily experience? No matter who you are in higher education, your job is changing rapidly. One only need look at the higher ed periodicals to see that whether you are a college president or a faculty member, the what and how of your job is transforming. Several years ago I wrote an article describing the challenge for our team as operating in a no man's land, bridging new structures and practices back to things that are more familiar. Our team is immersed in learning how to navigate this space, still needing to network and interact with those in more traditional experiences while anticipating what comes next. To do this, we find ourselves looking more and more outside of educational institutions and to others who are either rising to prominence as the next generation of industry or those long-established industries that have had some success at negotiating disruption.
Two of the first books I had my academic team read were Jim Collins' "Good to Great and Great by Choice," noting how the competing teams to Antarctica ultimately resulted in victory for one and absolute fatal disaster for the other. The secret to success, according to Collins, was three things: fanatic discipline, empirical creativity and productive paranoia. For our team, that has meant not getting distracted by every bright shiny object — a charismatic vendor, an out-of-mission-scope cause, the seemingly apocalyptic innovation that will mean the end of all of higher ed as we know it.
We work to understand how to build a box before trying to think outside of it or tear it down. After several years of ensuring we had built the infrastructure to ensure academic rigor, dotting i's and crossing t's on outcomes, assessments and learning resources, we turned our attention to other industries to learn from them as much as we learned from our academic colleagues. We have certainly never assumed that our past success was an indicator of future success; in fact the opposite is more likely true. Our past success can very easily trap us in complacency. The one guarantee is that like Blockbuster, Tower Records, Kodak, Sears and so many others something will come along to replace our model, so it would be best if we did it ourselves.
In both classrooms and conferences I have often heard it said that the most successful learning relationships are those where instructor and student reach the point where they realize that these roles are often interchangeable, that, in truth, we are all constantly learning and adapting to a VUCA world, that is only going to become more volatile, uncertain, complex and ambiguous. Dr. Paul LeBlanc, our university president, often notes that this is as slow as things are going to get for the rest of all of our lives — a paradigm that truly flips the instructor learner model since the young are more adaptable and native to this digital frontier. If there is any safety in this unchartered territory, as with explorers before us, it is in being prepared, aware and adaptable. Those who are best prepared hold themselves accountable and follow their checklists – they know what they are measuring.
As president of SNHU's Global Campus, Dr. Fowler has oversight for academic functions in support of the university's learning experiences and modalities – online, competency-based and hybrid – meeting the rapidly changing demands of the workforce and global communities. A two-time Fulbright Senior Scholar (Germany and Belgium) with 25 years of experience in higher education management, Dr. Fowler has published and presented at events throughout the world, including Germany, where he also taught at the John F. Kennedy Institute for North American Studies at Freie Univeritat-Berlin. He has held senior-level academic and administrative positions at numerous institutions including Western Governors University, Penn State University and the national Endowment for the Humanities. In addition to a Ph.D (SUNY-Buffalo), an MBA (Western Governors University), Dr. Fowler has also completed an MA (George Mason University), a BA (Morehouse College) and was a Charles A. Dana Scholar (Duke University). He has also completed several higher education and executive leadership/negotiation programs at Harvard University.
Explore more content like this article
May 26, 2021
The world is over a year into the COVID-19 pandemic and some people are growing tired of public health measures. What are some of the things that can be done to combat pandemic fatigue?
March 25, 2021
The importance of empathetic teaching in an online environment cannot be understated. Students appreciate when instructors show concern for what is happening in their lives, and having an instructor with a teaching approach that focuses on empathy helps them navigate anxiety or uncertainty.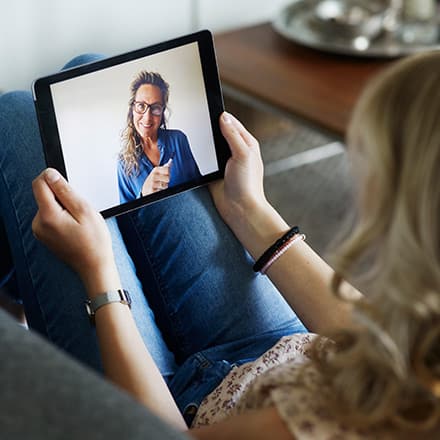 February 11, 2021
Consider what your role might be as a mental health advocate; someone who gives a voice to the problems and potential solutions related to mental health and mental health awareness. To advocate means more than just giving voice; it means to fight.