The L&D Program Playbook: Insights From Several Thought Leaders
Idea in brief:
A downloadable ebook features several training professionals describing how to create an effective L&D program.
Learning and development (L&D) initiatives attract and retain top talent and help build internal hiring pipelines. Plus, they can have impressive return on investment when effectively aligned with business goals.
A strong L&D program is more than a nice-to-have. By 2025, nearly 2 million jobs are expected to go unfilled in manufacturing businesses alone due to lack of skilled workers. As more employers compete for a limited talent pool, developing employees from within will be critical.
Millennials, the largest segment of the workforce, greatly value training and development — 86% of millennials said they would stay at their current company if they were offered career training and development opportunities, while 42% ranked L&D as the most important benefit when deciding where to work.
A new ebook, "How to Build the L&D Program Your Employees and Company Actually Need," explores how to create an effective L&D program within your organization. SNHU spoke with talent development experts, along with people who have developed their own organizations' L&D programs into incredible success stories.
Interviews with those experts show that the most effective L&D programs have 7 things in common, such as defining talent pathways in your organization. To read the complete list in detail, please download the ebook.
L&D should be aligned with business needs
Consider what your organization is hoping to get out of an L&D program. Is the goal to create a pipeline of skilled workers to fill management positions?
To attract top talent by offering world-class professional development opportunities?
To lead your competitors in customer service or improve productivity?
The most effective L&D programs are customized to hit those goals. That was top of mind for Scott Doggett, Holiday Inn Club Vacations' senior director of learning and development. When he came on board with the organization, he worked with executives to identify chief company goals and obstacles.
"If I just sat in a vacuum and tried to develop training that I thought was cool and engaging, we wouldn't be successful," he told us. "It has to be directed toward the bigger goals of the company.
L&D should be designed to support students.
The most effective L&D programs also need to be designed around the needs of your employees. Beth Eacret, vice president of education and safety at Grifols Plasma Operations, planned her organization's L&D program to nurture the internal pipeline. But Eacret and her team are also looking for results on the individual level.
Their tuition reimbursement program helps frontline workers who have not had a chance to get a college degree.
"Our goal is to provide the opportunity for employees to get into the mindset of continuous improvement and learning," she said.
To increase employee participation in the L&D program, Eacret and her team ensure all prospective students know about available educational opportunities. They also support students by working with educational partners who understand the needs of working adults.
L&D should deliver tangible results.
A successful L&D program also needs to provide a tangible ROI for the organization. Are you seeing measurable results like lower hiring costs, increased productivity, better retention, improved customer satisfaction scores or lower absenteeism?
Haley Glover, strategy director at the Lumina Foundation, said getting a positive return on investment from your L&D program requires two things: a strong understanding of your goals and the ability to identify leverage points where L&D will be the most effective.
For example, many organizations use L&D programs to reduce turnover costs among frontline workers, she noted.
"If you want your resources to be used in the best way," she said, "you will be better served by targeting the right level of the organization."
Practical advice for effective L&D programs
"How to Build the L&D Program Your Employees and Company Actually Need" profiles leaders from highly effective L&D programs like those at Holiday Inn Club Vacations and Grifols Plasma Operations. It also provides actionable advice on:
Ways to align your L&D program with business goals
Designing for student success
Achieving a strong ROI
Explore more content like this article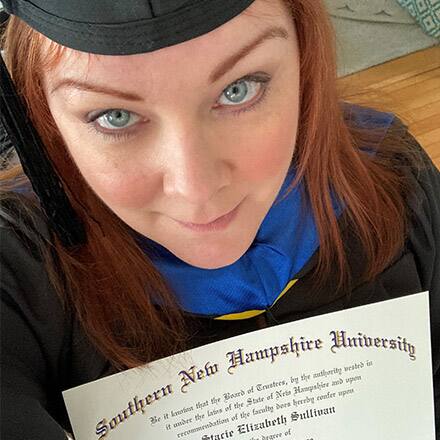 September 08, 2020
For years, Stacie Sullivan '19 felt stuck in her career, sensing her opportunities to advance were limited. After a series of challenging life events, Sullivan enrolled in the BS in Health Information Management program at SNHU.
July 01, 2020
Just a year after she decided to go back to school, Shereka Johnson-Bean '20 is preparing to submit the final project for her bachelor's degree.
June 12, 2020
Shannon Griffin's first job was as a crew member at a McDonald's restaurant. She's still working at McDonald's, but her role is a whole lot different thanks to her hard work and the degrees from SNHU.