20 Stories for 2020: Alumni Share Their Journeys Beyond SNHU (Part 2)
A lot changed for Southern New Hampshire University in the two decades since the turn of the century. But the mission of expanding access to education remains steadfast. In the second part of our 20 Stories for 2020 article, here are the stories of some of the graduates from the past 20 years who have transformed their lives through education.
You can read part one here.
Shu-Yuan "Grace" Wu '10 '17G
As an adult learner, Shu-Yan "Grace" Wu had two important reasons for choosing Southern New Hampshire University; SNHU is regionally accredited and transfer-friendly. "SNHU accepts up to 90 undergraduate transfer credits for bachelor's degrees; they believe students should get the credits they deserve," Wu said. "SNHU offers an opportunity for adult learners like me to continue higher education." She earned two degrees from SNHU – a bachelor's in business finance with a 3.797 GPA and the second, a master's in finance with a 3.975 GPA.
When Wu began her degree work at SNHU, she hoped to use her education to advance her career and help her achieve success in future professional lives. "But more important, I wanted to use what I have learned to solve real world problems or help others," she said. "Knowledge is power, but it's only partly true; knowledge should be applied to the right place to benefit others or serve the public good."
Beyond her career, Wu is also a mom and said it's not easy to find ways to balance school, work and family priorities, "so I do the best I can." Since graduating from SNHU, she's worked in different fields, including equity research, education evaluation (evaluating tests in mathematics), small business, international trade and website design. "Currently, I work for a small business; my duties/responsibilities are to help this business grow stronger," she said. "What I had learned from (the) Master's in Finance program helps me think critically and logically; as a result, it helps me find a better solution and make a better decision."
Wu said she learned a lot from her professors and peers while at SNHU. "I have enjoyed connecting with others and helping each other," she said. "It's never too old to learn. As a lifelong learner, it makes me feel good about myself knowing that I'm a hard-working and capable person who can solve different kinds of problems in my professional and personal lives."
Lamont "Tory" Stapleton '11
Lamont "Tory" Stapleton wasn't familiar with Southern New Hampshire University when coaches Stan Spirou and Jeff Gore recruited him to play basketball. He said, "It's really crazy to me how a sport can open up so many doors and take you down a path you didn't even know (was) there."
When he first came to SNHU, Stapleton recalls he wanted to be a filmmaker, using his art as a means of making positive change in the world. Given he was very much into photography and film at the time, he wanted to find a major along those lines, he said, which led him to a digital media degree.
Post-college, Stapleton moved to Los Angeles, landing a marketing job at a Lionsgate-owned television company, he said. "Although my degree was not in marketing, they liked that I was proficient in different aspects of content creation," Stapleton said. "This is something I credit to my courses at SNHU."
Not long later, the entrepreneurial bug hit him, and he left that role to start a social movement called "I'm Just Different," to promote individuality and acceptance of differences. "Graphic design and video editing played a big part in the success of this movement," Stapleton said. "Fast forward a few years, I started a T-shirt line called "Struggle is Common" as a reminder that everyone is going through something."
He said the skills he learned at SNHU allowed him to design the shirts, photograph them, create his own website and market it.
More recently, Stapleton started a prison basketball program, "Between the Lines." "We go into prisons and run basketball clinics to aid in the process of rehabilitation and positively impact the recidivism rate," he said. "As a means of spreading awareness and growing our program, we capture content on the inside and share with those on the outside."
His understanding of photography and film makes a big difference while working with the program's creative director to properly portray the work they're doing and the impact it's making, he said. "To sum it all up, my degree has certainly opened some doors for me, but more so, the skills that I've learned have proven and continue (to) prove themselves useful on my entrepreneurial journey," Stapleton said.
Reflecting on his college experience, Stapleton said he can't say enough about how much his college experience prepared him for life after. "Learning to coexist with people of all walks of life and from all over the world was invaluable," he said. "Most of what I do now is rooted in service to others, and I can say that my compassion and love for people grew tremendously in the years that I spent at SNHU. The community was extremely special. I always felt like I was at home although I was many miles away."
The community as a whole – SNHU faculty, his coaches and peers – he said, challenged him daily and helped grow his understanding of himself as a person.
"I honestly don't know where I'd be without the lessons my years at SNHU have taught me," Stapleton said "The wild thing is that I graduated almost 10 years ago, and I still feel just as connected to the university as I did when I was on campus. They do such a great job of reaching out to alumni and keeping us informed and involved in what's happening with the university. I'm so proud to say I am a Penmen."
Stephen Hearn '12G
Stephen Hearn came to Southern New Hampshire University with a bachelor's in hand and the goal of becoming a CPA. "In order to do that, I would need to pursue my master's in accounting," Hearn said. Having grown up in New Hampshire, he was already familiar with SNHU but said there was a lot of media presence in the Boston market that kept the university fresh in his mind.
"I wanted the opportunity to be able to work and continue to get my graduate degree at a reputable school known for its business pedigree," he said. "When I chose to pursue SNHU, I knew I would get a challenging and fulfilling degree that was worth every penny while also being able to cater to my schedule and pace (especially during the busy season for public accounting)."
Hearn needed 150 college credits to sit for the CPA exam. "My goal was driven by my parents as they had given up so much for me. I wanted to make them proud," Hearn said. "My mother is an accountant and math was always something I was passionate about, so going for my CPA seemed like a great career path. SNHU allowed me to get there and provided me great preparation towards taking the CPA exam shortly after completing my degree."
He said it has been an incredible seven years since earning his master's in accounting. While he was going to school, Hearn worked in public accounting, involved with audits ranging from community banks to small manufacturing companies. "I transitioned into a larger firm in Boston, Massachusetts, that provided me with additional opportunities in the manufacturing industry including a regional brewery in the Midwest," he said. "From there I was able to use that experience and join the private sector at a regional brewery and distribution company just outside of Boston."
Beyond his education, Hearn said he was able to learn about teamwork and how best to interact with different people. "A lot of my classes involved group work ranging from 2-5 other partners and some of these classes were online, thus causing a unique setting that I was unfamiliar with," he said. "From there I learned different ways to be able to add in my points and find out alternative ways to communicate with the group."
Given that each person in an online class has different schedules to adhere to while managing school requirements, he saw the importance of setting timelines that were achievable through discussion. "This was something I was able to use in public accounting and now with my finance team in the private sector," Hearn said.
Vaidehi Malpe '13MBA
Vaidehi Malpe always had plans to pursue an MBA after completing her engineering degree. When she started researching universities, Southern New Hampshire University stood out to her because it offered courses she could specialize in and that piqued her interest, she said. "The courses looked like they would be challenging enough to develop my critical and management skills while giving me enough time to also enjoy my student life in a foreign country," Malpe said. "It provided me with the structure I was hoping for as well as the flexibility to complete the course per my caliber and speed. It was also close to where my family was located and thus was an easy choice."
Her main goal with her MBA was to learn the entrepreneurial and management skills that make a great and resourceful individual and manager, Malpe said. "I always knew I would be in a management role and thus wanted to hone my skills accordingly," she said. "My engineering degree provided me with the technical background needed to get my foot in the door in the service/retail industry. However, with my MBA degree I got a much-needed edge to perform as a techno-functional individual."
Malpe found the study structure in the United States to be vastly different from India. "Pursuing the MBA degree at SNHU provided me a firsthand experience on how large corporations worldwide function and the intricacies of running a successful business," she said.
With her MBA in hand, Maple was able to move forward one step at a time in exactly the direction she had envisioned for herself, she said. She started by working at the Department of Revenue in Florida and worked in service as well as retail sectors since. "I am currently managing the rewards portfolio for a major outdoor retailer located on the West Coast," she said. "My ultimate goal is to one day own a small bistro/eatery in some quaint little town where I make people happy by serving scrumptious and healthy Indian delicacies, hopefully unlike the typical Indian restaurants we have across the country today."
Malpe said her college experience taught her to be independent and take care of herself. "It taught me my true strengths and showed me what I am capable of if I really put my head to it," she said. There were times that she felt she couldn't complete her degree any further but she pushed through and that's when she realized her capabilities.
"It allowed me to broaden my horizons about what I expect from myself and the society around me. It taught me to handle disappointments without getting discouraged as well as cherish the small victories," Malpe said. "Most of all, it taught me to truly value my parents and the sacrifices they made in order for me to reach the place I am at today."
She said it taught her to be more compassionate as a person and realize that she likes being a guide or advisor to other students who may be going through a similar journey.
"It was at SNHU that I met my husband, thus I will forever be grateful to this institution for enriching my life in so many unexpected and unanticipated ways," Malpe said.
Christie Conticchio '14
It was a desired career change, from a middle school teacher to an accountant, that brought Christie Conticchio to Southern New Hampshire University. SNHU was highly recommended by her sister-in-law and a friend, both of whom had furthered their education at the university. "I liked SNHU because it fit with my busy schedule as an educator," Conticchio said. "I took classes at night while I taught during the day."
Affordability was another key reason for her choice. "I was able to pay my way and walk away without debt by taking a class a semester and two during the summer," she said.
As she hoped, Conticchio was able to change careers as a result of her master's degree. While she started in this new field at entry level, she is now a senior accountant who trains new staff. She said her college experience not only advanced her career possibilities but also brought her a group of friends she still keeps in touch with and allowed her to experience different cultures.
Samantha (Whittier) Staebner '14
Southern New Hampshire University's hospitality business program was a draw for Samantha Staebner as was the opportunity to compete at the Division II level on the soccer field. "I wanted my education to be a priority and through conversations with the professors in the Hospitality Department, I was confident attending SNHU would allow me to do both," Staebner said.
Her end goal with her degree was to own a restaurant someday but what she never expected was that her education would take her on a brief journey that actually brought her back home again. "The company I was working for part-time through college offered me an opportunity to go full-time as soon as I finished my classes that I couldn't refuse," Staebner said. Nine months later though, she gave her notice.
"I had realized a few weeks prior that my mind was always thinking about my family's farm," she said. "I was no longer an asset to my company, the staff that depended on me, and the customers we're responsible for serving."
When Staebner told her parents she had quit her job, her dad asked what her next move would be. "I told him he was going to hire me," she said. "Five years later, I work with my parents every day. I am the fifth generation on our farm. As a diversified dairy, beef and vegetable farm with a year-round farm store and commercial kitchen, I found my niche doing a little bit of everything at the farm."
Staebner helps in every aspect of the family's business, although most of her time is spent in the sales and marketing role. "For example, last spring, I assisted one of our catering customers over the phone from the tractor seat while I was planting corn," she said.
When she reflects on her time at SNHU, Staebner said you get what you put into it. "After almost dropping out my freshman year, I found on campus jobs and organizations that challenged me and taught me countless transferable skills," she said. "I thought it would be a few years post-grad before I found my way back to agriculture but the experiences with SNHU Telefund and NCAA Division II SAAC (Student-Athlete Advisory Committee) gave me the off-farm experiences that helped me realize agriculture is in my blood."
The skills and ethics from her college experience continues to shape her interactions in her industry today, Staebner said, and the teammate she shared a locker with during her freshman year for soccer became a close friend and they still connect almost daily by text.
Tom Alhadif '14, '15MBA
It was just luck, Tom Alhadif said, that brought him to Southern New Hampshire University. "I was a soccer player, who got recruited all the way from Israel," Alhadif said. "I didn't know about the university, just knew that the soccer program was nationally ranked and that was a good start for me." After taking the virtual tour, then reading about the academic environment and general location of the school, he said he was sold – "I can't explain it, but after a few minutes of looking at the website it just felt like the right choice, and I was committed."
Alhadif started out as a psychology degree student, but he wasn't sure what he wanted to do with his life. "After seeing my academic advisor (the amazing Leah Richards), we made a plan for me to explore a few intro classes during my first semester and only then pick," he said. "I loved the marketing class with Professor Amendah, who really talked me into the major. Later on, I also enjoyed the corporate finance class, and decided to take it as my minor and later on, my master's degree."
As he got closer to graduation, Alhadif knew he wanted to get into the world of finance and work his way up the ladder to the more interesting analytical roles. "I didn't have any connections, so I knew it would be hard, but believed in myself, my background and theoretical knowledge I acquired between my two degrees from SNHU," he said.
He's been with Fidelity Investments since his graduation, moving between a few roles in the company, he said. "I now work in the capital markets division out of Boston," Alhadif said. "I work with the Syndicate desk, where we are in charge of supporting the IPO and underwriting process of many financial instruments such as CDs, municipal bonds, stocks and more. Before that, I was in the institutional fund accounting division, where we were in charge of the NAV of all of the Fixed Income Institutional funds that Fidelity offers, meaning if you have a 401(k) that is managed by Fidelity, I have probably touched your fund at one point or another."
Alhadif said that during the first year after completing his MBA he combined his job at Fidelity with teaching as an adjunct professor at SNHU for two semesters, which was a great experience for him. He also wrote an undergrad international business class with the help of Professor Leila Samii. "All and all, the past four years were extremely busy," he said.
As an international student, Alhadif said he gained a lot from his college experience. "Aside of the trivial things, such as language and understanding the American culture, there are a few things I got from it," he said. "First, college, if you maximize the opportunities that are out there, could be unbelievable. I got involved, traveled and spoke at conferences, organized events, managed budgets, and much more."
He said he learned how to "play the system," how to grow within a large institution, how to manage people, and how to seize opportunities that arose around him. He also made friends and connections that Alhadif said will stay with him forever – "a few of my best friends are SNHU friends," he said.
Logan McCarthy '16
Logan McCarthy said he could go on about the Goldilocks campus size of Southern New Hampshire University or the cost effectiveness of the graphic design program, but it was the White Mountains that deserve a lot of credit for why he chose SNHU. The mountains' close proximity to the Manchester, New Hampshire, campus meant McCarthy would always have some places to go over the weekend – and just a day trip away for hikes, ice castles, zip lines and skiing. While he focused on what was available just a bit north of SNHU, campus became a place as dear to him throughout his time there. "Everyone has their own favorite corner on campus (for me it was the hills on the East Side), but every space offers something for everyone," he said.
When he began his graphic design degree, McCarthy said, "I wanted something that could challenge my designer's eye to improve for the long term without being roped into a conventional career path."
As a graphic design graduate, he said "I found the careful guidance I needed to further understand the fundamentals of design, develop my personal style and learn how to continue learning after graduation. SNHU taught me to look at things objectively, make improvements and turn a good final product into a great one."
And his journey since graduation has taken him abroad, teaching English in Japan. McCarthy wanted to live in Japan for a few years, so he got his TEFL (Teaching English as a Foreign Language) certificate and worked as both an assistant teacher at a wildlife sanctuary and as an online English teacher for Chinese students. "I've been living in the beautiful, mountainous prefecture of Gifu, Japan, for almost a year and a half now, and wouldn't change it for the world," he said. "I currently teach English at two elementary schools, a middle school, a special needs school, two kindergartens and a nursery."
For McCarthy, the biggest draw to SNHU was the people there. "By far the nicest, most inclusive body of students, faculty and staff; it was easy to make myself feel at home," he said. "For anyone struggling to break out of a shell like I was, there's no better place than SNHU. I feel comfortable being myself in public (even in Japan) and forming friendships that can last a lifetime."
McCarthy acknowledges that it does take a degree of effort and willpower but said, "SNHU provides an unmatched opportunity for people to blossom and become the best version of themselves," he said. "SNHU will always be home for me."
Tara Lovely '17
Tara Lovely had an interest in science and computers from the time she was a kid but a counselor told her that this wasn't a field for girls. And for a while, she believed that. "It just stuck with me for so long; well, if girls don't do that, I won't make it in the industry," she said.
It wasn't until, as an adult, she saw an ad for Southern New Hampshire University that Lovely finally put her mind to pursuing a degree in IT. "It was like, you know, I'm going to do it," she said. When she attended her first Grace Hopper Celebration of Women in Computing in 2015 as an SNHU student, Lovely saw she wasn't alone. She thought, "There's more of me. There's more like me. It was eye-opening."
If the first time at Grace Hopper proved to be a revelation, the next time she attended the celebration as part of a student cohort, Lovely was ready to conquer the career fair and came away from a job offer with New York Life. She's since attended in 2018 and 2019, initially helping out the New York Life booth and more recently, as an interviewer for her company, where she now serves as a security engineer. With a bachelor's in information technology, she mainly handles privileged access management for New York Life. "I'm the person you've got to talk to if you want to get into anything," Lovely said.
When she thought about recruiting SNHU students for New York Life, Lovely said she felt like they were a good fit. "Obviously I was a good fit," she said. "I know the programs that are offered. I know all the different things like the Cyber SNHUpers (SNHU's cyber league team); I was on that team. SNHU makes sure their students are prepped. They're prepared when they get out."
Lovely said her career advisor was fantastic. "She made sure my resume was ready before I came here (Grace Hopper), and when I got a job offered, she looked it up and said, 'yes, that's a good offer,' so that I knew, okay, what I'm getting offered for pay isn't getting short-changed, and I am getting what's fair," she said. "It helped so much in my confidence when I went in. I know my stuff; I know I can do this."
Cyndie Ramirez '18
With an interest in entering the cybersecurity field, Cyndie Ramirez was drawn to Southern New Hampshire University's online program because it had the courses she wanted to learn from the comfort of her home, she said. While she had initial interest in computer networking, she found herself fascinated with trying to build networks secured in every possible way so intruders couldn't gain access. It was then that she wanted to earn her bachelor's degree so she could join a "front-line team that investigates intrusions and helps mitigate them," she said.
While earning her degree, Ramirez was able to attend industry conferences and gather real-world experience interacting with recruiters, learning about internships and interviewing for positions in her field. It's experience that paid off.
"After obtaining my bachelor's in information technology with a concentration in cybersecurity from SNHU, I have been working the cybersecurity field as a security analyst for a large corporation," she said. "My degree prepared me for work in this field."
She's also shared her experience as a student and information security analyst, recently at the 2019 SNHU LEADS conference at the Manchester, New Hampshire, campus in a panel discussion focused on empowering women in STEM.
She said her time with SNHU taught her to be more organized and how to stay on track. "I have been able to gain more confidence in myself by being able to complete my degree and being able to find employment in what I wanted," Ramirez said. "This all proves to me and anyone else anything is possible if you put your mind into it."
Emmanuel Audu '19
Emmanuel Audu came to Southern New Hampshire University to pursue his soccer dreams. Originally from Nigeria, Audu learned from a friend that there were schools in the United States offering scholarships to athletes. Given his friend was in school in Rhode Island, Audu began researching schools close to Rhode Island and Boston. That's when SNHU appeared on his radar. "I checked out their soccer program, then I applied to SNHU," he said.
An injury curtailed his soccer plans and financial duress at home created additional strain. With help from the SNHU community, Audu was able to continue his studies, graduating with a BS in Business Administration. "My goals with my degree were and are to work with a company that have the same values that align with mine, which will be to help people become their very best in life" Audu said. He's continuing on at SNHU, working as a graduate assistant at the university's public safety office as he earns an master's in information technology with a concentration in business analytics.
During his undergraduate experience, Audu said he was very involved on campus. He remains involved but given the responsibilities associated with his job and studies, he did have to cut back a bit. "Getting involved and serving others really gave me the opportunity to meet various individuals both on campus and off campus," he said. "I was able to use these opportunities to network with people – and I got an internship through that. I got the experience of speaking to a group of people and to individuals (public speaking skills) and I have become more confident in life."
Perhaps most of all, Audu said his thought process has changed from how he used to be. "I have become more open-minded," he said.
Pamme Boutselis is a writer and content director in higher education. Follow her on Twitter @pammeb or connect on LinkedIn.
Explore more content like this article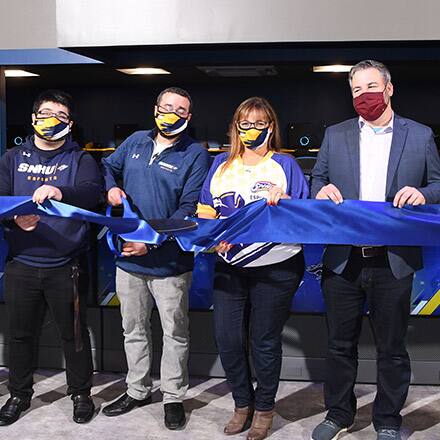 October 13, 2021
SNHU celebrated the grand opening of its esports arena on October 8th. A ribbon-cutting event marked the official opening to welcome the campus community and to see where esports players hone their gaming skills and compete against varsity-level opponents across the U.S. and Canada.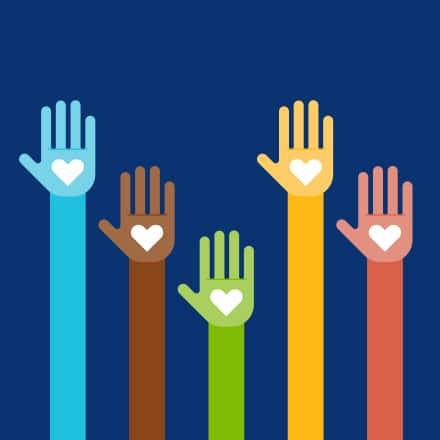 June 21, 2021
SNHU's 2021 Global Days of Service brought attention to a different societal issue each month: hunger, shelter, environmental justice and the pandemic's essential workers. Throughout the four-month-long event, Penmen from across the world shared their stories of service, community and strength.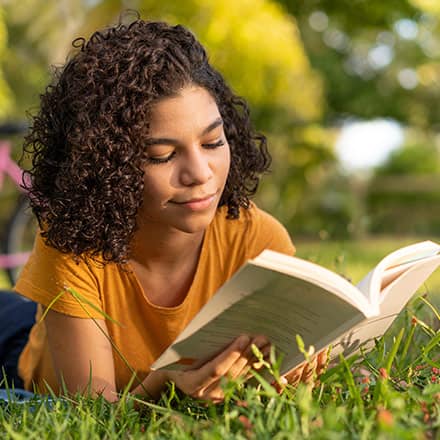 June 18, 2021
If you are searching for book suggestions, look no further: The annual summer reading recommendations have arrived. This year's list features more than 35 selections that span several genres suggested by some of SNHU's academic leaders.