The Male Nurse: Benefits and Percentages of Men in Nursing
There are more men in nursing today than at any time in history – and that's good for male nurses and the profession. According to the U.S. Bureau of Labor Statistics (BLS), 12% of registered nurses are now men, up from 2.7% male RNs in 1970. As the nation's population ages, the bureau projects nursing jobs are projected to grow 7% from 2019 to 2029 - faster than the national average for all occupations - presenting a big opportunity not just for men but for any underrepresented group in nursing, for that matter.
Daniel Arellano, a nurse practitioner in upstate New York and graduate faculty member at Southern New Hampshire University (SNHU), sees tremendous opportunity for men in nursing. "Nursing offers endless growth potential that may be attractive to men seeking a stable career track," he said.
"In my nursing school class of 80, there were less than 10 male students," said Arellano. "These days, the numbers have greatly increased with men accounting for over a quarter of the graduating class."
Why the higher percentage of male nurses? Men are realizing what women have known since Florence Nightingale founded modern nursing in the late 19th century. "Nursing is a rewarding profession," said bachelor's in nursing graduate Cesar Bonilla Ramos '18, a dialysis nurse in Boston, MA. "We touch the lives of people from birth to death."
Benefits of Being a Nurse
Besides the inherent reward of helping people in times of need (a bonus for any gender), nursing offers an unusual array of professional perks. Healthy demand, high salary potential, advancement opportunities, flexibility and a wide variety of specializations are among them.
"The sky is the limit when it comes to nursing," said Ramos, who likes the wide range of career paths open to him as a nurse. "If someone is good working under pressure, ER is a good choice. If you're tech-oriented, there is nursing informatics."
John Bergacs IV '18, a flight nurse in a busy metropolitan area of New Jersey who earned his MBA in Healthcare Management, said "the biggest benefit is going into a career with high demand and a good aspect of employment coming out of school."
A self-described Type A personality, Bergacs started out in the ER. He believes the "exciting, high-intensity work caring for patients with high acuity" appeals to many men in nursing. "In these situations, it feels like you can do more for a single patient," he said.
Arellano agrees that "male nurses are often drawn to higher acuity environments such as critical care, flight nursing or emergency medicine." But he's quick to add that "they're represented in almost every nursing specialty."
Flexibility is another big benefit of being a nurse. Because Bergacs works as both a civilian nurse and a captain with the U.S. Air Force Reserve at New Jersey's McGuire Air Force Base, he really appreciates the flexible schedule nursing offers him. He works three 12-hour shifts, three days a week and still manages to fit in two weeks a year of training and flight drills once a month.
Adjunct faculty member Kevin Callaway, a CMSRN (Certified Medical-Surgical Registered Nurse), echoes that sentiment. "Flexibility is the most attractive aspect of nursing for men," he said. "Nursing encompasses so many options, not just in terms of the clinical environment one might choose or the various advanced practices, but options relating to length and number of shifts to maximize time with family, per diem positions requiring only a few shifts per month for extra income, and geographic flexibility since skilled clinicians are in demand across the country."
Callaway credits women for elevating nursing from an occupation to a profession and, in turn, increasing its appeal. "Nursing has experienced tremendous professionalization over the past several decades," he said. "Nurses are now recognized as full participants within a team of interdependent healthcare professionals, which is a much more appealing role than that of a subordinate extension of a physician."
So How Much Do Male Nurses Make?
That's a tricky question, because it depends on so many factors. Your area of specialization, geographic location, education level and personal ambition all play a role. But generally speaking, there's parity between what male and female nurses make.
"There are still some obstacles men in nursing face, particularly in specialties dominated by women," Arellano said. "But I believe men can be equally compassionate and provide equivalent care in any arena."
According to the BLS, registered nurses earned a median annual wage of $73,000 in 2019, the last period in which the BLS collected income data. In the same period, nurse anesthetists, nurse midwives and nurse practitioners, also known as advanced practice registered nurses (APRNs), reached a median of $115,000.
Nurse educators, a good profession for someone with an interest in being a nurse and a teacher, earned an annual median income of $74,000.
As a dialysis nurse in the healthcare hub of Boston, Ramos noticed a growing need in his area of specialty. "Some of the major dialysis providers offer signing bonuses up to $10,000 for an experienced nurse," he said, noting a similar trend in the OR.
But while the pay may be higher in major metro locations, opportunities abound in rural areas. "I believe the greatest demand for nursing is within primary care and medical surgical nursing units," said Arellano. "This is particularly true in rural areas of the country that may not have a local nursing school graduating new nurses for the community."
Arellano also believes "the nurse practitioner track is growing the fastest since there are greater needs for care providers in the inpatient and outpatient environment," he said. "Nurse practitioners are ideally positioned to help in the practice of medical care in rural communities."
Callaway adds his take on where the jobs are. "Regions with high concentrations of older adults will probably continue to be associated with the greatest demand for nurses," he said.
What is it Like to be a Male Nurse?
Literally? "You're always on your feet," Bergacs said, "so I always wear sneakers, because you run around all day."
Speaking in a more philosophical vein, Callaway sums it up this way: "A few lingering assumptions about gender roles in healthcare still exist, but this usually only results in a patient assuming their male nurse is the physician (or their female physician is the nurse)."
Callaway stressed that whether you think of nursing as a calling or simply want to improve the wellbeing of others, "the most effective nurses tend to share compassion, empathy, humility and self-confidence as common characteristics.
"Men do tend to gravitate toward critical care nursing, which may seem to an outsider as more technology-focused and less personal," he said, "but I can assure you there are many hands held, backs rubbed, feet washed, bed linens changed and words of encouragement shared in these environments, too."
Any nurse who's been in the profession for any length of time sees universal truths in this perspective. Bergacs is one of them. "Nursing is truly a passion," he said. "Don't go into it for just financial reasons.
"Nursing programs are some of the most rigorous you can go through," said Bergacs. "The joke is you never meet nursing students at parties, because they're busy studying."
Nursing is Lifelong Learning
As an educator, Arellano always encourages nurses to continue their education. "My students quote me by saying, 'keep climbing the educational ladder.' Learning is a requirement to be a great nurse," he said. "Whether that learning is a local conference to enhance your skills or a PhD, always strive to make yourself a better nurse."
Callaway agrees. "More and more facilities are requiring a baccalaureate degree for entry into nursing practice, so I still encourage nurses with an associate degree to seriously consider continuing their education via a post-licensure BSN program," he said.
After earning a traditional BS in Nursing, Bergacs pursued his MBA online through SNHU. "Because I have a busy schedule between my military and civilian nursing careers, I found it easy to accommodate class time," he said. "I worked nights and did my schoolwork at night instead of during the day and completed the program as time allowed."
While he hopes to progress to management, he says his MBA brings a business perspective to his current role that makes the job experience richer for him. "My helicopter brings business into the hospital system," he said. "And it's also a marketing tool and public relations. You're representing the hospital system when you're piloting the helicopter."
There's no disputing the benefits of being a male nurse or furthering your education. But Callaway has a piece of advice for anyone considering a nursing degree. "Learn as much as you can about what a nurse does on a daily basis before committing to nursing as a major," he said.
"A decent salary and the strength of the job market for nurses attracts a lot of folks to the profession," Callaway said, "but it's hard work – and you really must have a heart for others and the profession itself to truly enjoy the rewards of nursing."
Betty Egan is a freelance copywriter with 25+ years of experience across a diverse spectrum of industry sectors, including higher education. She lives and works remotely from the mountains of northern New Hampshire. Connect with her on LinkedIn.
Explore more content like this article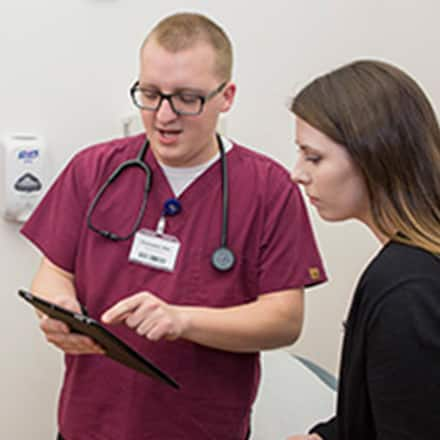 October 14, 2021
So many career paths can leave new and seasoned nurses alike wondering which specialty is right for them. To help, we've compiled a list of the 16 types of nurses employers are looking to hire, including information on salary, growth potential and required nursing degrees.
October 05, 2021
Both the nursing profession and some employers are calling on registered nurses (RNs) to obtain a Bachelor of Science in Nursing (BSN) to improve safety and help prepare for future healthcare challenges.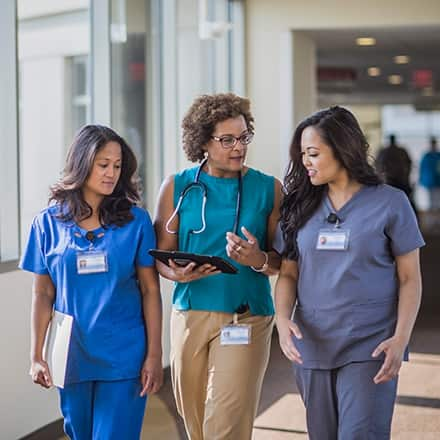 September 30, 2021
While nursing has always been a respected career, many people don't know that there are actually several different levels of nursing degrees and many different specialties available.