What Is NaNoWriMo?
Writing an entire novel in just 30 days is a daunting task, but it has helped hundreds of people become published writers and even award winners. Each year, writers worldwide look forward to writing 50,000 words during National Novel Writing Month (NaNoWriMo).
What is NaNoWriMo?
NaNoWriMo is a 30-day November novel writing challenge that was first established in 1999 San Francisco but took the world by storm in just a few years. Now, 400,000 writers are participating worldwide, and there were more than 34,000 NaNoWriMo "winners" last year.
NaNoWriMo Rules
The NaNoWriMo rules are few. By committing to the challenge, writers embark on the quest to produce the first draft of a 50,000-word novel between Nov. 1-30. While this number may sound daunting, it can be broken down to approximately 1,667 words per day.
There are features on the NaNoWriMo website to track individual progress, and to be considered a "winner," writers must upload their work so the organization can validate the final word count.
NaNoWriMo Tips
Keeping the end goal of writing a novel in mind can be challenging on a day-to-day basis. Here are some tips and tricks from past NaNoWriMo participants.
Stay on Track
With a goal of 50,000 words in 30 days, allotting time to write every day is critical to stay on track, according to Tracey Love '16G, who earned her MA in English and Creative Writing from Southern New Hampshire University (SNHU). "If you miss a day, make up the number of words you missed as soon as possible or catching up will be hard," she said.
Love won NaNoWriMo in 2014 and is determined to write another novel this November. Her trick to staying on track is to never fall behind more than 2 days.
Sara Billions-Steele, who is close to completing her BA in Creative Writing and English with a fiction writing concentration, is a frequent NaNoWriMo participant. One obstacle she faces each year is the inclination to edit as she writes.
"I think people could really benefit from the idea of free-writing without thoughts of going back and re-editing every little sentence," Billions-Steele said. Though she has yet to win NaNoWriMo, she accepts the challenge each year to improve her writing strategies and make a habit of the practice.
Billions-Steele also advises that writers do whatever they can to meet the word count. "Don't try to use concise language, but instead be descriptive," she said. Succinct writing will make a challenging task even more difficult.
Keep Motivated
Amy Stevens, the vice president of Academic Resources and Technology at SNHU, participated in NaNoWriMo for the first time last November. She kept her momentum going throughout November by tracking her progress every day. "That visible progress kept me coming back," Stevens said.
Though November marks the start of the holiday season, Stevens doesn't let her productivity suffer. She pushes through, continuing with her daily routine. "The slow and steady pace meant that I wasn't thrown off by the holiday," she said. "It was just another morning at the writing desk."
After achieving the 50,000-word goal, she realized that enrolling in the online MFA in Creative Writing program was something she could do. In her fourth term now, Stevens is even working with pieces of her NaNoWriMo novel in class.
Develop a Process
Jumping into NaNoWriMo looks different for everyone. Some start preparing in the months leading up to November, while others arrive at the challenge on Nov. 1. While some writers need to create outlines and plot storylines before starting, others let their writing carry them.
Stevens is someone who does not require much planning before she writes. "Each morning I continued to be surprised by what my imagination came up with," she said. This strategy doesn't work for everyone though, and it's acceptable to start preparing for NaNoWriMo before November begins.
For those writing daily, Stevens found that it helps to write by scene. "The nice thing about writing a scene a day, which is what I realized I was doing about half-way in, was that I could set up, create conflict and move on, which let me stick with the big vision and trust that I would eventually get there," Stevens said.
Find a Support Group
Writers are not expected to take on NaNoWriMo solo. Everyone that signs up to participate on the official website is a member of a community and can engage in online and in-person support and events.
In addition to writer forums, there are weekly "pep talks" by best-selling authors such as Andy Weir, Min Jin Lee and Justina Ireland this year. There are also webcasts that NaNoWriMo participants can tune into with writers Marissa Meyer, Aya de Leon, Sophie Littlefield and Jennie Nash.
There are 975 municipal liaisons, or volunteer coordinators of regional and local NaNoWriMo events, including write-ins, parties and workshops. NaNoWriMo also partners with 1,100 libraries, bookstores and community spaces to host a Come Write In program.
While there is a network of hundreds of thousands of writers to offer encouragement during this challenge, it's also important to seek support closer to home. From her experience, Love said, "Let your loved ones know what you're doing, the space you'll need and the support you could use during the month of November."
Rebecca LeBoeuf '18 is a writer and editorial coordinator at Southern New Hampshire University. Connect with her on LinkedIn.
Explore more content like this article
October 20, 2021
Interested in starting a new job or advancing in your current field? An Associate of Arts (AA) degree can give you the broad-based education and in-demand career skills you need to reach your goals. Learn more about earning an AA degree and what you can do with one.
October 07, 2021
A communications major is a great way to prepare yourself for a career in fields ranging from media relations and journalism to marketing, corporate communications and many more.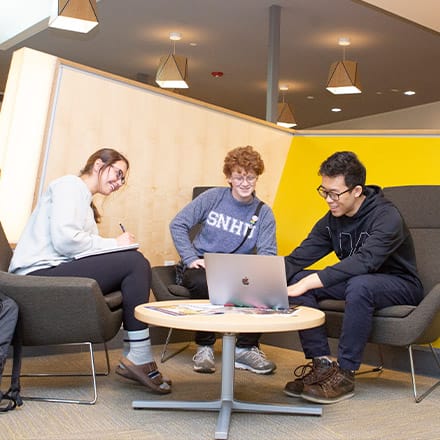 October 04, 2021
Liberal arts majors are strong communicators, who bring creativity and critical thinking to the table. If you're willing to be flexible in your search and smart about branding yourself, you can find there are many opportunities.