The Boston Celtics and SNHU Partner to Create Seventh School Tech Lab
Pride, respect and responsibility are integral to the mission and vision of Manchester, N.H.'s Middle School at Parkside. With nearly 800 students in grades 6-8 from the west side of the city, staff and teachers are diligent in creating opportunities daily to enrich the learning experiences offered at the school. Imagine their delight then in Parkside being chosen to receive a technology lab through a partnership between the Boston Celtics and Southern New Hampshire University (SNHU) - and the pride felt throughout the school community upon the unveiling of "Innovation Kingdom," named by student Grady Barber, on Nov. 29.

Celtics forward Jonas Jerebko and former Celtics forward Leon Powe were on hand to celebrate the opening of the lab, participating in a special event, an hour of coding, led by Dr. Gwen Britton, executive director of online STEM programs at SNHU. The trio was joined by Angie Foss, associate dean of STEM programs at the university's College of Online and Continuing Education and Amelia Manni, an online student soon to graduate with master's in data analytics.

Thirty Parkside students, from all grades and classes, engaged in the coding exercise, which allowed them to control the virtual actions of "BB-8," the droid introduced in "Star Wars: The Force Awakens" on the donated Chromebooks. Working in pairs, the kids first watched a brief video and then dove into the project. Jerebko and Powe visited with each group, providing encouragement and assistance with the exercise, along with Britton, Foss and Manni. Excited by how quickly many of the students moved along in the exercise, Foss said, "They're doing well, and they know math. They've even edited the code. Not everyone does that."

Manchester Mayor Ted Gatsas walked among the groups, smiling at the ease with which the students embraced the coding challenge. Addressing the opportunities the lab offered the middle school, Gatsas said, "It's great for SNHU and the Celtics to come together to make this happen."

Parkside's technology lab is the seventh in a series of community development projects geared toward creating access to tech-oriented education opportunities for middle school students throughout Greater Manchester and the Boston, Mass., area. In creating each lab, SNHU and the Celtics took on the task of refurbishing space provided, and donating computer equipment, television and furnishings.

As for the result at Parkside, Principal Forrest Ransdell said, "It's wonderful." Noting the real collaboration of the three groups, Parkside, SNHU and the Celtics, Ransdell said the new lab represented each well, with artifacts related to the school community incorporated into the design of the room, as well as those pertaining directly to the city of Manchester and the school's partners in this undertaking.

The lab is predominantly Celtics green, with a cityscape of the Millyard area of Manchester across one wall with a small Southern New Hampshire University billboard astride one of the mill buildings. The word 'pride' flows from the school's name above the graphic of the Millyard, and 'respect' and 'responsibility' flank the Celtics logo on another wall. A third wall features the logos of all three, Parkside, SNHU and the Celtics and the fourth bears the lab's name: Innovation Kingdom, with the notation it was named by Grady Barber, 2016.

Powe especially enjoys coming out to meet youngsters at schools, and seeing the kids engaged in technology-related learning. "We didn't have this when I was coming up," he said. "Now you need to learn this early or you'll be left behind."

Upon completion of the hour of coding, students had a chance to hear about some of the challenges Jerebko, Powe and Britton have experienced, as youngsters and beyond. Jerebko spoke of his childhood in Sweden and his desire to become a professional basketball player in a country where the sport is not among the most popular. He is, in fact, the first Swedish NBA player, but that wouldn't have happened without his hard work and persistence in pursuing his goal. Jerebko asked the students how many liked to play video games. They were surprised to learn that he also developed a love for video games in his youth and recently purchased an e-sports team, Renegades, which combines his dual passion for virtual games and sports. He correlated what the students had been doing earlier in the hour of coding with how essential those skills are in developing video games, too.

Powe told of his early years spent in a series of foster homes, a young boy with big dreams who was told he wouldn't amount to much of anything. He found a way to dig deep and prove naysayers wrong by working hard in school and sports, encouraging the students to believe in themselves and their ability to reach their goals.

Britton found early on that girls and women with interest in STEM topics and fields often were given little support or assistance in the pursuit of their passion. She didn't allow that to discourage her, though, and found ways to fulfill her focus and is now an influential advocate for everyone to engage in STEM projects and studies.

Although the technology lab, coding exercise and guests certainly provided lots of excitement for the students, they had one more surprise in store for them. Jerebko knew at their age how much he would have loved to be able to attend an NBA game and personally gifted each with three tickets for an upcoming home game in Boston. Needless to say, they were thrilled - and will have a chance to see the team firsthand in action.

While these lucky students are just a small segment of the school's population, Jerebko and Powe hope they'll share what they learned at the technology lab opening and hour of coding, as well as the excitement of pushing toward new goals in the lab. Both the current and former player signed their names to the Innovation Kingdom wall, as a reminder of their belief in the abilities of all of Parkside's students to succeed in learning. The new technology lab is sure to help them on their way.
Pamme Boutselis is a writer and content director in higher education. Follow her on Twitter @pammeb or connect on LinkedIn.
Explore more content like this article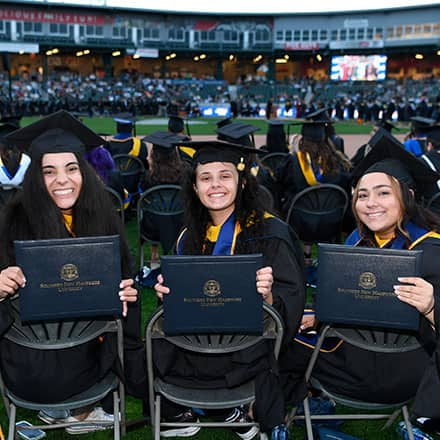 October 18, 2021
Southern New Hampshire University's Class of 2020 and 2021 campus graduates had their moment in the sun on Saturday when more than 400 celebrated their incredible achievements at Northeast Delta Dental Stadium in Manchester, New Hampshire.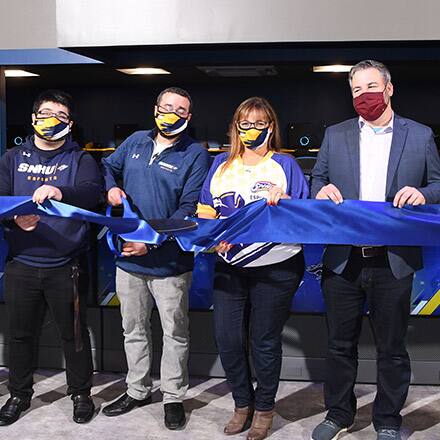 October 13, 2021
SNHU celebrated the grand opening of its esports arena on October 8th. A ribbon-cutting event marked the official opening to welcome the campus community and to see where esports players hone their gaming skills and compete against varsity-level opponents across the U.S. and Canada.
August 19, 2021
If you're wondering how to become a computer programmer, the field requires academic knowledge, a passion for math and engineering, adaptability and hands-on experience.