How Great Corporate Social Responsibility Initiatives Help Companies Find Great Employees

Idea in brief:
A roundup of the ROI of CSR initiatives, an outline of 4 of the major kinds and preview of what may become the 5th.
More and more companies are developing corporate social responsibility (CSR) initiatives. There are a variety of motivations for CSR:
Many early CSR initiatives were about attracting customers. By touting efforts to protect the environment, treat employees fairly or support community programs, companies win over consumers drawn to organizations they feel align with their own values.
CSR may also be treated as a broader "reputation management" effort to influence policy and regulatory discussions.
It provides active and inspiring reminders to employees of the company's mission and philosophy.
As a result, once an effective CSR program is in place, it can be a powerful lever in a company's employee recruitment and retention strategy. Employees want to feel that they are part of a company that is actively contributing to a greater good.
In today's war for talent, a purposeful CSR initiative can lure high-skilled workers away from competing organizations.
Most CSR initiatives fall into the following 4 broad categories.
1. Environmental stewardship
Efforts in this area center on protecting the planet's resources by, for example, reducing a company's carbon footprint or emissions. This is a primary CSR initiative for many companies. For example:
In 2017, Google announced it had reached its goal of purchasing 100% of the energy for its data centers and offices from renewable sources.
Levi Strauss has committed to using less water in its manufacturing process. Since 2011, the company reported it has saved some 1 billion liters of water.
2. Philanthropy
To many people, corporate philanthropy refers to gifts by major companies like GE, which gave $140 million to community and education programs in 2017, or Microsoft, on track to give out $2 billion by next year.
But corporate philanthropy extends beyond financial gifts. Many companies, including GE and Microsoft, allow employees to use work time for local volunteer events. For example, in addition to donating 1% of its profit to charities, Salesforce permits employees to take a week off to participate in volunteer activities. In lieu of a holiday party, technology company Nvidia employees opt to refurbish nearby schools.
3. Diversity
Also known as diversity and inclusion, this CSR effort is maturing into a professional domain in its own right. In fact, many businesses are hiring senior-level diversity and inclusion officers.
Many companies have found that building a pipeline of minority and female job candidates is only the beginning of diversifying their workplaces from the front line to the C-suite. It also takes sustained attention to retaining those employees.
For example, the CSR initiatives at YUM Brands include a pride network for LGBT employees, leadership development activities for women and mentoring programs for younger employees. They also have programs to promote diversity and inclusion among franchisees and suppliers.
Bringing in military veterans is another way companies develop a diverse workforce. One of Southern New Hampshire University's partners, Walgreens, recently launched its Helping Veterans with Education and Retail Opportunities (HERO) program to hire and train military veterans for management positions. Through the program, Walgreens and Southern New Hampshire University will provide career and educational opportunities for 5,000 U.S. veterans over the next 5 years.
4. Pay equity
Pay equity goes beyond the concept of "equal pay for equal work" — i.e. for doing the same job — and strives for equal pay for work of equal value. The idea is to level out the difference between lower-paying jobs where women may be concentrated.
For example, CSR initiatives focusing on pay equity will look at the pay in the shipping and receiving department, which may be filled more often by men, and for cashier roles in the same store, which may be filled more often by women. Pay within each of those roles may be equal for men and woman.
But if there is a difference in pay between those two roles, that may be part of the reason women are earning less. In that case, the company can apply a formula to bring pay for the cashier roles up to par.
In other words, where direct gender discrimination isn't an issue, pay equity initiatives try to account for structural issues that lead to unequal pay.
Pay equity may not be obvious as a CSR effort since to some degree it is governed by federal, state and local laws. However, equal pay laws may not always require as much as a company feels it needs to do in this area.
According to the Society for Human Resource Management, employers should anticipate more legislation in the area of pay equity, particularly by states trying to make up for stalled progress at the federal level. The legislation that states might consider include:
Defining the relationship between equal work and comparable work.
Defining permitted reasons for pay disparities.
Pay transparency.
Banning salary-history questions in applications and interviews.
The ROI of CSR initiatives
Surprisingly, many companies may not fully embrace CSR efforts. In its 2018 Global Human Capital Trends report, Deloitte surveyed CEOs and corporate leaders and found that 77% agreed CSR is an important component of overall corporate strategy.
However, only 18% described it as a top priority, and 34% said their CSR initiatives were poorly funded. Another 22% said their organizations had no CSR program in place.
Neglecting CSR can hurt recruiting and retention:
Investing in employees: The next CSR frontier?
While sustainability and social causes are the most common CSR initiatives, reskilling workers may be the next trend in this area, predicts Kathy Bloomgarden, CEO of PR firm Ruder Finn, Inc., who writes frequently about corporate governance issues.
"Job training is a topic that will become more prevalent as companies strive to become more focused on people," she writes in a Fortune commentary. "With the looming threat of automation, companies need to consider investing in reskilling."
In other words, training isn't just about a company managing its own talent needs. It's about helping employees manage dramatic changes in their careers and minimizing how vulnerable they are to technological and economic shocks.
Tuition assistance programs and workplace-based educational opportunities also create a more diverse workforce — a cornerstone of CSR. Lisa Christensen, business development executive with Southern New Hampshire University, said prospective employees prefer organizations where diverse groups are represented.
From an employer's perspective, upskilling frontline workers, many of whom may come from minority populations or are women, develops a pipeline of skilled workers that are able to move up into management positions.
For a company looking to expand its CSR efforts, robust learning opportunities can recruit, retain and engage excellent employees. Philanthropy and conservation projects are the best-known CSR initiatives, but investing in your employees' education and development has a powerful ROI. And it's one more indication a company cares about the people it employs and the communities it works in.
With more than 200 online degree programs, Southern New Hampshire University's Workforce Partnership Division is your talent development partner.
Explore more content like this article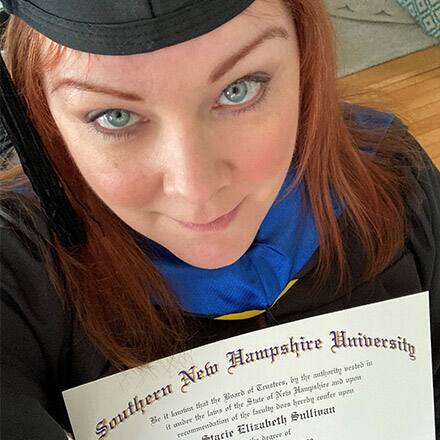 September 08, 2020
For years, Stacie Sullivan '19 felt stuck in her career, sensing her opportunities to advance were limited. After a series of challenging life events, Sullivan enrolled in the BS in Health Information Management program at SNHU.
July 01, 2020
Just a year after she decided to go back to school, Shereka Johnson-Bean '20 is preparing to submit the final project for her bachelor's degree.
June 12, 2020
Shannon Griffin's first job was as a crew member at a McDonald's restaurant. She's still working at McDonald's, but her role is a whole lot different thanks to her hard work and the degrees from SNHU.