New Caregiver Survey Shows That Home Care Workers Have High Educational Aspirations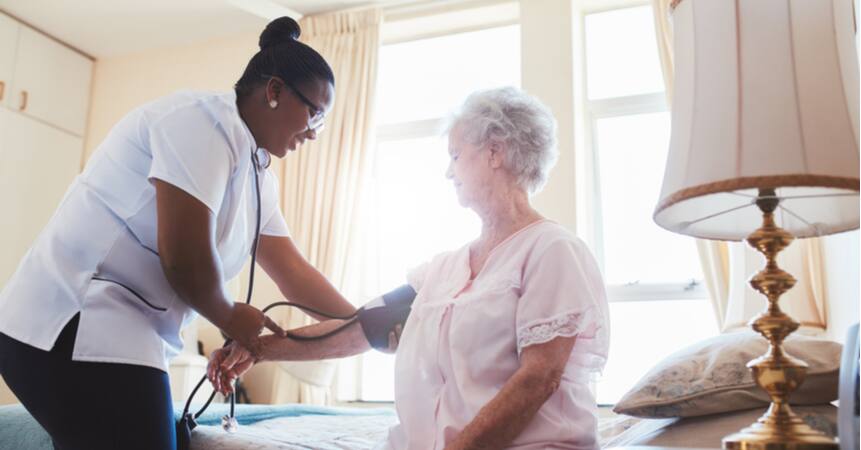 CareAcademy
, a leading provider of online professional development, training and certification for professional caregivers, in partnership with Southern New Hampshire University (SNHU), has released the findings of its first joint survey entitled
Educational Aspirations of Home Care Workers
. This survey sought to understand the educational goals of in-home caregivers including their preferences and barriers to continuing education.
Home care and direct care are some of the fastest growing service work in America and will continue to be for the next 20 years. The survey was CareAcademy's first effort in asking caregivers if they want more education and upskilling, and in what form they want an education.
"We're excited and optimistic about the results because this is caregivers saying, 'given the opportunity, I want to be better at my work.' This may very well be the answer to enticing new caregivers to enter the field and helping caregivers remain and grow in healthcare and direct care," says Helen Adeosun, CEO of CareAcademy. "SNHU's unique focus on students that look a lot like our caregivers was impactful in the groundwork for this survey."
Caregivers' Educational Aspirations Vary Across Demographic Lines
Gender and Race Differences
Roughly half (52%) of all respondents said, "yes" they are considering obtaining more education in the future and that percentage remained consistent when comparing gender.
When comparing the ethnicity of the same caregivers, our study found that of the top three groups interested in furthering their education, were Latino (57%), Native Hawaiian/Pacific Islander (56%) and African-American (55%).
45% of African-American women are considering more education followed by 20% of White women and 17% of Latina women.
Age Differences
When comparing age groups using the average age of 45 years, caregivers 45 years or younger were more interested in educational pursuits than their older counterparts. Even a one-year increase in a caregiver's age decreased the odds by 4% that they would consider additional education.
Household Income Differences
54% of caregivers with a household income of $35,000 or less were more likely to pursue additional education.
48% of caregivers with household income levels between $35,000 – $100,000 were more likely to pursue additional education.
31% with income levels of $100,000 and above were more likely to pursue additional education.
While Desire For Higher Education is Strong, Financial and Time Barriers Persist
Desired Types of Degrees or Certifications
73% caregivers, who desire a higher education, would like to obtain an undergraduate degree or a certification.
30% said they would like to earn a bachelor's degree, 24% would like to earn a CNA certificate, and 20% would like an associate degree.
Barriers to More Education
52% believe obtaining a bachelor's degree would be more valuable to their profession, but 37% said they would be willing to pay for it. 50% said a CNA certification would be the most valuable but 39% said they would be willing to pay for it.
60% of caregivers said that affordability prevented them from pursuing a higher education.
15% of caregivers cited caring for a family member as an impediment and 6% said their other job served as a barrier.
"The results of this joint survey reinforce how important it is to create degree programs that help working adults, like caregivers, further their education," said Paul LeBlanc, University President, SNHU. "This survey reveals that caregivers across the U.S. have a desire to learn, and that they need the kind of on-ramps to education that providers like CareAcademy and SNHU offer. We put our loved ones in the hands of caregivers. We ought to put educational opportunity in their hands as well."
The survey was administered to 765 CareAcademy and CareLinx users of the CareAcademy platform via an online questionnaire fielded from October – December 2017. The complete results can be downloaded here.
If you're interested in building skills within your workforce, learn about our Certificate in Healthcare Management Fundamentals. It's the first online competency-based certificate program geared specifically towards the frontline healthcare employee.
Explore more content like this article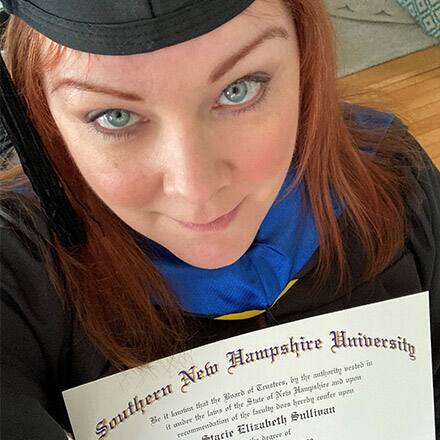 September 08, 2020
For years, Stacie Sullivan '19 felt stuck in her career, sensing her opportunities to advance were limited. After a series of challenging life events, Sullivan enrolled in the BS in Health Information Management program at SNHU.
July 01, 2020
Just a year after she decided to go back to school, Shereka Johnson-Bean '20 is preparing to submit the final project for her bachelor's degree.
June 12, 2020
Shannon Griffin's first job was as a crew member at a McDonald's restaurant. She's still working at McDonald's, but her role is a whole lot different thanks to her hard work and the degrees from SNHU.