How an Inclusion Program Can Complete the Promise of Your Company Diversity Efforts
Idea in brief:
Many companies are missing the "inclusion" part of the diversity and inclusion formula and won't get the business results they're expecting. This article defines inclusion and describes first steps toward an inclusion program.
Suppose your company is making progress on diversifying its hiring. You've banned "culture fit" as a hiring criteria. You use blind screenings where it's appropriate. You've improved outreach into underrepresented communities and built a pipeline of candidates to meet your hiring objectives.
At that point, however, you may be discovering other challenges. Perhaps the retention numbers for these new hires are low. Or you may not experience the improved business results that studies show ought to come with successfully diversifying the talent pool.
The problem may be that your company is missing the "inclusion" part of the diversity and inclusion formula. This more comprehensive approach comes from a growing recognition that the work doesn't end once more underrepresented minorities are in the door.
Broadly speaking, inclusion means new hires are placed in decision-making roles and have a voice in program design and discussions around employee morale. These key factors create a more inclusive environment and help employees see a future for themselves in a company.
Measuring the value of inclusion
The business case for more diverse recruitment is very clear. For example, a survey by Glassdoor found that 67% of active and passive job seekers say a diverse workforce is an important factor when evaluating job offers.
And, at the executive level, McKinsey in 2018 repeated its well-known study from 2014 and again found a clear correlation between diversity and company performance. Companies with executive teams in the top quartile of ethnic diversity are 33% more likely to outperform their peers on profitability.
What about the business case for a better inclusion program of diverse employees once they are hired? One risk of recruiting without attention to inclusion is lower productivity as the sense of isolation that underrepresented populations feel within a company impacts their work.
In other words, if employees can't contribute all of their energy and skills, it stands to reason that a company won't get the full value of successfully diversifying their recruiting.
Measuring inclusion is harder than diversity because it is more subjective, but a picture is starting to emerge. For example, the nonprofit Center for Talent Innovation has conducted research shows that:
35% of African-Americans and Hispanics and 45% of Asians say they "need to compromise their authenticity" to fit in at work.
Even where there is a good faith effort to expand mentoring and sponsorship opportunities, multicultural employees are wary of a perception of favoritism if they enter a minority-minority sponsor relationship.
Salesforce Research has also tried to measure the value of inclusion and found that employees who say they can be their authentic selves at work are 2.8 times more likely to be proud to work there and 4.4 times more likely to say they are empowered to perform their best work.
Examples of isolation
Employees can feel excluded or isolated when they feel devalued or ignored due to their uniqueness. In addition to overt racial hostility, this often happens from the slow accumulation of "minor" incidents, which over time can build, leading to negative outcomes. (This is an example of what is meant by "microaggression.")
For example, from the perspective of a busy department manager, a stereotyping remark by an employee about "hard-working" Asians may be an uncomfortable episode to get past as quickly as possible. For the people of color putting up with these remarks, they are corrosive in ways that will ultimately affect how engaged they are at work.
Or consider incidents recently where people who speak more than one language were told they ought to "assimilate" by speaking only English. When something like that happens in the workplace, how managers and other company leadership deal with it is going to send a strong signal to employees about whether they are valued and will ever fit in.
Isolation can also happen when the natural social networks or working styles of a workplace unintentionally exclude some employees.
Religious practices may prevent an employee from participating in some evening and weekend social events.
Some groups may be unfamiliar with the sport that the majority group enjoys rallying around.
Some employees may have more multi-generational family care responsibilities. If so, they may hesitate to take some work assignments requiring travel or flexible schedules and so be mistakenly perceived as less ambitious.
Some employees may come from academic backgrounds where they were rewarded for being quiet and focused. If a unit's working style rewards "thinking out loud," those employees can be incorrectly perceived as disengaged.
What is inclusion?
There is no one-time fix to these workplace challenges. Inclusion requires consistent and purposeful effort.
Vanessa Gonzalez, assistant vice president for strategy and outreach at Southern New Hampshire University, defines inclusion as "an active, intentional and ongoing engagement with diverse people and communities with the goal of building a community of belonging and empowerment."
Many employers, Gonzalez said, work with "a theory of natural evolution in the workplace as more people of color enter. But that's not enough. You need to create an inclusive environment, and that takes intentionality from management."
An inclusive work environment is founded on a willingness to be open to and ask questions. On the other hand, you can't ask employees of color to be responsible for educating everyone else. When these conversations start, people fear making a mistake, "but the biggest mistake is not doing any research beforehand," Gonzalez said.
"People have to break the idea that inclusion is the work of 1 or 2 people and the work of the most senior person of color. Apart from being unfair to them, you'll miss things that way. Don't impose a person-of-color tax where individuals have to speak for their full communities," she said. "Approach it in a way that is more open for all to participate so that one person doesn't feel targeted."
Practical steps toward an inclusion program
People are more likely to feel included, and to actually be included, when assumptions aren't made about them.
Consider, for example, the resources your company has to support career advancement such as tuition assistance. When utilization rates are low, the biggest mistake managers and other leadership is assuming there is a lack of interest or ambition.
You need to ask employees about their actual experience, Gonzalez emphasizes. "For some people of color, higher education has never been an option. It may not be a regular point of reference for them, and there may be some natural hesitancy."
After all, federal financial aid forms are intimidating for anyone who has never completed one before. Sending an employee a link to the form without any context, or resource for additional information, is unlikely to be effective.
"Ask what can be done to make this more of a reality for them," Gonzalez said. "A lot of people aren't comfortable asking questions or asking for help as they may have been previously shamed for the same action."
In other words, an inclusion program in this scenario will draw on its intentional and ongoing efforts to check in with employees to build awareness of career opportunities and to troubleshoot any obstacles that show up.
Developing a strategic inclusion plan
Other common tactics used in inclusion programs include unconscious bias training, cultural awareness and competency training and open forums. These can help, as long as they aren't one-time efforts and are connected to a larger strategy.
"Ask yourself what the endgame is," Gonzalez said. "You have to decide what's important and then scan for some key factors like where people are in their careers, why people stay and what changes they would like to see."
A basic principle, she added, is that "the people closest to the problem are the people closest to the answer. That requires taking a step back and acknowledging that maybe not all of these points of view are right. That's difficult for company leadership, because it means giving up some control. That might be slower, but it's more effective in the long run."
Contact the SNHU Workforce Partnerships Division to discuss your goals to develop your employees and strengthen your company.
Explore more content like this article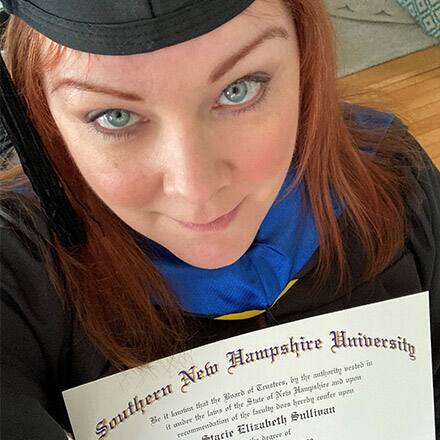 September 08, 2020
For years, Stacie Sullivan '19 felt stuck in her career, sensing her opportunities to advance were limited. After a series of challenging life events, Sullivan enrolled in the BS in Health Information Management program at SNHU.
July 01, 2020
Just a year after she decided to go back to school, Shereka Johnson-Bean '20 is preparing to submit the final project for her bachelor's degree.
June 12, 2020
Shannon Griffin's first job was as a crew member at a McDonald's restaurant. She's still working at McDonald's, but her role is a whole lot different thanks to her hard work and the degrees from SNHU.