How a Culture of Learning Produces a More Engaged Workforce
Creating a culture of learning in your business leads to greater employee engagement. But it starts from the top. Leadership must be fully committed to making it work.
By establishing a culture of learning — an environment in which individual growth is actively encouraged — businesses can help employees feel more engaged at work, which has a real effect on the bottom line. Engaged employees are more committed to their organizations, leading to greater productivity and higher net profit. Building a culture of learning, however, requires leadership to be fully engaged as well.
Why Engagement Matters
Only 29% of employees are fully engaged, according to a survey by Dale Carnegie Training and MSW Research. That leaves 45% only partially engaged and 26% actively disengaged. Those numbers can have a devastating effect on the business — if your people are either phoning it in or have basically checked out, everything from morale to profits will inevitably suffer.
Businesses with high employee engagement reap a host of benefits. These include reduced absenteeism, turnover and shrinkage; fewer quality defects and safety incidents; and higher customer metrics, according to the 2017 Gallup State of the American Workplace report.
They also boast 17% better productivity, 20% higher sales, and 21% greater profitability. Meanwhile, Gallup estimates that actively disengaged employees — who create what is often termed "presenteeism" — cost the U.S. $483 billion to $605 billion each year in lost productivity.
What Drives Engagement
Josh Bersin, a thought leader in human resources and talent management, writes in the Deloitte Review about five elements that drive engagement: meaningful work, hands-on management, a positive work environment, growth opportunity, and trust in leadership.
According to employment studies in the U.K., employees who had personal development plans and received formal performance appraisals within the past year had significantly higher engagement levels. The Gallup report found that 60% of workers think being able to do what they do best has the greatest impact on their level of engagement.
But more significantly, 70% of those who lack confidence in senior leadership, according to Dale Carnegie Training, were not fully engaged.
For employers looking to boost engagement, the upshot of this should be clear: A culture of learning requires leaders who are themselves engaged and visibly committed to the continuing development of their employees.
Why Leaders Need to Be Learning Catalysts
A culture of learning starts at the top. Companies can't simply talk about the importance of education; they must actively support growth and development of all employees at all levels, beginning with managers. According to the Gallup report, employees are 59% more likely to be engaged if they are supervised by highly engaged managers.
Managers who understand what is at stake and are fully invested in the culture of learning can support engagement in a variety of ways. Assigning projects geared to an employee's strengths, giving employees time to work on their development, and actively encouraging them to pursue higher education are particularly effective. Good managers can also model learning behaviors by taking time out for those activities themselves.
Why Learning Matters
One highly impactful driver of employee engagement is aligning individual and corporate goals. Businesses can achieve this by actively equipping employees to meet key performance metrics, learn new skills to better perform their jobs, or access opportunities for higher education that position them for advancement.
Many organizations already encourage employees to set performance or development goals during their annual review process, but too few actually provide the resources and support to achieve them. Such support includes dedicated time to work on goals, regularly checking in on progress, and assigning projects and tasks that reinforce learning.
Studies show that workers are eager to learn. A 2019 CareerBuilder/Harris Poll survey reported that 73% of employees whose companies do not currently offer learning opportunities outside work hours would likely participate if they were available. And a startling 70% of those surveyed by Gartner said that not only do they feel unequipped for their job's future needs, but they don't even possess the skills currently required.
It's Never Too Early to Start
For many companies, the problem starts on day one. When an employee engagement survey conducted for the Society for Human Resource Management by Randstad and Ipsos Public Affairs asked 3,000 workers which practices were most effective in keeping them engaged, top responses included investing in their careers through training, professional development, or continuing education.
And yet, a survey by Execu-Search found that 50% of workers believe they did not receive sufficient training when they started a new position.
The need for education and development opportunities is becoming even more crucial as millennials make up a higher percentage of the workforce. The State of the American Workplace Report report from Gallup also found that 87% of millennials rate "professional or career growth and development opportunities" as important. Yet only 39% strongly agree they have learned something new in the past 30 days that could enable them to do their job better.
Despite their desire to learn, workers face hurdles such as disinterested employers, overwhelming workloads, and fear of debt. Organizations can remove these roadblocks by offering tuition assistance and career coaching.
Monitoring Engagement Levels
Many employers use surveys to assess engagement levels. While these can be valuable, a true culture of learning needs more than an annual questionnaire. The key to measuring employee engagement is ongoing and open communication between teams and their leaders.
Frequent feedback from management lets people know that someone values their work. Engaged managers become effective coaches who guide and inspire employees to be the best that they can be, while balancing the expectations of both employee and company.
By viewing employee engagement with the same constant focus as customer service, organizations can see real results in their yearly engagement surveys and, just as importantly, on their bottom line.
Explore more content like this article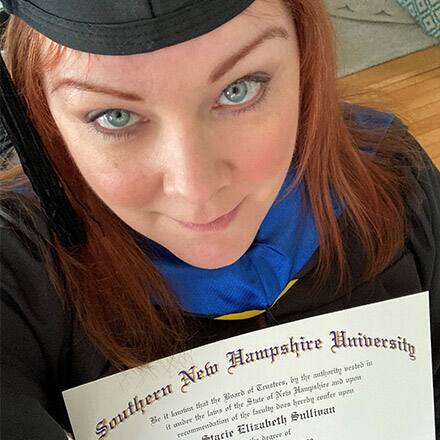 September 08, 2020
For years, Stacie Sullivan '19 felt stuck in her career, sensing her opportunities to advance were limited. After a series of challenging life events, Sullivan enrolled in the BS in Health Information Management program at SNHU.
July 01, 2020
Just a year after she decided to go back to school, Shereka Johnson-Bean '20 is preparing to submit the final project for her bachelor's degree.
June 12, 2020
Shannon Griffin's first job was as a crew member at a McDonald's restaurant. She's still working at McDonald's, but her role is a whole lot different thanks to her hard work and the degrees from SNHU.