How SNHU's Project-Based Competencies Translate Into Workplace Success

Idea in brief:
Competency-based education (CBE) is designed to develop workplace-relevant knowledge and skills. This article shares a few examples of competencies and the projects students work on to master them.
The College for America program at Southern New Hampshire University (SNHU) helps working adults succeed through competency-based education (CBE). But how exactly does CBE translate into workplace skills?
Rather than measuring learning by hours in the classroom, CBE measures learning by projects and assessments. Each degree program defines specific learning goals, 20 for most associate degrees and 40 for most bachelor's degrees. Those goals are broken down into about 3 supporting competencies each.
Students develop and demonstrate mastery of competencies by completing workplace-relevant projects. These projects require students to practice specific skills, often drawn from real-world examples with the input of working professionals.
Reviewers assess projects and either mark them as mastered or "not yet." In that case, reviewers work with students to revise and resubmit the project.
The article below describes specific examples of the competencies students work toward at SNHU. These are taken from the Associate of Arts degrees in Healthcare Management and in General Studies.
Learn more: How Online Degrees Build Work-Relevant Skills
Healthcare Management Goal: Organizational Culture in Healthcare
In the SNHU Associate of Arts in Healthcare Management, one goal is Organizational Culture in Healthcare. To achieve that goal, students must complete 3 competencies:
Analyze communication styles and strategies for optimal effect.
Apply cultural knowledge to enhance communication within a healthcare organization.
Align communication to the organization's mission, vision and values.
Students practice these competencies in Crystal Creek, a simulated long-term care facility. They work on several projects in that environment, including:
patient communication satisfaction surveys;
lunch-and-learn PowerPoint (PPT) presentations; and
committee reports.
Tami Ford is a goal lead responsible for managing and coaching reviewers in the program. As a subject-matter expert, she also developed the competencies and projects related to the Organizational Culture in Healthcare goal.
"These are all real-world scenarios in the healthcare industry today," she said. "The skills learned by mastering these projects can be applied by the student to benefit themselves in a future career."
General Studies Goal: Productivity, Collaboration and Civic Engagement
In the SNHU Associate of Arts in General Studies, one goal is Productivity, Collaboration and Civic Engagement. One of the competencies students must master on the way toward that goal is Planning and Goal Setting.
To demonstrate mastery, students complete a 2-part project on professional development training. In part 1, students analyze their own work-life balance. They do this by charting their time over a 1-week period and setting goals based on that analysis.
In part 2, students evaluate the work-life schedules of 2 fictional teammates. They use time-management and goal-setting techniques to plan for a successful project.
The project helps students become more aware of their own strengths and weaknesses as they reflect on the time management strategies they used to reach their goals. Reviewer Kelly Alverson, who supports students directly on projects like this, also noted that they learn to collaborate better with individual team members.
For example, a recent student told Alverson she was using her goal-setting skills to move up within her company. "She described the barriers in her way and recognized that speaking up and talking to her supervisor was the next logical step," said Alverson. "As a result of her setting and communicating her goals effectively, she got the position."
General Studies Goal: Approaching Complex Challenges
Another goal in the AA in General Studies is Approaching Complex Challenges. Two of the competencies students work on toward that goal are Select Information and Present Information.
To show mastery, students complete projects that ask them to research a topic using a variety of credible sources. They learn to check the credibility and currency of each resource. They then summarize the content, point of view and author's message as a communication to an employer.
Another project has students design a 10-question customer survey about shopping experiences and expectations. They use a PowerPoint presentation to explain the survey questions.
Reviewer Christine Pike said students completing these projects gain basic research and presentation skills. They also learn how to:
ask general questions in the student community;
ask questions specific to their project; and
revise based on feedback.
"I believe these skills may be the most important part of this program," she said.
How CBE Helps Learners In The Workplace
As students work toward mastering each competency, they're also developing skills they can use immediately in the workplace.
For example, Shannon Ruane, a medical assistant at University of Pennsylvania Health System, is applying lessons from her BA in Healthcare Management program every day, including what she learned while working on the Provide Healthcare Legally and Ethically goal.
As she said in this profile, "Ethics is essential to understanding and relating, so being able to apply the concepts in this goal in my everyday interactions with patients and co-workers has made problem solving and empathizing much easier and more effective."
Similarly, Detra Wright is taking on new challenges as a Senior Claims Resolution Analyst with Anthem, Inc., and Leonor Vicente moved into a position as an assistant manager at Grifols after earning her AA in General Studies and BA in Healthcare Management with College for America.
Though CBE teaches mastery of specific skills and areas of knowledge, perhaps one of the biggest benefits in the workplace is self-assurance. As Vicente said after getting promoted, "I now have confidence in my ability to learn new things and to not let the feeling of failure keep me from learning at my age."
Contact the Workforce Partnerships team at Southern New Hampshire University to learn about our tailored learning solutions.
Explore more content like this article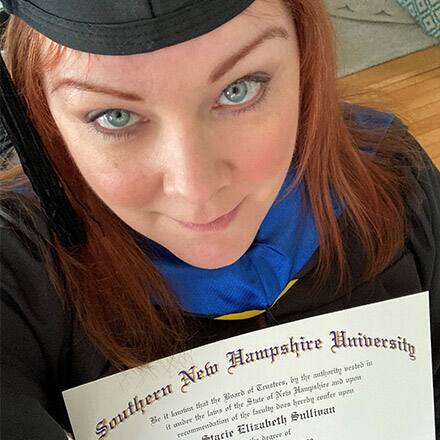 September 08, 2020
For years, Stacie Sullivan '19 felt stuck in her career, sensing her opportunities to advance were limited. After a series of challenging life events, Sullivan enrolled in the BS in Health Information Management program at SNHU.
July 01, 2020
Just a year after she decided to go back to school, Shereka Johnson-Bean '20 is preparing to submit the final project for her bachelor's degree.
June 12, 2020
Shannon Griffin's first job was as a crew member at a McDonald's restaurant. She's still working at McDonald's, but her role is a whole lot different thanks to her hard work and the degrees from SNHU.